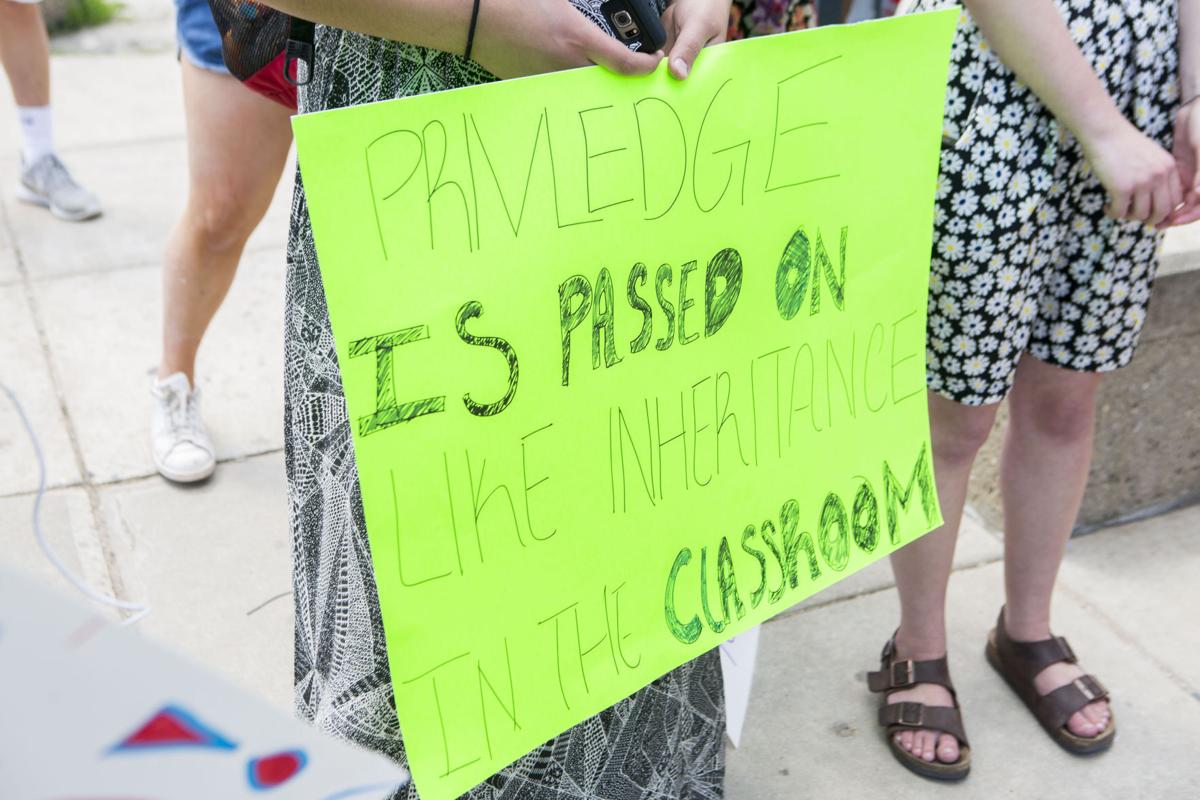 Solving Wisconsin's teacher diversity problem will take a multifaceted approach at both the state and local levels, according to a new report from the Wisconsin Policy Forum.
The new 46-page report, "Opening Doors: Strategies for advancing racial diversity in Wisconsin's teacher workforce," relies on a series of focus groups, in-depth interviews and a look at practices in other states to come to its conclusion: the state's leaders should consider diversifying the teaching workforce a key component of closing racial and ethnic educational opportunity gaps.
"Our research suggests Wisconsin has a long way to go to improve the diversity of its teacher workforce, but that local institutions are taking meaningful steps, and actionable state policy options hold promise to help meet that goal," WPF senior researcher Anne Chapman wrote.
As outlined in the report last July, Wisconsin's teaching and school staff workforce are far from representative of the student population. Statewide, students of color are more than 30% of the public K-12 student population, while teachers of color are just over 5% of the teaching workforce.
WPF notes that research has shown that all students benefit from having a teacher of color in their early years, but for students of color it can "be particularly important as a means of improving educational outcomes and reducing achievement gaps" to see a teacher who reflects their own race or ethnicity, according to the 2020 report.
The latest report outlines a host of potential solutions, pointing to local efforts that have some promise but emphasizing the need for a more universal approach from policymakers.
"The scale of the challenge suggests a need for action at the state level," the report states. "State-driven policy has the potential to advance teacher diversity beyond what localized approaches can accomplish alone."
Challenges exist at a variety of levels in the teacher pipeline, according to the report, including in college enrollment and completion, teacher preparation and within schools and school districts. The common underlying theme found in the interviews was "racism and racial bias embedded in the education system."
"A prevailing perspective was that despite intentions and efforts to the contrary, K-12 and higher education systems often favor white students, staff, and their interests in matters such as decision-making, resource allocation, and policy adoption," the report states.
WPF highlights five areas for policymakers to consider:
Elevate teacher diversity as a top education priority
Target state investments to support both individuals and institutions
Provide flexibility and rigor in teacher preparation and evaluation
Require districts and teacher training programs to demonstrate greater transparency and accountability for teacher diversity
Build state data system capacity
Understanding the challenges
In some ways, the problem builds on itself.
Some of those interviewed for the report noted a feeling of isolation and a lack of role models in their school or district, creating a system in which they feel unsupported and consider leaving the profession. That means districts have to look beyond simply hiring more teachers of color, and must consider what those teachers need to stick around.
"Efforts to recruit teachers of color, in particular, could end up wasted if the school culture and working conditions push them out after only a short time in the job," the report states. "To create an environment where teachers of color feel they belong, schools need organizational cultures and climates that affirm teachers' own cultures and identities."
To combat this issue, WPF suggests better support for early career teachers of color, which can include financial incentives to help cover the cost of college and paying back loans.
"Given the relatively low compensation promised by a teaching career, many would-be teachers of color may be unwilling to incur the debt needed to complete a teacher preparation program," the report states.
Sometimes, the negative experiences begin before a person of color considers teaching. The report notes that many of the people they spoke with brought up a lack of same race teacher role models and bad memories from when they were a student, when "they might have felt they were treated unfairly by their teachers, who were more than likely white throughout their entire schooling."
Local challenges
While there has been some progress, the gap remains wide: More than 86% of teachers were white in fall 2019, compared to 41.7% of students.
"We're continuing to make incremental gains," chief of human resources Deirdre Hargrove-Krieghoff said at a recent School Board meeting. "Hiring is still outpacing separation, but it's not enough."
District leadership has acknowledged that a solution will require a variety of measures, but one step they hope to take is minimizing the importance of seniority in layoffs or reassignments for staff. As they hire more staff of color, district administrators said during a recent discussion of the proposal with the School Board, those same staff members are more likely to be reassigned or laid off, creating retention problems.
The WPF report states that "hiring and layoff processes themselves could be structured to include both systematic safeguards against racial bias and intentional efforts to reach and recognize high-quality candidates and teachers of color," but does not explore the effect of seniority-based policies in detail.
Madison Teachers Inc. opposes the rubric district officials have proposed, expressing concerns about the potential subjectivity of some of the criteria. The union's leadership has expressed an interest in working to diversify the workforce, but does not believe the proposed rubric will be successful toward that end.
MMSD is mentioned twice in the WPF report, once for its Educational Equity Guidance Tool to help decision-makers and again for its recent focus on creating mentoring opportunities for new teachers and supporting them based on the specific challenges they may face.
"The district also has strategically allocated resources aimed at supporting early-career teachers by pairing them during their second and third years with veteran teachers in their own schools, a practice that simultaneously allows the district to provide experienced staff with leadership opportunities," the report states.
Share your opinion on this topic by sending a letter to the editor to tctvoice@madison.com. Include your full name, hometown and phone number. Your name and town will be published. The phone number is for verification purposes only. Please keep your letter to 250 words or less.