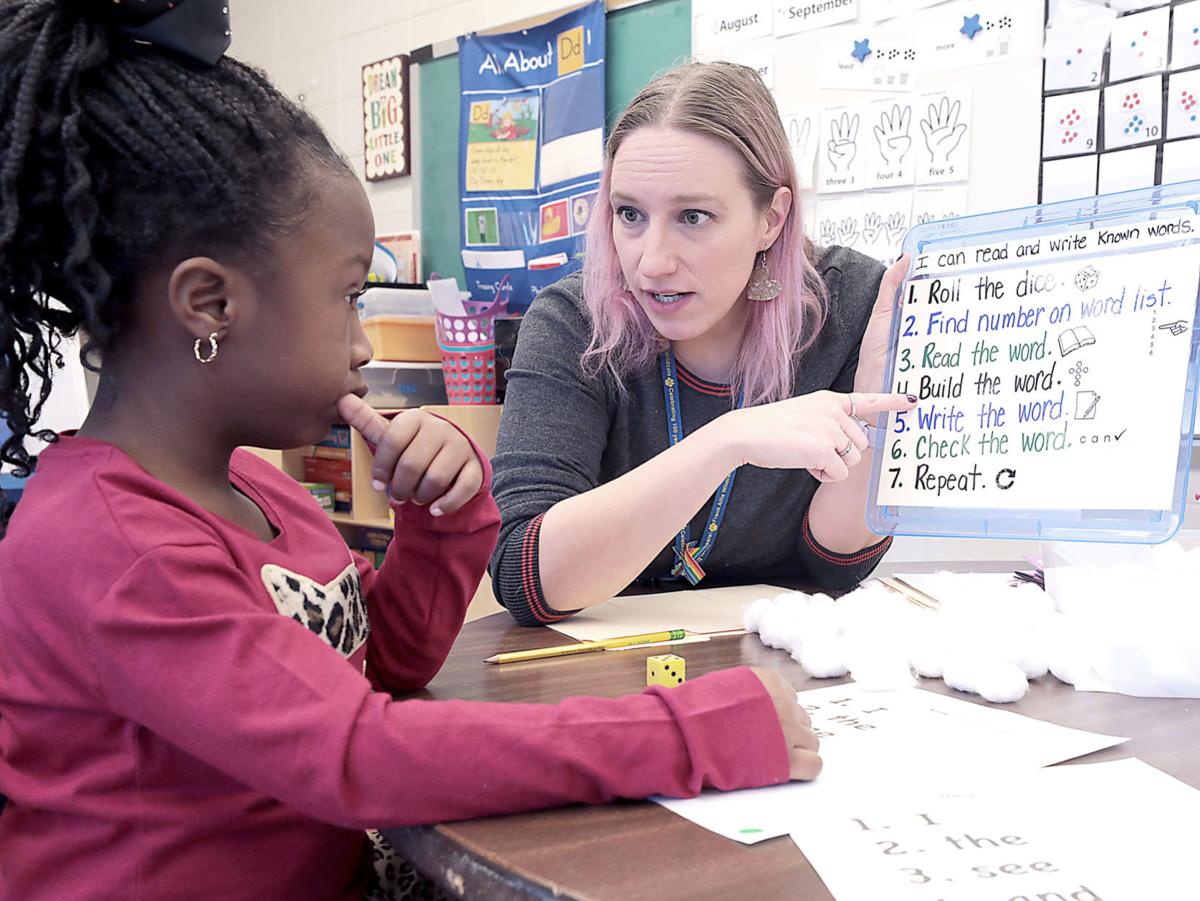 A new report shows the gap between the demographics of students and their teachers is not unique to the Madison Metropolitan School District.
While the gulf between students and teachers of color in MMSD is wider than the state as a whole, the Wisconsin Policy Forum published a report Tuesday showing it's a statewide problem to address. The report, "A Teacher Who Looks Like Me," details the lack of teachers in various racial and ethnic groups and explores what the numbers look like at each of the stages in the teacher education process.
"Unfortunately, while students of color have been rising as a share of Wisconsin's K-12 student population, the state's teacher workforce has remained overwhelmingly white," the report states.
In the 2018-19 school year, which the report uses for its statistics, 30.7% of students in Wisconsin public schools were students of color, while 5.6% of teachers were people of color. Ten years earlier, those numbers were 23.6% and 4.5%, respectively.
Locally, the difference is even more stark. In 2009, MMSD's student body was 49.5% students of color, while its teaching staff was 10.2% teachers of color. In 2019, those numbers had widened to 57.8% students of color in the district compared to 13.6% of its teachers.
Closing the demographic gap could be one step in state efforts to reduce disparities in test scores.
"Both education thought leaders and an expansive body of research suggest a teacher workforce that closely represents the racial makeup of the K-12 student population it serves holds particular promise as one policy lever (among others) that could support academic performance and aspirations of students of color and mitigate trends in racial achievement gaps," the report states.
WPF, a nonpartisan, nonprofit research group, plans to continue exploring questions around the challenges and successes of diversifying teaching staff across the state, including teacher retention, a subject not covered by the scope of this initial report.
The report shows that the gap grew most significantly among the state's Hispanic and Latinx population, which increased from 8% of students statewide in 2009 to 12.4% in 2019. The teaching workforce, meanwhile, was 1.2% Hispanic or Latinx in 2009 and 1.9% in 2019.
Black students made up 10.4% of the public school student body in Wisconsin in 2009, while that number dropped to 9.1% in 2019. The teaching workforce also dropped, from 2.3% in 2009 to 2.1% in 2019.
The report finds the gap between student body demographics and those of their teachers applies in all types of districts: cities, suburbs, towns and rural areas.
The gap is also reflected nationally, the report finds, as students of color are growing as a percentage of the student body, while "the vast majority of the teacher workforce" has remained white.
"Research suggests that teacher diversity benefits all students," the report states. "For students of color and those experiencing poverty in particular, however, attendance in a school whose teachers reflect the racial and ethnic makeup of the students and/or assignment to a teacher who reflects the student's own race or ethnicity has been shown to be particularly important as a means of improving educational outcomes and reducing achievement gaps."
WPF also examined high school graduation rates, college enrollment and participation in teacher education programs to examine if there was any specific point in the teacher pipeline that contributed to the disparity. There has been a large drop in teacher education program enrollment in recent years, and while participants of color now make up a larger percentage of that group, the actual student count has dropped for them as well.
"Despite these narrowing trends, each stage offers opportunities for policy interventions to expand the number of people of color in the teacher pipeline, such as alternative credential pathways and strategies to improve teacher retention," the report states. "Strategies that focus on barriers that may discourage young students of color from considering or having the educational credentials to consider the teaching profession hold particular promise."
Earlier this year, MMSD released its annual Human Resources report, which found turnover was highest for Black females in the 2018-19 school year.
Employee relations specialist Najjah Thompson said at the time the department was considering ways to ensure all students have the opportunity to have a teacher of color. As an example, Thompson suggested creating a cohort at a single school in which all of the teachers at one grade level would be people of color. That would also ensure no teacher was alone in their school as the only teacher of color.
"It's hard to have that sense of belonging when you're the only one," Thompson said. "If it can happen in a grade band, that would be beautiful, but we're just looking at the school makeup as a whole to hire more teachers collectively at the same time going in together."
Share your opinion on this topic by sending a letter to the editor to tctvoice@madison.com. Include your full name, hometown and phone number. Your name and town will be published. The phone number is for verification purposes only. Please keep your letter to 250 words or less.
Be the first to know
Get local news delivered to your inbox!