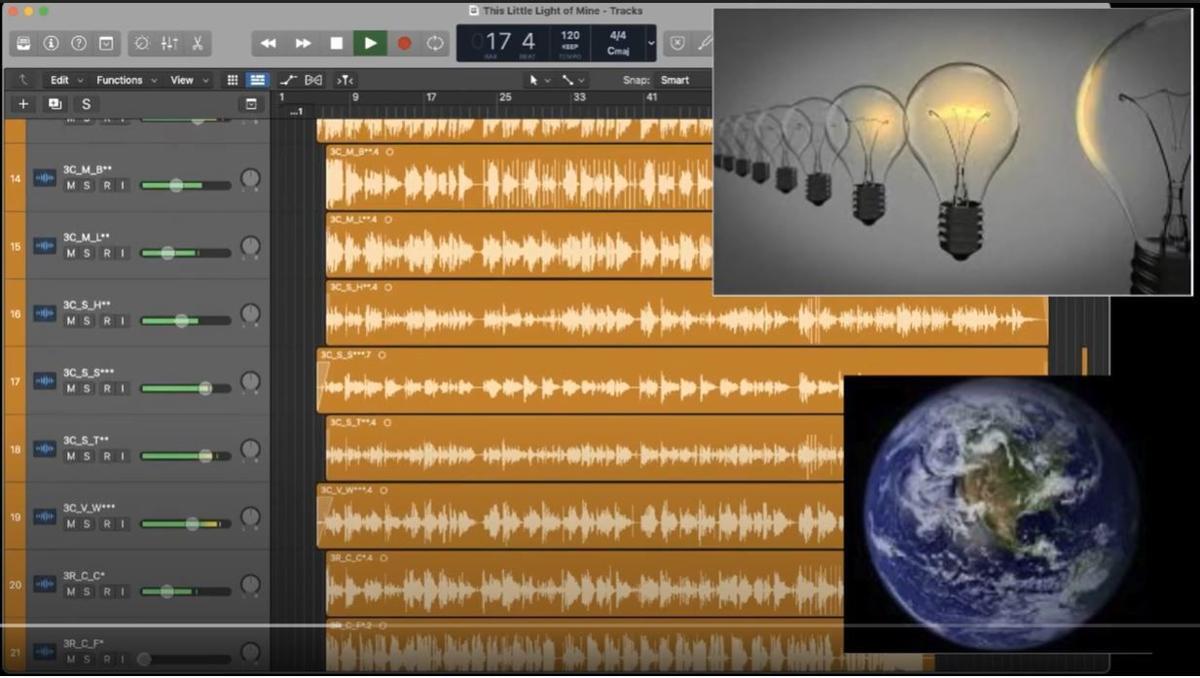 When COVID-19 shut down schools in March 2020, the third- and fifth-graders at Randall Elementary School had performed their annual choir concert.
Fourth-graders were not so lucky, and the class didn't get its performance last year. Music teacher Mark Harrod wanted to make a performance, even if it had to be virtual, a priority for this year's fifth-grade class.
Just as they were ready to put together a lip sync video project like some of the school's staff had done last year, Harrod discovered that students could record audio into Seesaw, the application students use for virtual learning, and he could download it as MP3 files. As soon as he figured it out, he decided, "We're scrapping the lip sync and we're going to actually sing songs."
Fourth-grader Ruby Lindsley said the idea of recording her part of the choir at home sounded "super fun."
"It was pretty easy, I like singing," Ruby said. "It was actually really fun and kind of relaxing."
The final products, in which Harrod scrolls through the audio files from all of the students that are mixed together for the song, are "really cool to listen to," Ruby said. The last two also include art the students made as part of the assignment, inspired by the words of the songs, which Ruby enjoyed.
"I really like making art, I consider myself an artist," Ruby said.
For Harrod, who was a full-time musician seasoned in audio mixing before becoming a teacher, the song mixing was simple. Students record themselves singing along with a YouTube video of the song, helping them stay on time. To help himself later when lining up the beginning of the audio files, Harrod counted down to the beginning of the video they sang along to.
More complex was picking the songs. Students submitted a wide range of suggestions, so he decided to go with a focus on social justice and civil rights advancements throughout history. Those themes were part of the way he wanted to respond to the Minneapolis police killing of George Floyd last summer, he said, and he took time to figure out how music could fit into social justice lessons.
"It was obvious after last summer that something had to happen, and the district did a great job during professional development making sure that we talked about it and making sure that we had avenues and resources to have these hard conversations about social justice issues," Harrod said.
With the themes present in the songs they've performed so far, Harrod wanted to make it even more direct in the second video, for "Follow the Drinking Gourd." After the song concludes in the performance video, text explains the historical significance of the song and the Underground Railroad — to make sure no one misses the lesson behind the music.
"For some kids, that's really, really obvious and for some kids that's not so obvious," Harrod said. "I wanted to make sure that when the videos were done, the message was there."
Harrod said there will be at least one more recording this year. He's also hoping they can do some live recording with more than one voice at a time, as some students return to in-person instruction.
Share your opinion on this topic by sending a letter to the editor to tctvoice@madison.com. Include your full name, hometown and phone number. Your name and town will be published. The phone number is for verification purposes only. Please keep your letter to 250 words or less.