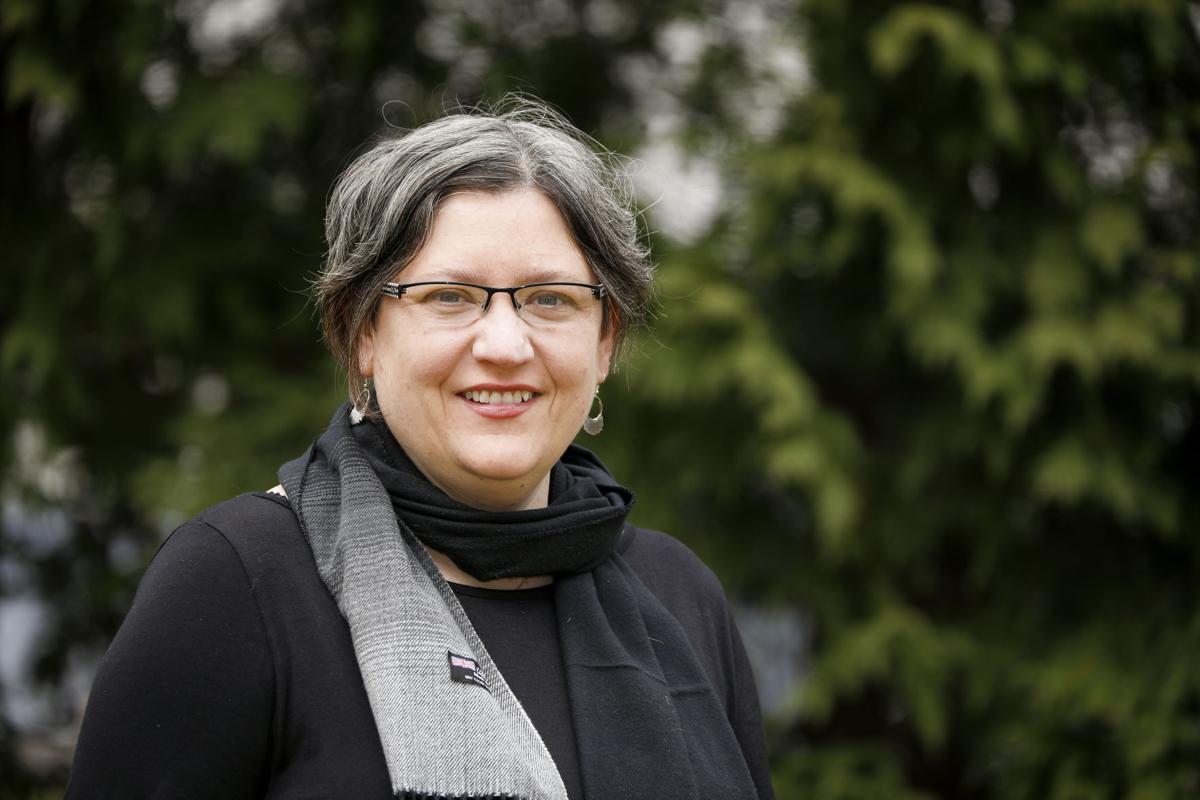 The University of Wisconsin-Madison epidemiologist, who offered her thoughts early in the pandemic in a pair of Q&As with the Cap Times, is also a parent of two school-age children. That means she's got plenty to think about when it comes to school amid the ongoing COVID-19 pandemic.
The Madison Metropolitan School District announced July 17 that it would start the year with all-virtual instruction through at least the end of October. After that, it remains unclear, but Jones offered some thoughts on what could work from an epidemiological perspective in a conversation with the Cap Times last week.
First of all, how are you doing as a parent through all of this uncertainty with school?
It's been rough. This is rough. It's hard. So, virtual learning last spring did not go well. Last year I had a kindergartner and a fourth grader. And I mean virtual learning for kindergarten is really, it's just not developmentally appropriate to try to learn kindergarten stuff on Zoom, you know. So that was challenging. The fourth-grade stuff was also a challenge for other reasons, just the personality of my fourth-grader made it really hard to do and so I don't want to send my kids back to school virtually. And thinking about doing that for another couple months or another full academic year is really hard.
And that's in spite of the fact that we had a great teaching team and they were doing their absolute best. So yeah, it's hard. And then, I also have a full-time job, and my kids are around full-time, and it's a lot to juggle. So I think a lot of parents are struggling right now. And so are we.
How does your role as an epidemiologist factor into the decisions around school? Would you be comfortable sending your kids there and how would you feel about their teachers' safety and things like that?
It's really context specific. A couple of weeks ago, when we started to get communications from MMSD about what school might look like in the fall, we had very few cases in Dane County at that point. We had just gone from Phase One to Phase Two reopening and case counts were still pretty low. At that time, I thought there was a way to make schools safe for teachers and students.
But since then, we have had now four weeks of sustained much higher case counts in the community. I haven't seen any motion from Public Health that we're going to return to stricter shelter in place guidelines, return to Phase One or even to a shutdown. And in the face of that, no, I don't think it's safe for teachers to be in classrooms for long periods of time, often with poor ventilation and with a big group of kids.
So as an epidemiologist, when we looked at the options that the district sent out late last week, and they were considering all virtual, in-person and then this hybrid A/B plan, I looked at those options and I thought to myself, if I were a teacher, would I be doing this given the case counts that are circulating in the community? And decided at that point, even before the school district decided, that we were not going to send our kids in person. I think if things were different in the community, if there are no cases in the community, there's no chance that there's going to be a case in the school. And you could implement a school day that made it safe enough. But that's not what we see in Dane County right now.
Building on that, can you talk a little bit about how the options for reopening schools depend on factors outside of schools?
You can't separate the two things. They're highly interconnected. You can do some stuff in the school environment to make the likelihood of an infection, any infection spreading lower, right. You could reduce the number of kids in a classroom at the same time, you could put the desks a little further apart, you could try to get kids outside, you could have handwashing and people wearing masks.
But the fact is, the school day is structured in a way that makes transmission risk high. Because the days are pretty long, you're in that room for several hours, they're in groups, and they're inside. I think early on a lot of epidemiologists were really just kind of hoping for this, this outcome that it turns out kids are somehow immune, right? Because we were seeing really low numbers of poor outcomes among kids. And that's still true, kids rarely get really, really sick with COVID-19. But the emerging evidence does not support the idea that they never get it, and also suggests that they can transmit it. Maybe not as well as adults, at least for younger kids, but they can.
If there are cases in school, whether they're amongst the kids or amongst the adults, then there's a risk that people are going to get sick in school. And so the only way to control that is to make sure that there are no cases coming into the school, which means that it really falls on community level transmission to make school safe. So I've seen a lot of finger pointing at MMSD and I am also really, really upset about the equity implications of having virtual learning this year. But I don't think it's fair to blame MMSD for making this decision. I don't know that they could have made another one, given that we don't have good control in the community of the outbreak.
What public health measures do you think MMSD and other schools should be paying the closest attention to in determining when it might be safe to open?
We see there are two really key measures and those are the positivity rate, which is the number of tests that come back positive, and then also just the total number of cases that are circulating in the community. And we started to see in Dane County both of those go up substantially about four weeks ago and ... they didn't continue going up in a way that looks exponential but they're still pretty high, and so they haven't gone back down again. So if I were in the position that MMSD is and looking at the number of cases, I'd be looking at the number of cases in the community and the positivity rate, and those are reported by Dane County on the Dane County database dashboard.
We reached out to you after seeing a Facebook post of yours that made the rounds online. In that post, you talked a lot about MMSD's hybrid option, which some other districts in the area are also considering. That option would split students into two cohorts, each attending school in person two days a week and learning virtually the other three. Could you share a bit more about the concerns you have with that sort of model?
Yeah, I have a lot of concerns with that model. My really specific area of expertise is studying how kids can be the carrier of an infectious disease from their home to their school and back again. So it's this spatially and time-specific kind of transmission pattern that we have because kids go back and forth. They're like connectors, they are exposed to a big network of people within school and then they're the bridge that connects their family members to the networks they are exposed to at work or in other schools.
When we look at other diseases like influenza and measles, that's a really important factor in how outbreaks get going. And so when I started thinking about those hybrid plans — MMSD had proposed one and some other districts including very large ones, New York City is going to go with this A/B hybrid plan — my concern is that it boils down to, what are the kids going to be doing on those days when they are not in school? And if you think about what our goals are for reopening in-person instruction, I think those hybrid plans really don't meet any of the goals that we have.
They're probably no safer than just having kids in school as usual in terms of disease transmission risk, and that's because if any of the kids, if any part of the the young student population is going to a childcare setting that's not their own home on their off days, then they will be exposed to some other cohort of kids that's not the same group that they're in the classroom with. And all of those kids are exposed to their own classroom and household cohorts. And so it actually opens up the disease transmission network substantially, even from what we would normally see in a normal school year. So I don't think that having A/B hybrid will really reduce the risk of an outbreak in schools. Even though it would achieve less kids in the same classroom, if you start to look at their second degree connections, who they are exposed to in their whole network, it's actually more people.
So I think it actually could increase the chances that one of those kids is bringing disease into the classroom even though there's less of them. So that's one point from an epi perspective. Also, from an equity perspective, it really leaves the working parents still in a very tight spot in terms of what to do with their children. So it doesn't achieve one of the aims of reopening in-person instruction, which is to let people go to work and earn rent. Parents who, single parents in particular, I think are really going to be strapped in those plans to figure out what to do with their kids because they need to go to work and their kids are going to be home five days a week.
The district is still hoping to open at some point this school. Would you recommend they only consider opening five days a week if they make the decision that in-person is safe?
I hope that the district would consider a different kind of a split, which is to prioritize the younger grade levels to go to full time, in-person instruction and roll out in-person instruction gradually starting with the youngest age groups.
That's my preference for a couple of reasons. One of them is that the epidemiology data we're getting so far suggests that younger kids are less likely to transmit COVID-19. Older kids who are 9 to 18 or 10 to 18 transmit COVID-19 more or less like adults do. And so I think that if there were a case of COVID-19 in the classroom that a kid brought in, it'd be safer if that were a younger kid than an older kid. In addition, from a safety and an equity perspective, it's the younger kids that we really need to be having in-person instruction with. A, because as I said online kindergarten is really very hard or impossible to achieve, and do it well. And B, those are the kids who can't safely self-supervise at home.
So from a safety and equity perspective, we should prioritize having those younger kids in classrooms before we consider bringing the older kids back. That said, I've gotten a lot of pushback on that because there are some older kids who can't self-supervise safely. There are older kids with special needs who really need to be in classrooms and seeing their peers and I get that.
I also totally get that we are faced with a lot of bad choices right now. We are going to end up with a compromise that some people don't like. My future-telling ability has not improved over the last several months, but that much I am sure of. It's not perfect. That plan is not perfect, but I do think it's more developmentally appropriate and also safer than trying to do this A/B split with every grade level having some in-person time.
As a parent of young kids yourself, how would you suggest parents talk to their children about why they won't be going back to school? In addition to using Dear Pandemic and the kids book you put out earlier months ago, what suggestions do you have?
Kids, I think sometimes we underestimate their ability to wrap their heads around scientific information, and also maybe their interest. My kids have been really interested in the pandemic, and maybe that's because they live with an epidemiologist. But I do think that part of the solution here is to talk to kids about what's happening in a developmentally appropriate way and recruit their help in doing what needs to be done in order to keep our community safe. Kids are naturally altruistic. I've had very little trouble, for example, getting my kids to wear a mask, because if you tell them that it protects other people, kids are much more likely to get into that than adults are. So I think talking to them about the reasons for online instruction and how everybody is making sacrifices right now, in order to keep the whole community safe, is a really important part of the solution.
Anything else we didn't touch on related to schools that you think you'd like to mention?
There's so much, it's such a complicated subject. I guess the thing that we didn't really touch on strongly are these equity issues and what's going to happen with the decisions that have already been made to go virtual, at least for the first part of the year and possibly longer. You know, looking ahead to we've made this commitment to do virtual for the first quarter, which is til the end of October.
We live in a town where there are a lot of young people who will be moving back into town at the beginning of September. And we've seen a lot of transmission happening with young people. So I have concerns that infection rates are not going to go down when the university starts up again. By the end of October when we're trying to figure out what to do next with public schools, I'm worried we're still going to be seeing high transmission rates and we'll have to make a decision to be virtual for the entire year. That has tremendous equity implications that I am really concerned about.
Working parents are in a very tough spot, especially those who don't have the luxury of working from home, like I do. I don't know what you're supposed to do with your kids in this situation, and I'm really worried about those families. It's going to be a tremendous challenge.
I would encourage parents who are worried about this to reach out to the city and the county, reach out to your city and county representatives and tell them that you want them to increase restrictions. Because otherwise I don't really see any signs that the county is considering making substantial changes to the restrictions on activities, and I'm just worried that those college kids — you can't drink beer through a mask. They're coming back in September and we've already seen that they are very capable of spreading COVID-19 in social settings like bars and parties, and I would like to not see increased cases and be able to open schools.
Share your opinion on this topic by sending a letter to the editor to tctvoice@madison.com. Include your full name, hometown and phone number. Your name and town will be published. The phone number is for verification purposes only. Please keep your letter to 250 words or less.