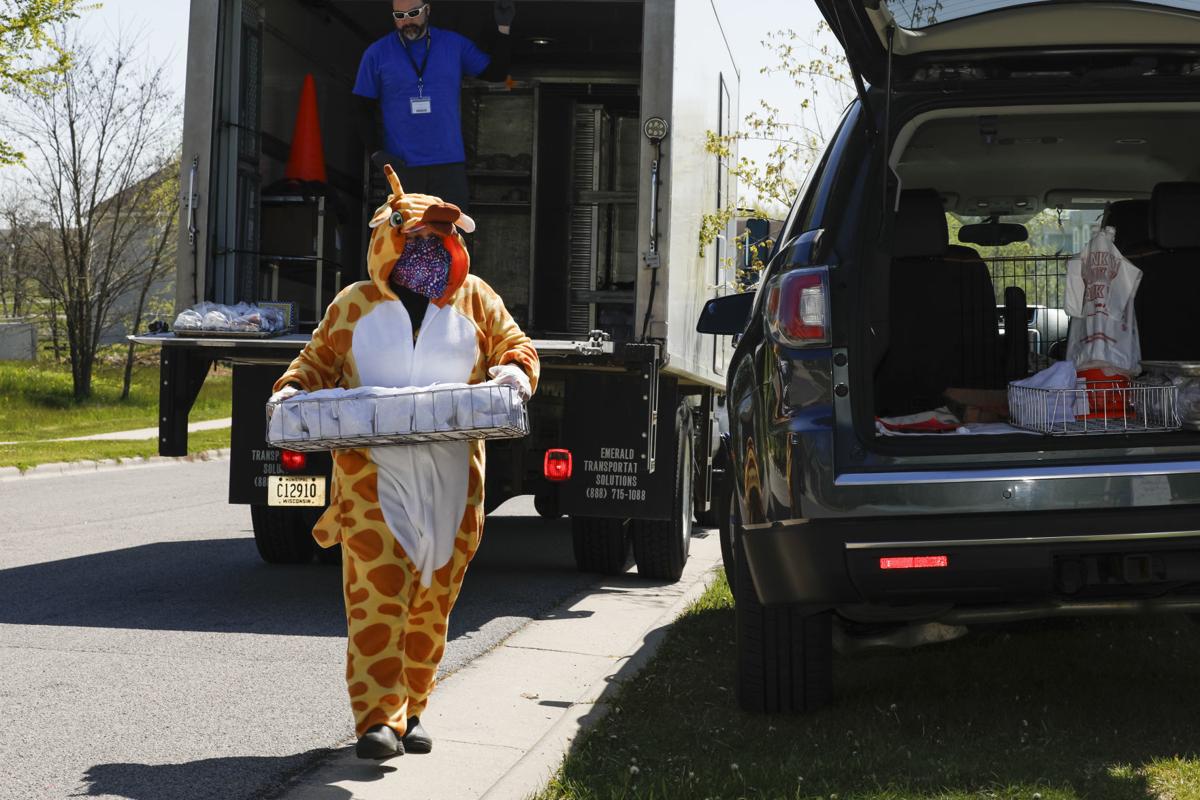 When Irene Pawlisch began work as a lead cook in the Madison Metropolitan School District food services department in August, she didn't anticipate dressing up in costumes every day.
Since schools closed amid the COVID-19 pandemic, though, that's been part of her Monday through Friday routine as she hands out free family meals at various sites around the district. MMSD is distributing pre-packaged breakfast and lunch at 15 sites.
The costumes — on a recent Monday, she was a giraffe — are a way to bring joy to families dealing with the stress of a pandemic and no school or activities, Pawlisch said.
"Someone told me today, they're like, 'Seeing you dress up just makes me smile,'" Pawlisch said last week. "I go, 'We gotta do something that doesn't suck when all of everything else sucks.'"
Since Friday, March 13, Pawlisch and the rest of the food services department has shifted job duties, but Pawlisch pointed out that its function is basically the same as it always has been.
"Maybe it's in the frontline of everybody's mind is like how much this means, but actually, it happens every day," she said. "Even during non-COVID time, this food means everything to a lot of families.
"So that hasn't changed, just the delivery system has changed."
Pawlisch spoke with the Cap Times over Zoom about her changing role and the importance of food during this time:
How do you decide day by day what you're gonna dress up as?
I have a taco hat so I try to wear that whenever we have taco something. Some of my outfits I can't wear in the wind so because they blow all over, like I have the little pineapple headband and that blows in the wind and it falls off all the time. So I have to wear that on non-windy days. My cowboy hat, I wear that on rainy days because it has the bill so it keeps the rain off my face. I mean, sometimes it's practical.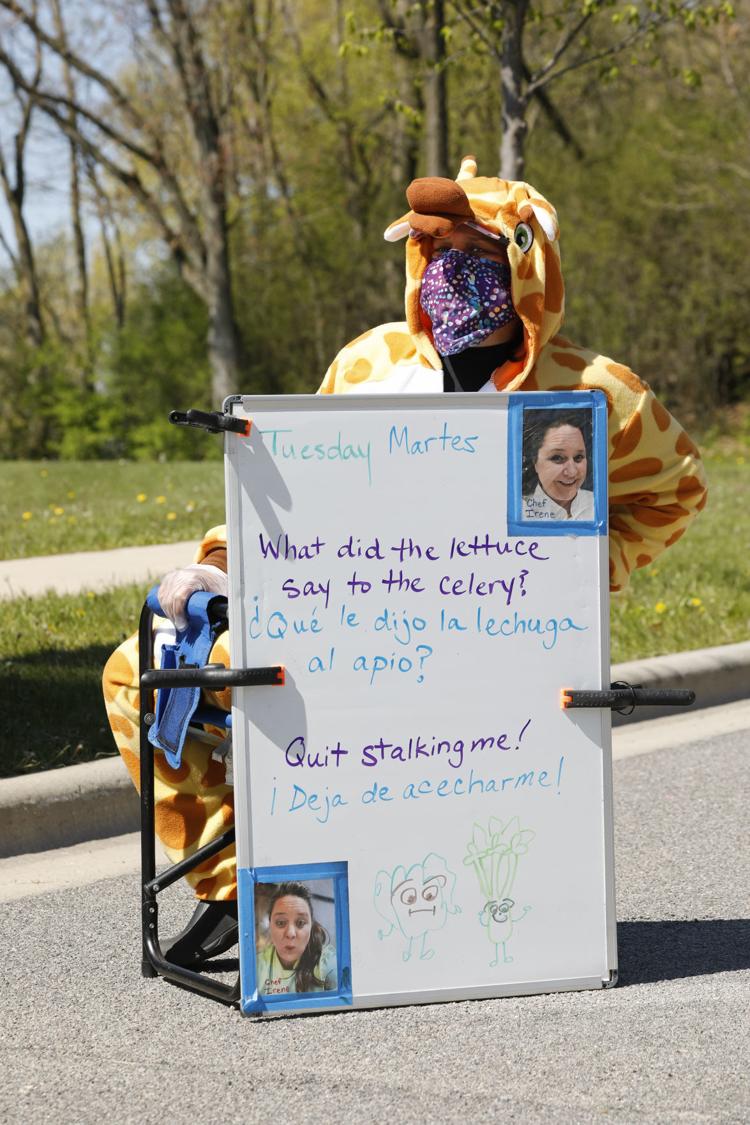 What did you like about the first few months on the job as a lead cook?
Having been a food service director in a smaller district, you have to wear all the hats. In a larger district, every person has their their part of that and it's spread out among many people. So it's like I know what other people are doing because I had to do them in a smaller district and I just really appreciated not having to mentally juggle all that because a lot of times you feel like you're trying to master everything and you know, not doing a great job.
I would say in the last two months (before the pandemic), we'd been really focusing on menu testing. We have the REAP food truck that we do at three of the high schools, and we were recipe testing, researching local products. The week after COVID started, I was supposed to be at the schools for two weeks, sampling out those menus to the kids.
We were rolling out two new recipes for the spring menu at the elementary that week. It was canceled. It was it was kind of like we were doing recipe testing, recipe testing, recipe testing, and then this one week, we're going to hit the ground running and doing it. Everything was canceled. So it's like all that work for that delay. That was hard.
In that March period where things were changing quickly, and it wasn't clear how long things were going to be closed, what was that like to navigate from the food service side?
We came in at 5:00 in the morning, Monday, (March 16). We had one plan Friday, set to go. We had all the food ready to feed the kids, 18,000 meals for the kids. That's all the food we had in-house and now we're not doing that plan. So what do you do with all that product?
By the third day, we had everything established, there was kind of a routine, but it literally was like every half day there was something new that we had to do. And it was just like, when are the changes going to stop? And that really was the first week, like could the changes stop now? Every time we had a change, the managers did a great job of responding, everybody's like, "Okay, this is what we're going to do." Everybody in the kitchen is probably doing the job that they didn't know existed. And everybody's kind of creating a job now. So that was a crazy part of it.
I can only imagine the scrambling, thinking about the volume of food and how to make sure it doesn't go bad.
We have all the cartons of milk, and how many elementary schools do we have in the district, and they had all their milk for the week at these schools. So on day two, they were bringing back the milk from some of the schools. We did not have enough cooler space where we were. It was unbelievable, and then all the dates were different. So we had to sort through every milk, find the date, put it in the date pile, and figure out what could we what could we still serve? What did we donate to the food pantry before it went bad? It was it was pallets and pallets of milk containers, and we still didn't bring back all of them from the schools. So it was unbelievable.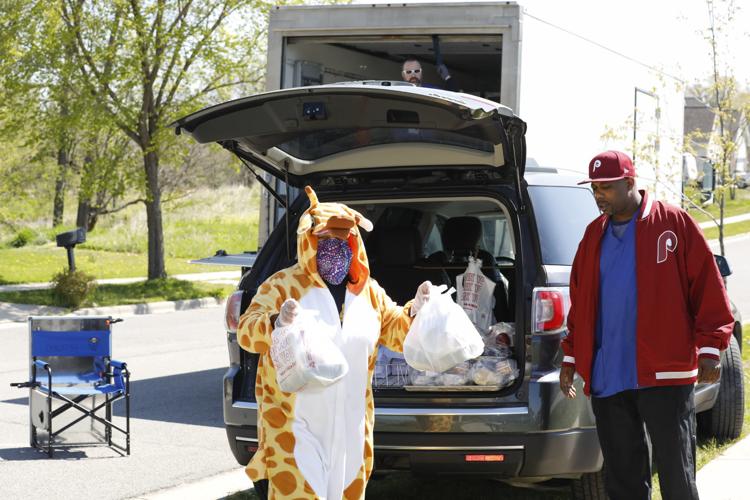 What has it been like to have to perform duties and work with students and families to get food to them but not in the job that you want to be doing?
You know, it sucks. But at the same time, it's also an opportunity to connect. It's a way for me to get out the word that you know, we do have a chef on staff, we actually have two chefs on staff. And then our third cook has worked up through the brigade system, and is very well trained. And so there's three of us that are really doing a nice job in the kitchen, and coming up with more and more scratch meals and meeting challenges of trying to create a culinary atmosphere within the kitchen.
What sorts of things do you hear from the families when they're picking up food about how important this is right now to them?
There's a population that people aren't really talking about and that is there are people that are still working, so they don't qualify for all the perks that the unemployment have been getting. But their hours have been cut dramatically, and so they're not making their bills. I've had multiple parents coming up saying, you know, now that my hours have been cut, this is really helping us meet our budget.
There's also parents, I think in that third week I saw more of these parents, where they're exhausted. You know, they're trying to work from home. They're trying to be teachers to their kids, the kids are kids. There's no respite and and I had that conversation with quite a few of them. I'm like, I'm amazed at all of you because when I was a stay at home mom, I at least had the Y, I had the library for story hour. You guys have none of that. So you guys are doing an amazing job, keep it up, you know, keep coming here for easy button of lunch and just to get out of house and make a routine.
Do you have anything else to add about how it feels to be doing essential work right now and being out there every day in the community?
A part of you feels kind of guilty, honestly. Sorry, I get emotional. There's just a lot of families being completely financially devastated and it hurts to watch them go through this. Very proud people coming in and asking for food. It's hard.
You know, the people come up and they start explaining their situation and they're crying in their car. Just like, "It's okay. You know, you're helping pay for me." We had a parent come up today and say thank you for volunteering. And we're like, no, we're not volunteers, you know, we are being paid to be here. And actually, you picking up these free meals reimburses us, it's our income.
A lot of parents come up and they say, "We were saving this for someone with less than us. But now we're at the less stage." It's like, "No, you didn't have to get to that point before you came here. You can use this." You know, it's an emotional release for the parent that is stressed out because they have to home school and work from home and all that.
So you know, just trying to keep it light is the big thing but, no, it pretty much sucks.
Share your opinion on this topic by sending a letter to the editor to tctvoice@madison.com. Include your full name, hometown and phone number. Your name and town will be published. The phone number is for verification purposes only. Please keep your letter to 250 words or less.
Be the first to know
Get local news delivered to your inbox!