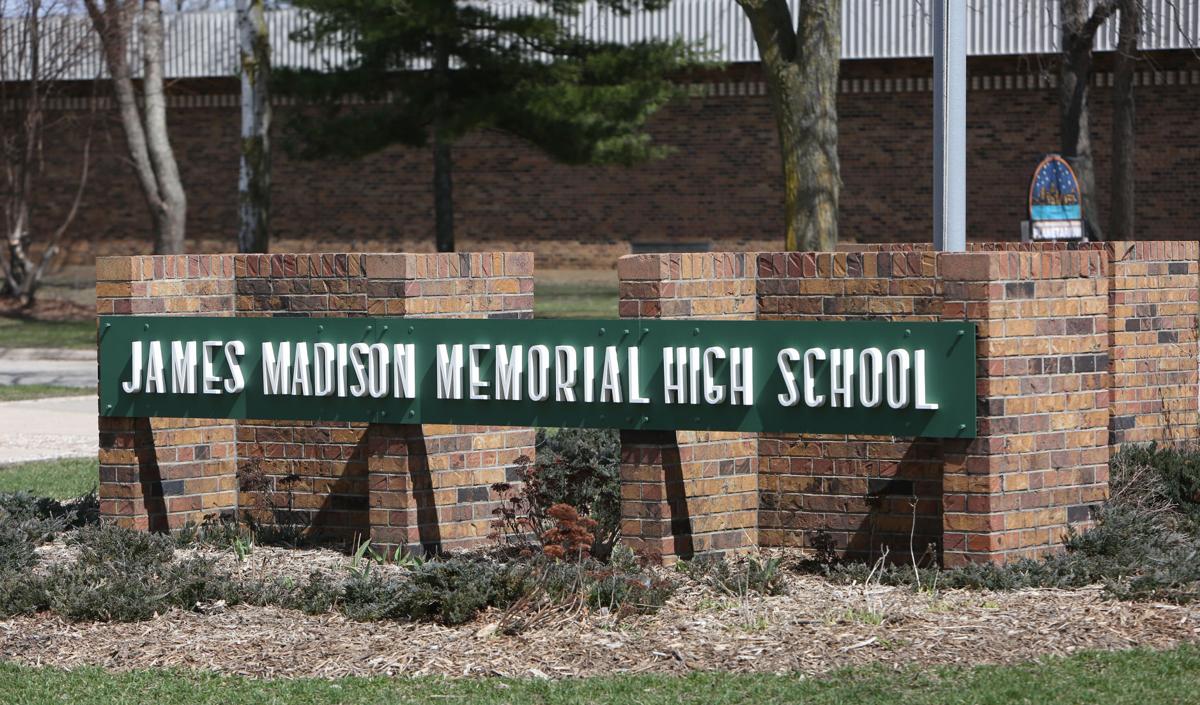 The committee charged with recommending new names for James Madison Memorial High School will hold a public hearing on its four remaining considerations on Sept. 29 at 5 p.m.
Committee members agreed Tuesday to go to the public hearing with four possible names for recommendation to the School Board: Memorial High School, Vel Phillips Memorial High School, Darlene M. Hancock Memorial High School and Bruce Dahmen Memorial High School. The link to the virtual hearing will be shared on MMSD's website closer to the date of the meeting.
While the group will choose one to recommend to the board after the public hearing, they can send all four names for consideration. The board will make the final decision on whether to rename the school at all and if so, what the new name will be.
The board chose to entertain a renaming last fall after a submission from former Memorial student Mya Berry, who objected to the school honoring James Madison because he owned slaves. She suggested Phillips as an alternative.
​​"Madison was a person that benefited off of the exploitation of Black bodies, and those who embarked in such acts of racism should have no influence in today's culture," Berry wrote at the time. "Expecting Black students to attend a school named after a slave owner is anti-Black."
The initial list featured historical figures like Frederick Douglass and Harriet Tubman, civil rights leaders like Martin Luther King, Jr. and John Lewis and late East High School principal Milton McPike. Committee members rated the proposals and eliminated those with lower ratings, winnowing the list to 15.
Then each committee member ranked what was left and through a ranked choice voting system came up with four top choices, which did not initially include Dahmen. Instead, the list of four from the ranked voting included both "Memorial High School" and "Madison Memorial High School."
Tuesday, committee members agreed those were duplicative and settled on "Memorial High School." They reintroduced the Dahmen option given the strong public support for naming the school after the late longtime Memorial High School principal.
According to an infographic summarizing the public comments, Dahmen was by far the most popular alternative mentioned in the feedback. However, some committee members worried that there is a segment of the community, including students, that may be unaware of the proposals or disinterested in giving feedback, giving them pause on how much to rely on the comments.
"There is a question for me with such a heavy reliance on public comments about who really has access to these comments, who has access to this forum, who has access to knowing how this works and what this process is," Memorial history teacher and committee member Amber Janssen said.
Memorial student and committee member Eliana Sauer offered a similar sentiment based on classmates she's spoken with.
"As I've been talking to my peers at Memorial, almost everyone that I talk to has the exact same opinion and it's not an opinion that is shared by the majority of the public comments," Eliana said. "The public has an opinion but also the students clearly have an opinion that is different from that of their parents and former graduates."
The committee also discussed whether naming a building after a person at all was the right decision, which was part of the reason to include Memorial High School among the options. Janssen said Dahmen was "the best boss I ever had" and "he's the reason I'm back at Memorial," but questioned the legacy any person can have decades from now.
"We just continually are learning new things about historical figures and, as we all know about ourselves, we are fallible to say the least," Janssen said. "My concern with any of the names, not just Bruce, but any of the names, is will we have this same issue in 50 years?"
Further, Janssen added, the initial proposal from Berry had a sentiment "to shift away from a white, male-dominated naming process," leaving her in doubt of whether Dahmen would be appropriate in this instance. Her colleague at Memorial, counselor Len Mormino, echoed the concern after also offering praise for Dahmen and his commitment to the school.
Mormino said that any name they choose should be "in line with our mission" and offer an opportunity to educate the school's students about who that person was. Committee chair Julian Walters, a Memorial graduate, offered a strong endorsement of putting a name in front of "Memorial High School."
"There's so much that can be encompassed in the naming of this high school, and I simply think (just) Memorial is a disservice to this community," Walters said. "It doesn't strengthen marginalized communities; I think it is a good suggestion that should be considered but that should not be the focus of this group."
The committee will reconvene after the public hearing to make its decision and forward a final recommendation to the School Board.
Share your opinion on this topic by sending a letter to the editor to tctvoice@madison.com. Include your full name, hometown and phone number. Your name and town will be published. The phone number is for verification purposes only. Please keep your letter to 250 words or less.