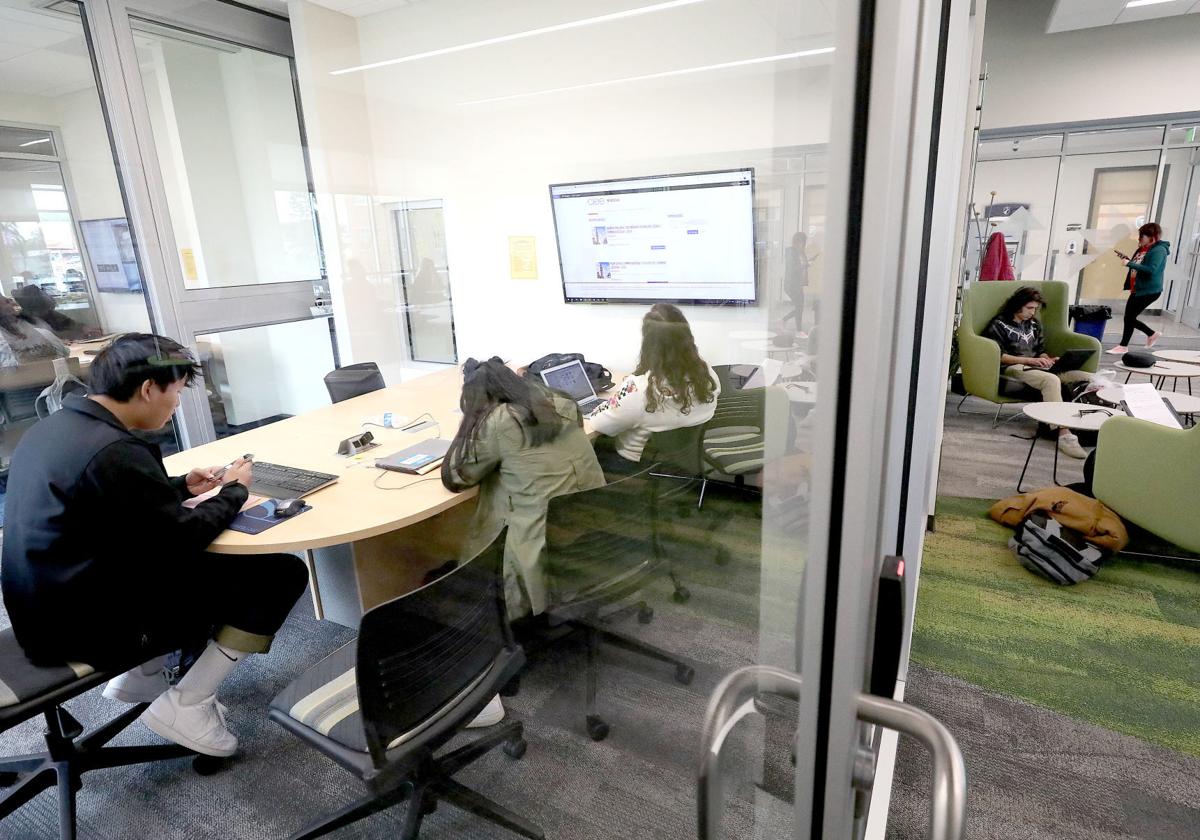 Among the benefits of the Madison Metropolitan School District's Early College STEM Academy is the opportunity for high school juniors and seniors to spend their school days on a college campus.
The partnership with Madison College, which began on a small scale in fall 2018, has nearly 200 students enrolled this fall. But, as the pandemic has left much of the area's education sector virtual, they're experiencing it differently so far.
"There was a really big change for me. I'm more of a social person and I like to talk and I like to interact," said Hetvi Shah. "It was kind of hard for me to readjust to this online environment."
The Memorial High School senior, who also mentions she's a Madison College sophomore when introducing herself, said she's learned to adapt, a lesson that will help her "in the long run."
"Even though it is virtual, it has given us the opportunity to explore a new way of learning and adapt to new situations that might happen in the future," Hetvi said.
If students take enough credits, the program allows them to receive an associate degree at the same time they graduate from high school, giving them a head start on their undergraduate career if they choose to continue their education. That's a major benefit for East High School junior and Madison College freshman Brandon Anderson, who is the vice president of the STEM Club.
"That means my tuition will be cut by half," Brandon said. "I could also get a job early and just move on with life and I don't have to be in college for another two years."
District officials see it as an equity strategy, as they target students underrepresented in the science, technology, engineering and math fields as well as those underrepresented in post-secondary education, like students who would be the first in their family to go to college.
"We know that the STEM and STEM-related fields are underrepresented for females and students of color," said Cindy Green, executive director of secondary programs and pathways. "This is free of charge for students, so we also are intentionally focusing on our students that are either first-generation college-going or low-income who may not have this opportunity without this partnership with Madison College."
Students must have a minimum 2.25 grade point average and 90% attendance rate as of their sophomore year to apply.
The program is funded by MMSD, Madison College and a three-year grant from Ascendium Education Group, which will run out after next year. Green said she is hopeful that a successful operating referendum this November could help MMSD increase its funding for the program in case no other grant is found to replace the Ascendium funding.
Each of the five students who spoke with the Cap Times about their experience said they hope it can continue.
"I think that if we continue this and hopefully maybe even expand the program more, we'll be able to raise graduation rates and (close) achievement gaps and different things like that," said West senior Serrae Conerly. "Especially for other students of color, I think it's very important to have this opportunity."
Learning what they like
Claire Krause was in the Health Service Pathways program at West before she enrolled in the STEM Academy.
Since the senior started at Madison College, she's appreciated the chance to take different classes and narrow down her interests while finding out what she is "really passionate about."
"The nice thing with having two years of college kind of already down is we can take this opportunity to explore," Claire said. "If we did it when we were in actual college, that's a lot of money switching in and out of classes, between majors and stuff."
That exploration includes the social side of college. Claire, who is the vice president of the Phi Theta Kappa Honor Society, said she got involved in clubs at the college, while her classmate from La Follette, Adela Miranda, had planned to even start her own club this year until the pandemic put that on hold.
"They gave us the opportunity to interact more with other students," Adela said. "That's a big part of what I want to do is just talk more with people and (be) social."
Brandon, who as a first-year participant has only experienced the program virtually, said it's taught him lessons beyond academics.
"Everything is up to you to do on your own," Brandon said. "It's just helped me become more independent in general."
Claire is going to miss it when the year is over.
"It's been a great experience so far," Claire said. "Pretty soon we'll be picking … our last classes at MATC. That's going to be a bittersweet moment."
Share your opinion on this topic by sending a letter to the editor to tctvoice@madison.com. Include your full name, hometown and phone number. Your name and town will be published. The phone number is for verification purposes only. Please keep your letter to 250 words or less.