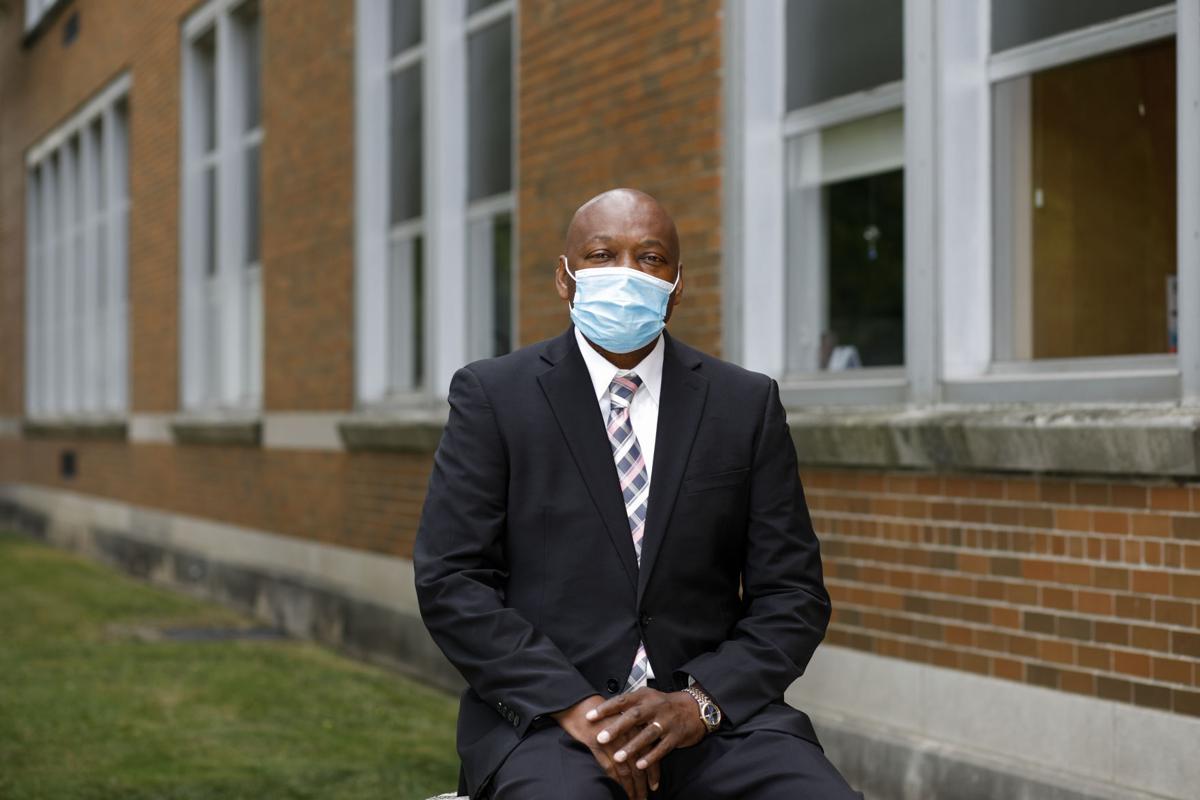 The new Madison Metropolitan School District superintendent will "be the first to fire myself" if he loses the leadership qualities he believes are most important in the role.
"Don't let the title drive you, let the people," he said in an interview Wednesday. "Any leader gets too high up where they can't kneel down to talk to the children and talk to the community, in my estimation, does not represent the true intent of what a leader's supposed to be about."
Jenkins began as MMSD superintendent on Aug. 4, just over a month after he interviewed as one of two finalists for the job. He comes to Madison from Robbinsdale Area Schools in Minnesota, where he spent the last five years as superintendent.
In his first week, the former Memorial High School associate principal said he learned that there are "just a bunch of wonderful people" in Madison.
"This energy that's happening right now from people inside the district and outside the district, really wanting Madison to move forward," Jenkins said. "There's a momentum, and people just want to build on that momentum."
He's having to feel that momentum and meet the community in creative ways, with virtual meetings remaining the safest due to COVID-19. He said that while he is a "human relations" person who misses handshakes and seeing people's body language when talking, it's also likely "giving me an opportunity really to see probably more people than I would've normally seen during this time."
"This is the same thing that transfers over, not just work relationships but when we have our students," Jenkins said. "We're missing our students as part of what we do. We're in the human connection business."
In navigating his own district through "crisis mode" this spring, including a shift to virtual learning, Jenkins said he saw how key good communication was for the social-emotional well-being of both students and staff. He held more frequent full-staff meetings, he said, and worked quickly to get students that didn't previously have devices online.
"We had to get devices for the young children because they were crying missing the teachers and the teachers were crying missing the students," he said.
While he understands some parents are opting to homeschool or move their child to a private school as MMSD begins its year virtually, he said he hopes they consider the importance of the common experiences public school offers all around the world.
"We're intentionally creating opportunities for students to have those peer experiences," he said. "This is a time we should fall together and realize the strength of public education and schooling in a group versus in isolation.
"I'm going to tell them we're there trying to provide all of the resources and the safety nets for our students to be able to continue to progress and move forward during these times."
The former Atlanta Public Schools chief academic officer said he loves looking at a range of data to evaluate how a district is doing. Information like student and staff attendance, disproportionalities, students in advanced learning and students receiving support for social-emotional needs are among the "key levers to tell me the health of the organization."
On racial slurs, which became a major discussion point in MMSD last school year, the district's first Black superintendent said he doesn't need to be reminded about his grandmother's grandmother, who was a slave, "being raped and beaten and all of those other things or the words someone used to describe her to dehumanize her."
"Do I need to expose my 6-year-old child to that in order for them to be reminded that we have inferiority, superiority and that the Constitution did not recognize everyone? No," he said.
However, he said, he's open to debating those who feel differently as he has repeatedly spoken about the importance of conversations even among those who disagree.
"I'm saying those individuals who are for it, bring it to the table and let's have that discussion publicly," he said. "If anyone pushes those ideas on our children, be it in Madison or anywhere else, I welcome that opportunity to have that discussion with them."
He hopes to focus on "human decency" and those who haven't historically been part of conversations with those in power as he embarks on the new job.
"It's the people and it's the people who don't have the access that I worry about a lot," he said. "It keeps me up at night."
Share your opinion on this topic by sending a letter to the editor to tctvoice@madison.com. Include your full name, hometown and phone number. Your name and town will be published. The phone number is for verification purposes only. Please keep your letter to 250 words or less.
Be the first to know
Get local news delivered to your inbox!