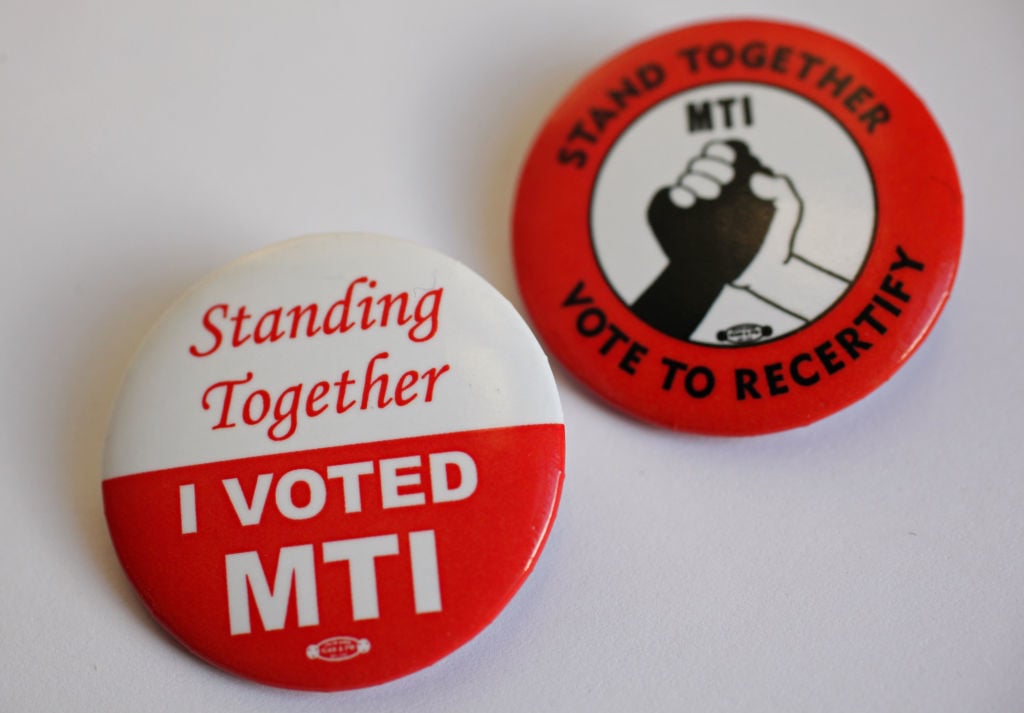 Madison Teachers Inc. has filed a complaint against the Madison Metropolitan School District related to a survey sent out to staff last week.
The Prohibited Practice Complaint was filed Monday with the Wisconsin Employment Relations Commission and seeks an immediate cease and desist of the survey and asks that the district be made to destroy any records related to the responses before reviewing them.
The survey was only two questions long, but one of those questions asked staff how they would prefer the district deal with an anticipated $5 million to $9 million in additional budget cuts for the 2020-21 school year. The two options were to freeze most compensation increases currently in the budget, including base wage, or to eliminate 92 full-time equivalent positions while keeping wage increases intact.
MTI alleges the question violates state law, which forbids the district from bargaining over base wages with anyone other than MTI's chosen bargaining teams, according to the complaint. MTI also calls the elimination of 92 FTE positions under one option a threat of "reprisal if MTI does not agree to forego base wage increases for the coming school year."
"It is illegal for an employer to bypass the democratically certified bargaining representative and to attempt to bargain with MTI represented employees individually," MTI executive director Ed Sadlowski said in a press release. "The survey distributed by the District last week and the intentional threats of reprisal (elimination of 92 Full Time Employees), is wrongful and violates the collective bargaining rights of MMSD employees."
MMSD spokesman Tim LeMonds wrote in an email that the district was notified of the complaint within the last couple of hours and had "not had adequate time to review its accusations or to formulate a response."
The union had discouraged its members from taking part in the survey last Friday. Interim superintendent Jane Belmore wrote in an email that day that it was an opportunity for the staff to share their opinion during a challenging budget time.
An email to staff previewing the survey on Thursday had caused consternation among some, and Belmore tried to respond to that Friday.
"Recently, it has come to my attention that some staff have expressed concerns over completing the survey," Belmore wrote last Friday. "Please know that we value your input, and that we also respect anyone's decision to not participate in this collaborative effort of planning for the future.
"Please also know that we have heard from many staff who are asking for the opportunity to provide input on important decisions, and this survey is just one way of providing that opportunity and incorporating your voice."
The 2020-21 budget, set for a School Board vote on June 29, already includes an $8 million cut from this year. While a potential November referendum could offset some of those cuts, district officials are now preparing for further losses from the state amid the coronavirus pandemic, which has slashed state tax revenues.
MTI's complaint alleges that MMSD officials had not communicated any bargaining proposal for the 2020-21 contract year as of June 5.
The complaint comes amid other confrontations between the two entities, as MTI expressed displeasure with MMSD administration's approach to employee handbook changes in its news release Monday.
"While MTI continues to work toward consensus on any changes, we are not able to agree to the language that has been proposed," the release states. "MTI faces the possibility that the District will attempt unilateral changes to the Employee Handbook and ask the Board of Education to approve language over MTI's objection for the first time since the Handbook was implemented by consensus."
Administrators have proposed changes to various parts of the handbook, including that layoffs would be based on qualifications rather than seniority. The employee members of the handbook committee objected to that and other proposals, but it's possible district administrators will ask the School Board to vote on the changes later this month without MTI support.
In a memo to the board, Belmore wrote that the layoff change would prevent any potential layoffs from overwhelmingly affecting staff of color, who are often shorter-tenured. Diversifying staff has been a key initiative in recent years, but staff demographics remain disproportionate to the student body.
Share your opinion on this topic by sending a letter to the editor to tctvoice@madison.com. Include your full name, hometown and phone number. Your name and town will be published. The phone number is for verification purposes only. Please keep your letter to 250 words or less.
Be the first to know
Get local news delivered to your inbox!