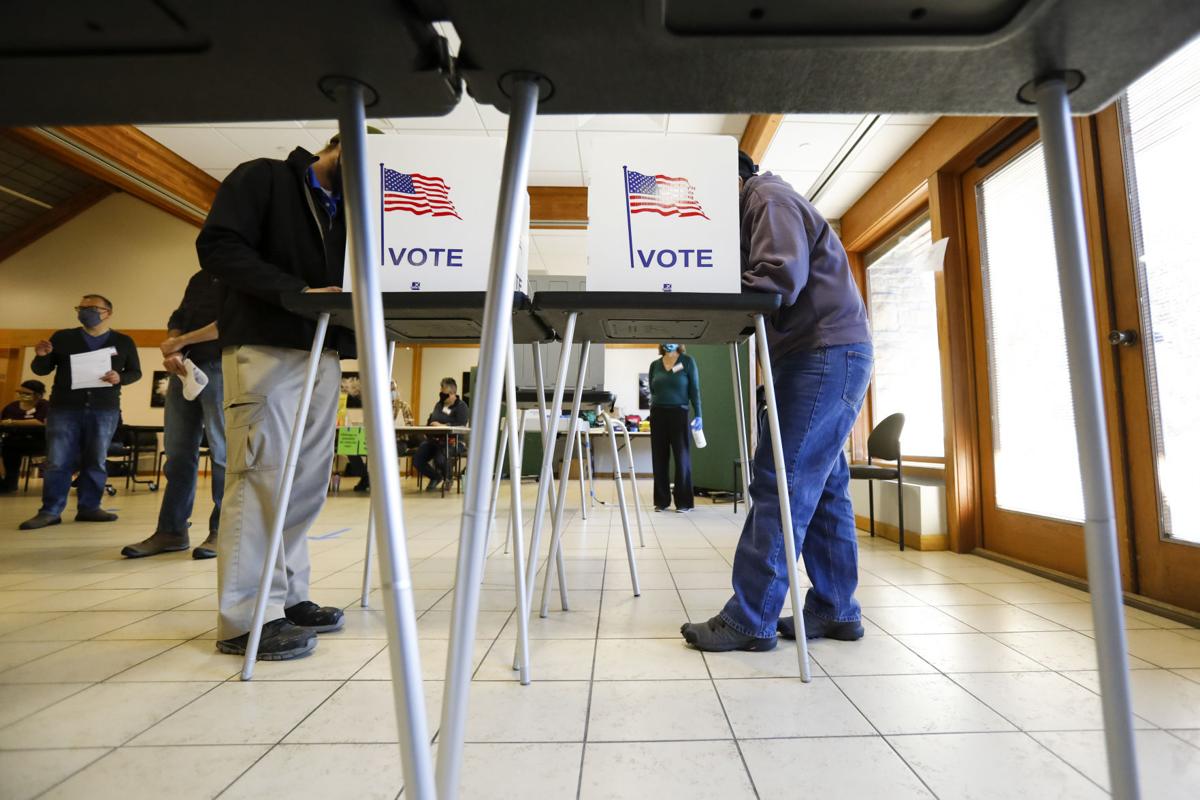 With wide margins of success on recent ballot measures, the Madison Metropolitan School District's $350 million questions were almost certain to pass ahead of Tuesday's ballot count.
Four years ago, the district's operating question won by a 74.2% to 25.8% margin, while a capital referendum the year prior passed with 82.2% of voters casting a "yes" ballot. The question going into this year's measures, which were both larger than those previous measures, was more about the margin by which they would pass.
Voters, turning out in record numbers with the closely contested presidential contest on the same ballot, offered a resounding "yes" to both the $317 million capital referendum and $33 million operating referendum. Superintendent Carlton Jenkins said Tuesday night he was thrilled with the outcome.
"At no point did I think it would not pass, but I knew it was challenging because we all recognize COVID-19 is serious and it's had a serious impact on us economically and with employment," Jenkins said. "When you see 60% passes in a referendum, you're pretty satisfied with that, but when you get up to 70%, you're really satisfied with that."
But the margins of victory for the two measures went in opposite directions compared to the most recent similar questions.
On the operating side, which is the most directly comparable as it also shared the ballot with a high-turnout presidential election, the "yes" vote was 2.2% above what it was in 2016. Voters' approval means the district will have $33 million over the state-imposed revenue limit to spend at the end of a four-year phase-in, with this year's budget already getting a $6 million boost.
The capital referendum, meanwhile, received lower support than in 2015 — though that measure was on the April ballot in a much lower-turnout election. At 79.6% of "yes" votes this year, it was also still above the margin for the operating question. The district will use the $317 million to renovate the four comprehensive high schools, consolidate Capital High School into one location and build a new elementary school in the Rimrock Road neighborhood.
Some wards have changed since the 2015 and 2016 elections, leaving some without a comparison to previous elections, though most of the new wards had small numbers of voters this year.
Operating gains support
Of the more than 100 voting wards in the district, more than 80% had a higher "yes" vote than in 2016.
The largest increases came downtown, with four wards seeing an increase of at least 10% in "yes" votes. Some especially small-turnout wards had higher differences, but just a few votes made a major difference in a ward like 27, which saw just seven voters this year, six of whom voted in favor of the operating question.
Some of the highest rates of support came from the near east and west sides, as many wards had more than 80% "yes" votes.
The highest percentage of support with a significant number of voters came from Ward 46, on the near east side. Running east from Wisconsin Avenue to North Blair Street and bordered by Lake Mendota and East Washington Avenue, 90.2% of its voters gave a "yes" vote to the operating question, up from 87.1% in 2016.
MMSD includes parts of municipalities beyond the city of Madison, but those wards were all mostly in support, as well. The only ward outside the city to be below 50% was the town of Burke, which came in at 46.5% voting "yes" — still up from 44.9% in 2016.
All of the city of Fitchburg wards saw an increase in "yes" votes from 2016, with wards 10-13 seeing 75% of voters, or 1,825, support the operating question, up from 70.2% in 2016. Wards 5-9 had 2,460, or 68.7%, vote "yes," an increase from the 65.8% that voted "yes" in 2016.
Capital referendum slightly down
Just as the operating referendum saw an increase in support in most wards, the capital referendum saw a drop from 2015 support.
Notably, that 2015 April election had 55,345 votes on the ballot measure, while 158,132 voters cast a ballot in this fall's contest.
Even with the drop across most wards, many still saw "yes" votes in the 70s, 80s and even a few in the 90s.
One of the largest drops came in the city of Madison Ward 6, where 68.2% of voters said "yes" to the capital referendum, down from 80.4% in 2015. The ward is largely the Elvehjem Neighborhood on the city's southeast side.
Ward 88, on the city's far west side near Middleton, had 73.2% of its 1,903 voters say "yes" to the capital question, down from 81.1% of 906 voters in 2015.
Share your opinion on this topic by sending a letter to the editor to tctvoice@madison.com. Include your full name, hometown and phone number. Your name and town will be published. The phone number is for verification purposes only. Please keep your letter to 250 words or less.