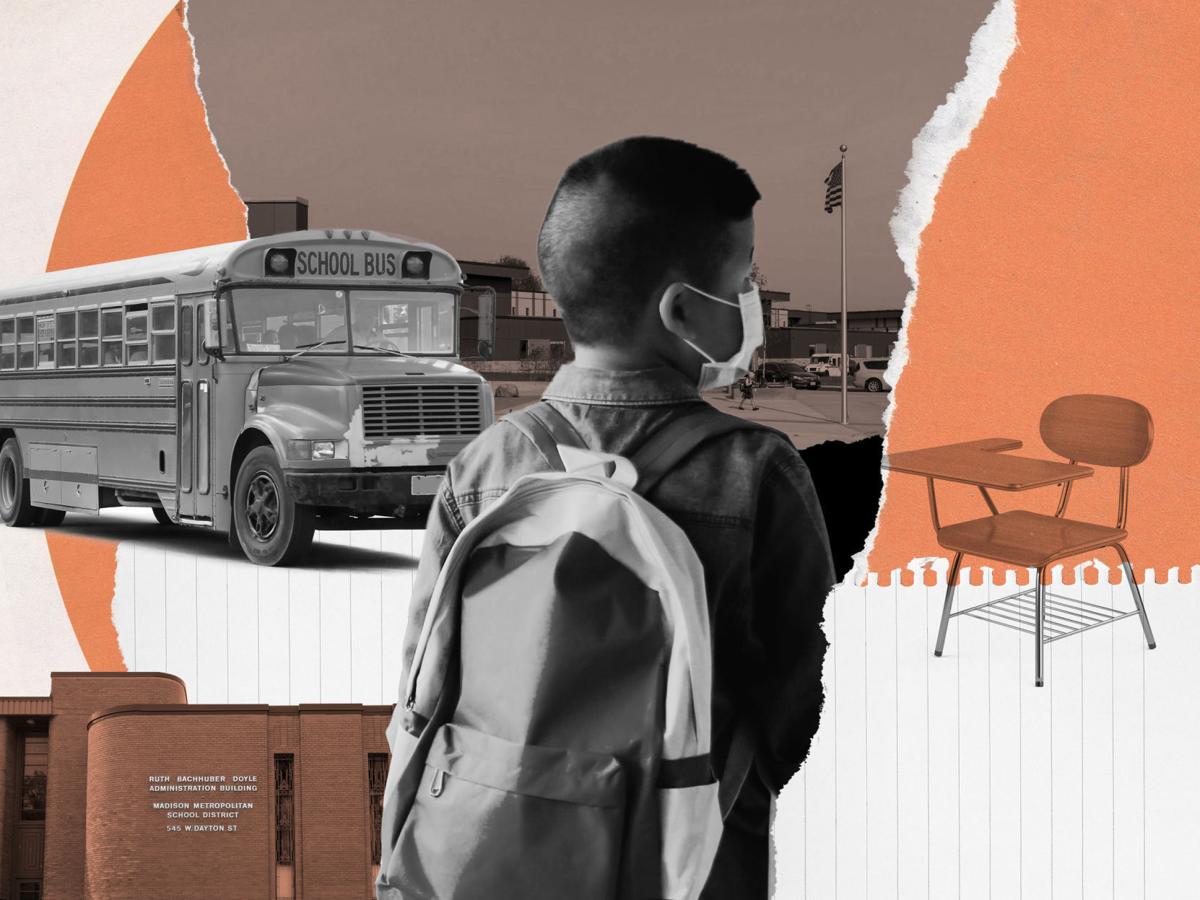 Thousands of Madison Metropolitan School District students could be learning in-person by this summer.
While any return to classrooms during the 2020-21 school year remains in question, district officials hope to give students entering grades K-9 next year a four-hour-a-day summer school option from June 21 through July 30 this summer.
MMSD aims to enroll 25% of its current K-8 enrollment for summer school, focusing on those with 80% or less attendance this year and who were delayed or are still unable to access virtual learning. For students in middle school, they will also look for those who received a grade of "N/A" in math or reading or who have a 1.67 or lower cumulative GPA in seventh and eighth grades in the core content areas.
The district will also consider recommendations from school staff on who to invite for summer school programming, director of summer learning Nicole Schaefer said.
Classes will focus on the science of reading, math and social/emotional supports for students, many of whom will likely not have seen a teacher in-person for more than a year.
"I'm loving the focus on social and emotional learning," board member Nicki Vander Meulen said. "I think especially in middle school … that is absolutely essential and I'm thrilled to see it."
Board member Cris Carusi shared disappointment that science and social studies were not part of the plan, especially for students who will enter high school in the fall and need to be adequately prepared, she said.
"That ninth-grade transition can be really rough if we're not being intentional about science and social studies," Carusi said. "If we don't make sure that they've had the curriculum before they head into high school, they're starting off a year behind and it's going to make high school that much more difficult, it's going to make the transition that much more rocky."
MMSD assistant superintendent for teaching and learning Lisa Kvistad said they thought they could "make the biggest impact" with the focus on English and math and hoped some of the "vocabulary" of science and social studies learning could be covered in English.
"We talked about what would it look like if you had a full day of academics … and we said, 'Who are we kidding?' These children need that MSCR, social-emotional experience just as much as they need the focused academics in the mornings," Kvistad said.
High school students in summer school, who would receive credit recovery and social/emotional support opportunities, would remain mostly virtual, though Schaefer said some students could be prioritized for limited in-person classes. Those classes would run for the same dates.
Board member Christina Gomez-Schmidt encouraged staff to do some "creative thinking" about finding spaces to offer in-person classes for more high school students when possible, and Savion Castro brought up the idea of outdoor classrooms. Schaefer said it's important to have a backup in place for outdoor learning because of weather.
Last summer, just months into the COVID-19 pandemic, the district offered only virtual instruction. About 3,000 students in grades 3-12 enrolled in classes focused on math and literacy.
In 2019, the last year summer school was offered in-person, the district invited 6,926 students to participate and enrollment was 5,938. Data from that summer showed that 86% of the 749 credit recovery attempts by high school students were successful.
The district is also considering providing high-quality professional development for summer school teachers and increasing the pay rate for teaching summer school.
The district is planning to "rebrand" the program from "summer school" to "summer semester," tying it more directly into the academic year.
"We are excited to think about starting this summer really rebranding and thinking about summer as an opportunity to continue learning, a time for kids to really accelerate their learning and really get on track for graduation," Schaefer said.
Share your opinion on this topic by sending a letter to the editor to tctvoice@madison.com. Include your full name, hometown and phone number. Your name and town will be published. The phone number is for verification purposes only. Please keep your letter to 250 words or less.