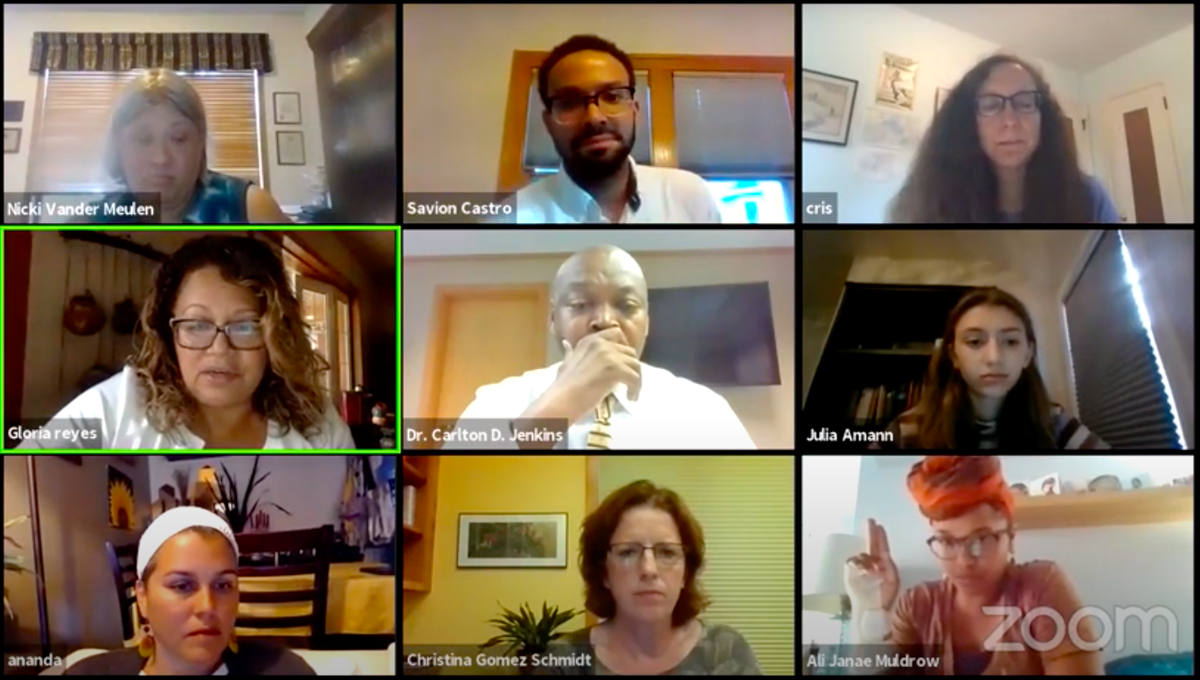 As the Madison School Board is set to consider a vote on two 2020-21 budgets next Monday, the final proposals do not include the maximum base wage increase Madison Teachers Inc. has pushed for.
The board must approve two spending measures: a $495.7 million version in case the Nov. 3 operating referendum passes and a $478.9 million version that would be used if it fails. State law requires boards approve budgets before the end of October.
MTI leadership has asked district officials and School Board members to include a cost-of-living base wage increase at the full amount allowed, 1.8%, which would cost about $4.7 million, according to projections from earlier this year. The budget proposals released Friday, however, only include a 0.5% base wage increase — and that would only come if the operating referendum is approved, as the "non-passing" budget does not include a base wage increase.
The district's proposals instead both fully fund "steps and lanes" increases for staff based on longevity and professional development. In the budget narratives, officials point out that alone is a "2% salary increase on average for employees," at a cost of $5 million to the district, and that staff salaries in MMSD compare favorably to surrounding districts for "most employee groups."
But MTI argued in a recent Facebook post that "hundreds of MMSD employees receive no step increase at all in a given year," leaving some potentially without any pay raise. Given that health insurance premiums increased in an agreement forged this spring, that could represent a cut in take-home pay for some.
"Step increases largely focus on early career employees and are necessary to bring them from lower hiring salaries to more professional pay levels," the post stated. "Base-wage increases are essential to preserve the economic value of the salary schedule and provide all employees a pay increase."
MTI and MMSD met with a mediator Wednesday morning, according to an email from MTI executive director Ed Sadlowski, as the union continued to push for the maximum-allowed 1.8% increase. Sadlowski wrote Tuesday that MTI believed "given the District's unassigned and growing surplus balance over the past few years, the District has the ability to meet MTI's economic proposal."
"We hope that the District will prioritize economic equality for its represented staff, and join with us to resolve the base wage negotiations promptly," he wrote. "In so doing, such will afford the school community the ability to refocus on the critical work and shared vision which remains attainable for all."
The less-than-maximum increase comes in a particularly challenging budget year amid the COVID-19 pandemic. In a normal budget cycle, the June preliminary budget would be almost exactly what passes with the final vote in October.
But with questions about state funding and extra costs from the pandemic, the School Board approved a trimmed down version in June, including a freeze on salaries. That freeze surprised some staff members when they received their paychecks this fall, as they had signed contracts in May and June with a salary increase they expected would be maintained.
MTI considered a lawsuit over the frozen salaries, but the district argued it was within its rights to make that change based on language in the contracts.
"This budget was built and refined through many difficult budgetary decisions, including reductions to our staffing at central office and in schools and reducing our staff benefits," Superintendent Carlton Jenkins wrote in his budget message. "Throughout these decisions, we put students first, while aligning our resources with meaningful and impactful strategies for making our vision a reality no matter the challenges ahead."
If the $33 million operating referendum is approved, it would add funding to the Black Excellence Initiative and fully fund adoption of a new early literacy curriculum and materials to go with professional development for staff on the subject. The materials and curriculum adoption would be a two-year process under the non-passing budget.
The $317 million capital referendum, meanwhile, would fund renovations to the four comprehensive high schools, fund construction for a new elementary school and consolidate Capital High School into a single location.
The district's tax rate will be similar to last year or decrease, depending on the Nov. 3 referenda outcomes.
If the referenda both pass, the mill rate would rise from $11.10 per $1,000 of property value to $11.13 per $1,000 of property value. If they fail, it would drop to $10.55 per $1,000 of property value.
The rates are kept relatively steady by the 5.75% growth in the tax base, and both would be well below the $12.08 per $1,000 of property value from 2015.
Share your opinion on this topic by sending a letter to the editor to tctvoice@madison.com. Include your full name, hometown and phone number. Your name and town will be published. The phone number is for verification purposes only. Please keep your letter to 250 words or less.