An ongoing debate over the propriety of a weekly Christian gathering dubbed "Jesus Lunch" at Middleton High School led to crowds of supporters and protesters facing off at a park shelter adjacent to the school Tuesday afternoon.
Around 500 students, parents and community members gathered at Fireman's Park, where the lunch is held, to serve and eat lunch as well as express their thoughts on the controversy for about 10 reporters covering the event.
Jesus Lunch was started in 2014 by a small group of parents whose kids attend Middleton High School. The lunches involve parents passing out free food to students and having discussions about Christianity. According to students who attend Jesus Lunch, parents give faith-based motivational speeches and send positive messages their way. On one occasion, parents handed out Bibles and Christianity pamphlets.
Of the students gathered in Fireman's Park Tuesday, about half strongly opposed and half strongly supported the event. The Madison-based Freedom From Religion Foundation was on hand to distribute snacks, as well.
Those protesting held signs that said "Take Jesus Lunch to Church" and "Jesus would Compromise." They also drew comparisons, saying a "Muslim Lunch" would be shut down immediately.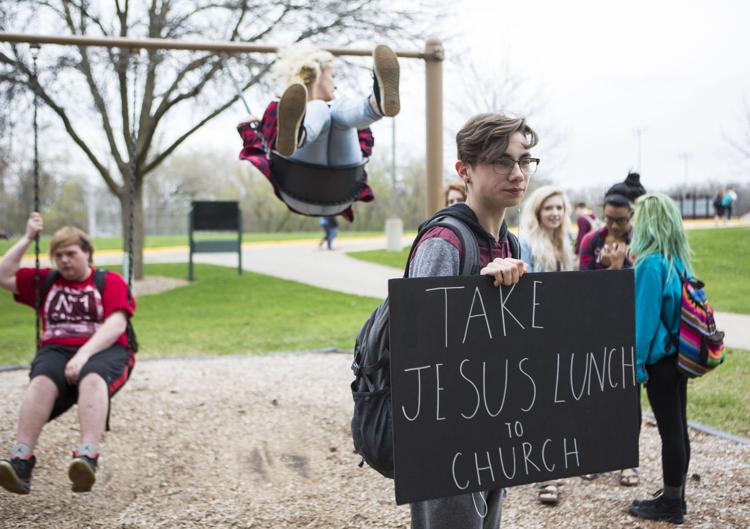 Amanda Powers, a freshman at the University of Wisconsin-Madison and a Middleton alumnus, showed up to protest the event. She said she is still close to many students at the school and the lunch is exclusive and divisive.
"I'm here to support my friends and peers that feel marginalized. There is a park right down the street that is public property that the parents could have rented out, but instead they chose to go against school laws and policies and stay here," Powers said. "This is dividing the student body, hurting minority students and creating unsafe spaces for those that aren't Christian."
Middleton student Anna Diamond disagreed with that sentiment.
"I'm Jewish and don't feel like I'm being oppressed. People think the lunch is oppressive but it's not; no one is forced to come here at all, students have a choice," Diamond said. "The parents are not trying to get people to convert and they are very peaceful. We should all be allowed to have our beliefs and right to preach as long as it's not offending or hurting anyone."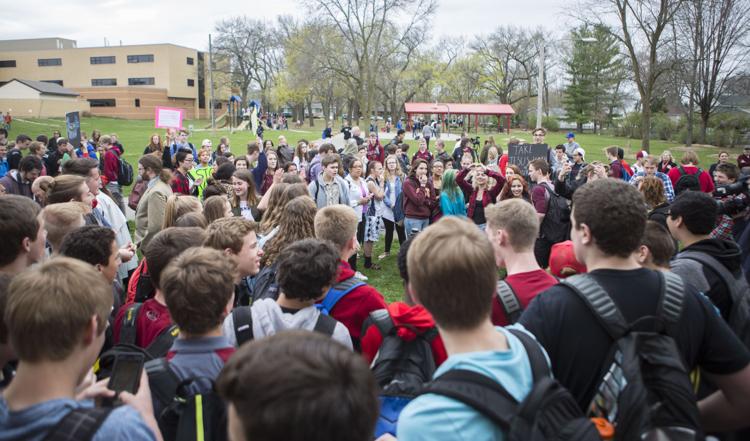 Last week, Middleton Superintendent Don Johnson sent an email to parents and students asking them to "remain calm and understanding" as the controversy gained attention. The lunches were first organized on school grounds until district officials asked them on several occasions to move elsewhere because the religious gathering violated school policy. Parents settled in Fireman's Park in fall 2015.
The park is located right next to Middleton High School. It's owned by the city and is considered a public space, but the school has a 16-year agreement with the city to lease the space so school rules apply there during the school day.
Last week, school administrators were seen in a video setting up cones at Fireman's Park to block parents from hosting the lunch. Middleton principal Steve Plank and Superintendent Johnson were seen discussing the issue with Melissa Helbach, a parent and one of the organizers of Jesus Lunch. Helbach ignored the requests of school officials and proceeded with the event.
Rabbi Bonnie Margulis, a religious leader in the community whose son attends Middleton, said she attended the lunch to support the separation of church and state. She said the lunches have made non-Christian students feel uncomfortable and, on numerous instances, her son asked her to pick him up from school early because he and other students have been taunted and harassed. Margulis said she feels all religions should be able to practice their beliefs, but Jesus Lunch parents should follow rules and not hold it on school property.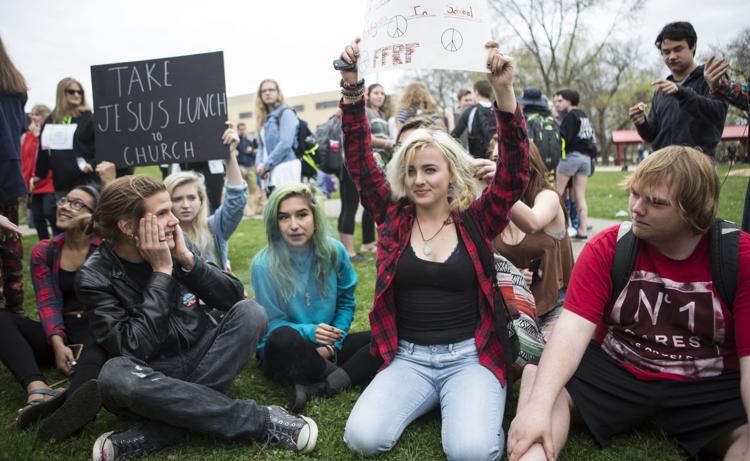 For some students, Jesus Lunch has filled the void of not being able to attend church. Brady Thomas, a senior, said his involvement in athletics interferes with church since many games are held on Sunday.  
"The lunches have been really motivating and it gives me hope. It helps me regain my faith since I can't go to church often," Thomas said.
"It's been nothing but positive things said here and I don't see anything wrong with it," said Tyree Eady, a junior who is also an athlete. "They aren't enticing kids to come or forcing anyone to agree with their beliefs. I like it because it helps me with my faith in God and the moms have been kind and positive."
Jesus Lunch is typically held every Tuesday in the fall and spring.