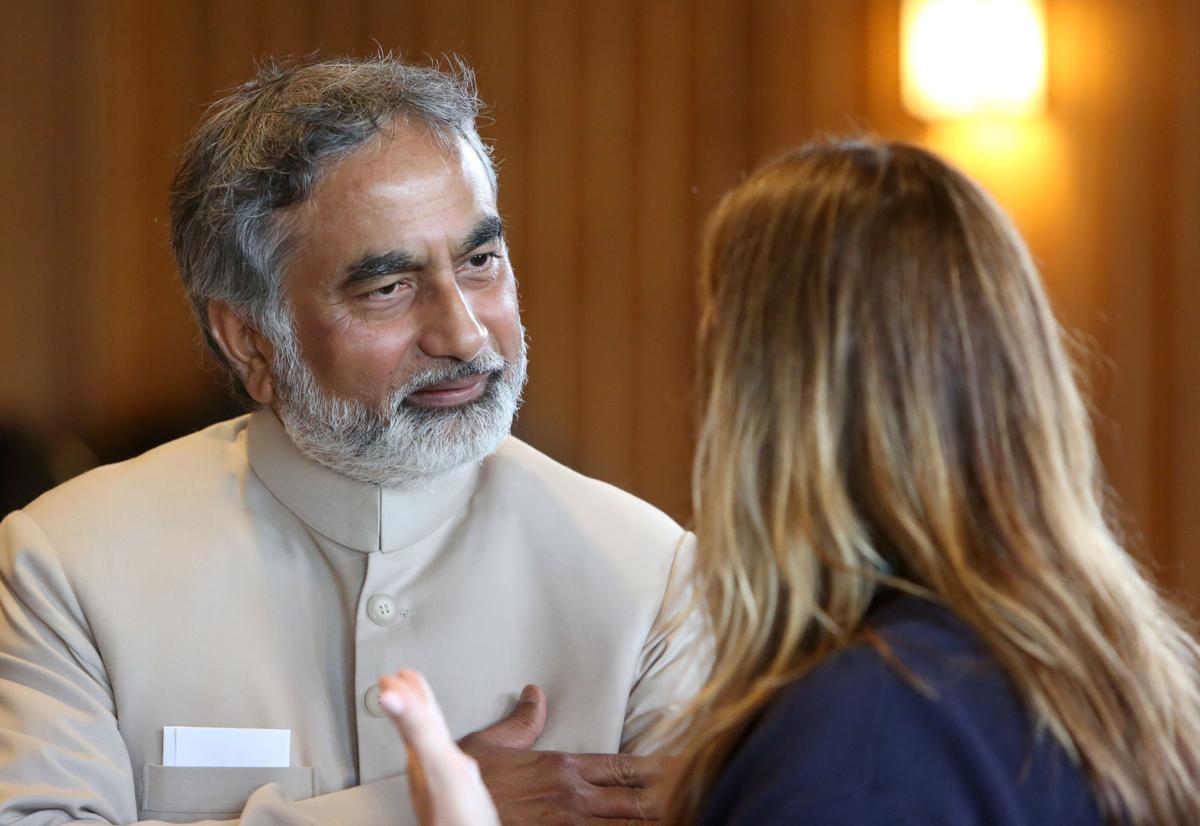 Masood Akhtar doesn't see a "red wave" or "blue wave" emerging in the United States. He sees a "youth wave."
"These problems are so big, that one person cannot solve it," Akhtar said in an interview this week. "As people say, it will take a village to do it. My village is McFarland right here."
Akhtar, who has lived in the Madison area for more than 30 years, noticed an uptick in hatred and bigotry, including against Muslims like himself, in the aftermath of Donald Trump's election in 2016. The "nonpartisan, nonprofit organization of common people" with a mission for fighting hate, bigotry and racism was his solution.
"I believe in one thing: if people can be taught to hate, they can easily be taught to love," Akhtar said. "It's easier to teach them how to love, but you need to start early on in that process to make sure that they understand what this country stands for and how to build unity."
One of his early efforts with the organization helped spark its latest progress. McFarland High School junior Hannah Rounds recalled hearing from two speakers during a presentation from We Are Many-United Against Hate at her school.
One was a former white supremacist and the other the son of a victim of the Oak Creek Sikh Temple shooting in 2012. It opened her eyes to the hate that could exist in the world and the need to eliminate it.
"It kind of inspired me to take part in something that I felt was just so impactful," Hannah said. "I've always been very privileged and I've never really faced adversity. But I kind of got insight into what people face and I just thought that's pretty unacceptable that people feel the need to act that way."
Hannah is now a student ambassador for the organization, another method to connect with youth in addition to the chapter program. The ambassadors include students from various high schools and colleges in the area, and Akhtar sees it as an opportunity for them to share best practices and learn from each other's experiences.
And, once they leave high school for college or college for a job, the network will expand even further, Akhtar noted.
"Now you need to become a leader there and start something wherever you are going," he said. "Over the next few years, if we continue on this path, you're going to see some significant impact on our communities."
That's McFarland freshman Valery Vayserberg's plan. She said she wants to go to college on the East Coast and spread the message there, but hopes to first grow the organization at her high school into something powerful.
"The more people, the more change we can have," Valery said. "That just makes me happy."
Anne Nichols, an associate principal at McFarland High School who is helping the chapter, said so far they've been coordinating with other student groups like the Black Student Union, Multicultural Club and Gay Straight Alliance. They've explained the We Are Many-United Against Hate mission and want help "these clubs that are doing wonderful things on their own come together," she said.
Nichols said it's special to be the first high school chapter of the organization, especially during the COVID-19 pandemic.
"Being that first school, it's showing us that we're still able to make a difference, we're still able to impact lives," she said. "The world is so heavy right now and it's going to take all of us to lift it up.
"It's like the best thing I've done all year."
The students will continue to work with their peers at school, but also plan to spread their message beyond the school's walls to the larger community. Valery said that as someone who has been an advocate as an individual, including starting an anti-hate speech petition earlier this year, it's nice to have others to support the work.
"It kind of gives us those opportunities more than just reaching out on our own," Valery said. 
Having peers to look over letters to political leaders or to offer new ideas that build on what she's advocating for is "very helpful," she said, adding that the group provides "a great place to find new opportunities to promote" unity and change.
Hannah sees the group's message of unity as especially important right now, with a politically divided country and many people interacting mostly online, where it can be easier to ignore the effect of harsh words.
"It's a great thing that we are able to have a voice in our community," Hannah said. "If we can use it to really promote change and educate our community and promote compassion, community and empathy, I think that would just be a great thing."
On Wednesday, We Are Many-United Against Hate announced its second high school chapter in Deerfield. It's also adding its first University of Wisconsin campus chapter at UW-Stevens Point, Akhtar wrote in an email.
"This is a village for me led by students," he said. "You can't get better than that."
Share your opinion on this topic by sending a letter to the editor to tctvoice@madison.com. Include your full name, hometown and phone number. Your name and town will be published. The phone number is for verification purposes only. Please keep your letter to 250 words or less.