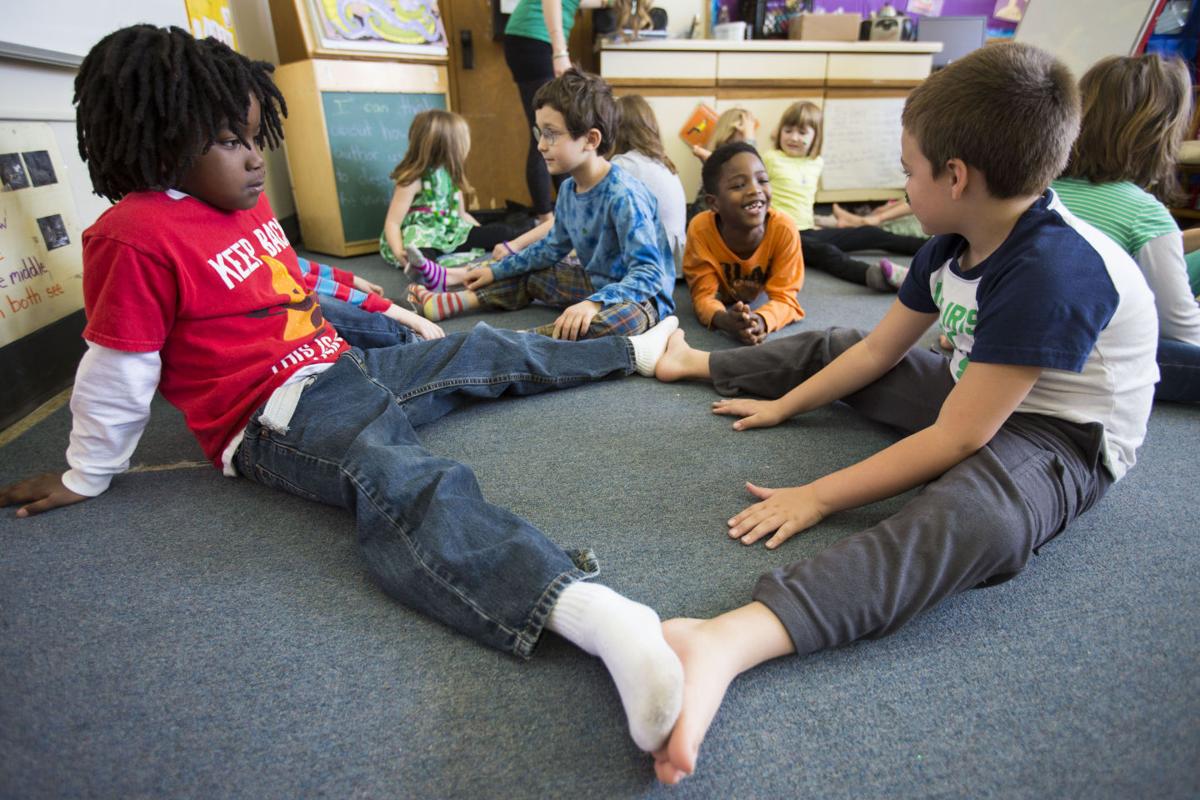 Giggling, yawning and deep breathing filled the air of a Lapham Elementary School classroom on a recent morning as first graders participated in a health and wellness exercise together.
Their teacher, Christa Peterson, led them in stretching, breathing and meditation. They started off with a "tick tock" exercise where students paired up and sat on the floor, arms stretched out and rocking side to side like a seesaw. Music in the background prompted their movements with ticking noises like a clock. They soon moved on to another song that incorporated meditation in a playful manner where they got in a big circle and followed the song's directions.
"Rub your hands … Sit up tall … take a deep breath … Ohmm," the song said.
Peterson said the daily routine helps get the kids ready to learn.
"I like how it calms me down and I don't have to think about much," said Kayla Strabala, a student in Peterson's class. "When I go home, I change into my yoga pants and do it in my room."
Her classmate Ellie Pleasnick shared a similar sentiment.
"Quiet time and yoga is fun. We learned it's important to love yourself and love others, too," Ellie said.
Lapham is one of a number of schools in the Madison area that has adopted yoga and mindfulness practices for students, teachers and staff.
With limited resources and growing demands, teachers say they are stretched thin. Fifty percent leave the profession within the first five years. At the same time, educators are looking for new ways to keep students focused, engaged in learning and respectful of their peers. Teachers say methods like yoga and meditation have positive mental and emotional effects for themselves and the kids they teach.
Research has shown that mindfulness, defined as "being aware of your surroundings and the state of one's thoughts, feelings and body," can improve attention and self regulation, two qualities in short supply in the typical first grade classroom. Practices involving mindfulness have also been shown to be helpful for treating children with anxiety.
Lisa Flook, assistant scientist at University of Wisconsin-Madison's Center for Healthy Minds, said teachers who were part of a stress reduction pilot study experienced less stress and fewer symptoms of depression and anxiety.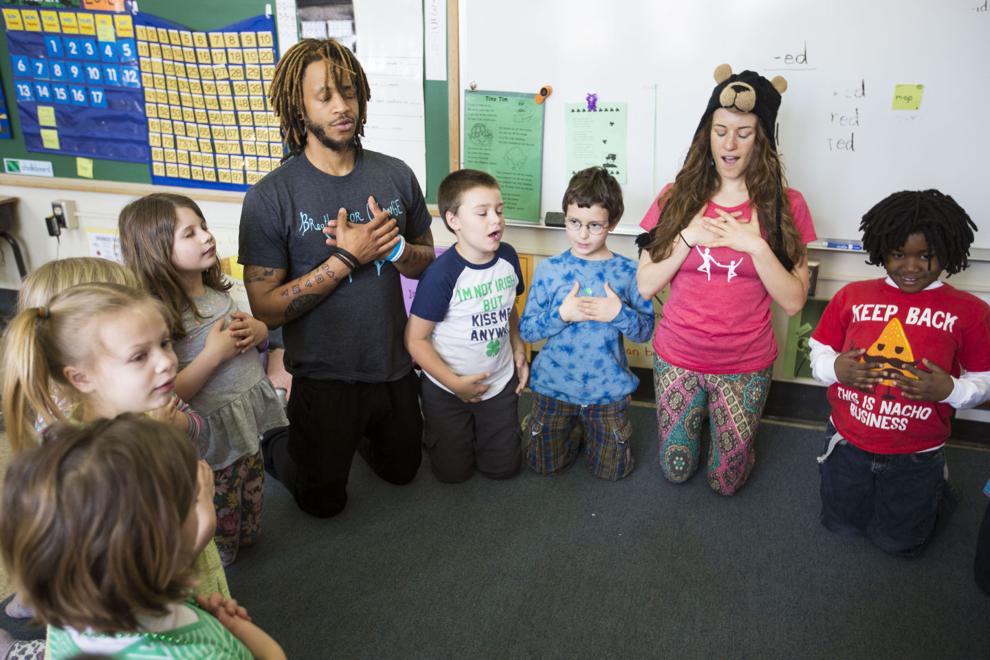 "Mindfulness can be helpful in that way but it's all about engaging in the practices and then looking for ways to bring them into everyday life and the classrooms," Flook said. "Whether or not they're doing anything with the students, it's useful for them to be aware for themselves."
Breathe for Change, a Madison startup, is working to bring mindfulness and yoga practices to teachers and students. Ilana Nankin, founder and CEO, started the group in 2015 after seeing teachers get burned out and leave the profession.
Nankin moved to town in 2012 to pursue a Ph.D. in curriculum and instruction at the UW-Madison. A former pre-kindergarten teacher in San Francisco, Nankin was teaching an undergraduate class when her students learned she was a yoga instructor. They asked her to lead a few yoga sessions with them and soon Nankin and her students were doing yoga weekly on campus.
"I know how yoga transformed my own well-being and I integrated that practice into my classroom," Nankin said. "Soon I began to see a transformation with the students I was teaching."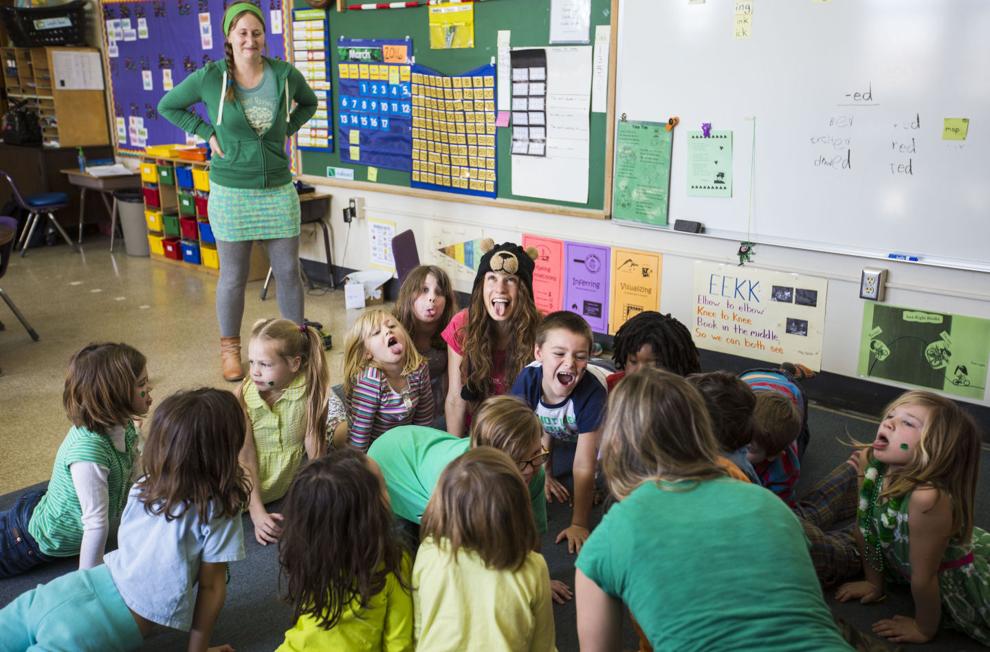 Nankin stayed in touch with eight of her original UW students, including Peterson, as they graduated and became full-time teachers. Through classroom observation and interviews, Nankin documented their experiences.
She found her former students felt overworked, overwhelmed and stressed out. They told her the mindfulness exercises they learned with her as students were the only thing that kept them going. Without them, they may have fallen through the cracks and left the profession.
"Teachers are getting so much new curriculum, assessments, and constantly bombarded with new things to learn and bring into the classroom," Nankin said. "They don't have much time to reflect, self-care or prioritize. It's easy to feel isolated with no sense of support."
What she discovered with her students led her to create Breathe for Change with the goal of improving the health and well-being of teachers, students and school communities. Meditation, yoga and reflection are the main wellness exercises Breathe for Change uses.
Michael Fenchel, co-founder of the 100state co-working space, joined Nankin as president and COO along with Sarah Archibald, an education policy consultant and one of Breathe for Change's yoga teacher trainers. 100state is Wisconsin's largest co-working space, located in downtown Madison. Startup companies, business owners and entrepreneurs work there together to grow their businesses, share ideas and network.
Perhaps the most interesting partner Nankin added to the team is Timothy Scott Jr., who goes by his stage name JusTME. He's a California-based musician focusing on "mindful" hip-hop and choreography.
JusTME started his career in mindful education in 2012 when he began working with The Mindful Life Project, a non-profit organization in Richmond, California. Nankin and Fenchel met JusTME last year during a trip to the Bay Area and he soon joined Breathe for Change.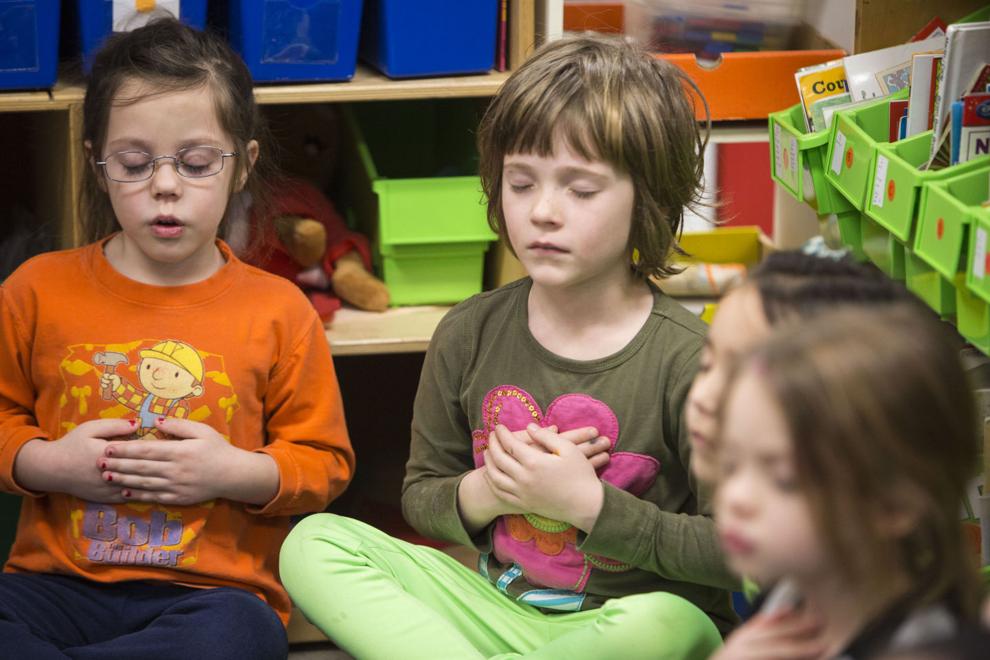 "I get to be a big kid all day and make kids feel good about themselves while working with them," JusTME said. "I let kids be kids and when they're around me, they won't ever hear sit still, listen up or be quiet. This has transformed me in so many ways and I get to be a living testament to kids."
He recently surprised students during Peterson's daily mindfulness exercises, singing and dancing and leading them in a positive affirmation exercise.
"It's okay to be great; I am great," JusTME said, the first graders repeating after him. "When I work hard and set my mind to it, I can do it. I can be my best, I can do my best, because I am my best."
Lapham prinicipal Tammy Thompson Kapp said JusTME has had a significant impact on the kids at Lapham, especially students of color who get to see a role model that looks like them.
Breathe for Change is currently working in seven schools in the Madison Metropolitan School District – Lapham, Emerson, Stephens and Leopold elementary schools; Wright and Sennett middle schools; and West High School.  The organization also works with Clark Street Community School in Middleton.
Last summer, Nankin and her team recruited 34 teachers from across the nation to take part in a 200-hour instructor training, held at the UW-Madison School of Education building. Teachers learned about the importance of taking care of themselves, participated in community building exercises, daily reflections and yoga. They also learned about the history of yoga and how to bring mindfulness and emotional well-being into their classrooms. They all became certified yoga instructors.
The summer training had three focal areas — transformation of self to improve well-being, transformation of teaching and transformation of school community to build support and capacity for school staff, students and their families.
Fenchel said the training sessions allowed teachers to take time for themselves. They opened up about challenges they faced at school and some were moved to tears.
"Teachers were sharing how they haven't felt this calm in a long time. It even took some of them a while to fully grasp that moment was for them to think about and care for themselves. There is a community formed within teachers and it's important for them to bond with each other and offer support," Fenchel said.
Despite practicing yoga for around 10 years, Peterson said she found it hard to take care of herself during her first year of teaching, which she described as "a lot of weight on her shoulders." She didn't have enough time to do what was expected of her and soon noticed it was affecting her students. A few challenging personalities added to her stress.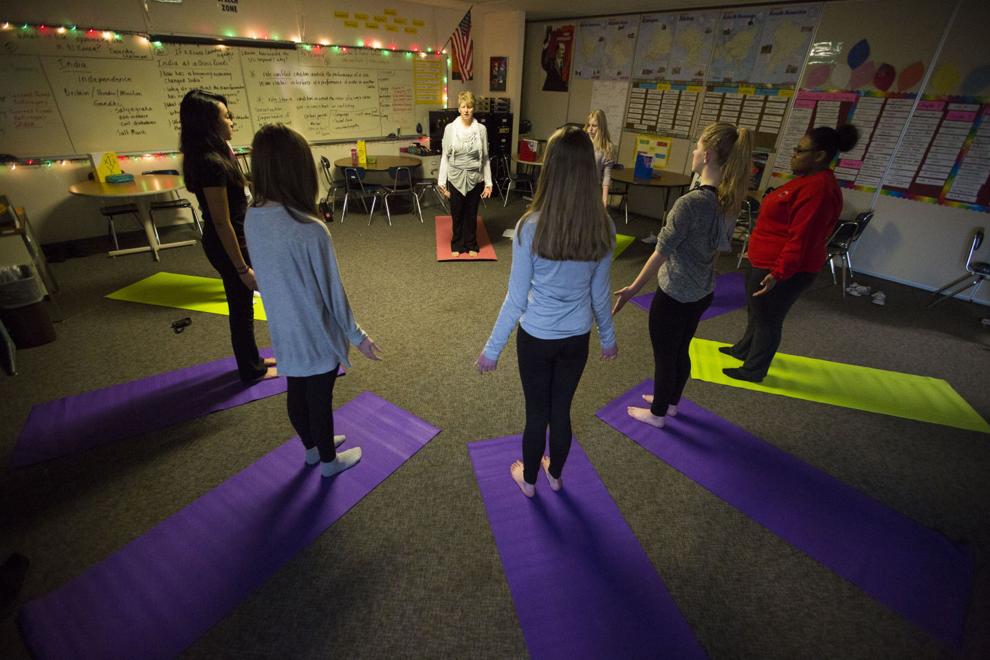 "Ilana saw how difficult of a time teachers were having and there wasn't much of a support system to make teachers successful. The training brought into perspective how important it is take care of myself and make myself a priority," Peterson said.
The summer training and daily meditation practices with her students have helped Peterson in and out of school. She said she strives to be a model for her students to look up to and her relationship with her family has gotten stronger.
"I feel like I'm a better person because I know how to respond to people more effectively. I'm able to see suffering and anger and sympathize rather than getting angry back," she said.
Lapham principal Tammy Thompson Kapp said the school began focusing on social and emotional well-being last year. Every day, students and teachers take out 15 minutes to focus on breathing, meditation and awareness.
"I need my teachers to know that I care about them first before I can expect to create safe, healthy environments for their students," Thompson Kapp said.
Breathe for Change came aboard in August. Nankin and her partners come to the school once a month to model what mindfulness in the classroom looks like for teachers. As Nankin leads students in yoga and mindfulness exercises, teachers have a chance to not only take notes, but step back, calm down and refocus their own energy.
Over at Sennett Middle School, bilingual social studies and art teacher Hallie Savage does breathing and yoga exercises with her class. She also participated in the Breathe for Change summer workshop and helped bring the program into Sennett, working with teachers who didn't take the training on how to introduce mindfulness practices to their classrooms.
"Education is so important to me and I got excited that I would be able to spend two week learning about yoga and how I can use it to impact my students and myself in the workplace," Savage said. "There are so many directions in which educators are pulled and being able to be focused on the students in front of you or the task in the moment is very important, otherwise everything is very overwhelming."
Savage said the mindfulness aspect of the training taught teachers how to take a step back from the demands and focus on what was important, and make space to recharge mentally and emotionally.
In Verona, one teacher has been bringing aspects of mindfulness into her classroom for the past 15 years. Debra Ballweg, a social studies teacher at Verona Area High School, offers yoga and meditation sessions that students can take during their free periods. Meditation classes are every week while her yoga classes are every other week, both running 30 minutes.
During meditation sessions, students practice relaxation methods and breathing. Ballweg said during that time she likes "taking her students on a journey."
"I turn off the lights and we work through breathing techniques and calming the body. Sometimes I take them on a journey and put different ideas and thoughts in their minds, getting them to reflect on themselves," Ballweg said. "I have a mix of students from different races and ethnicities sign up, I like seeing that. I also have some regulars and new faces."
Ballweg's yoga and meditation classes attract mainly girls, but every now and then some boys will sign up. She said sometimes male athletes will take a meditation class when they have a big game coming up and need to relax their minds and relieve stress.
Ja'kira Abdul, a senior, said yoga gives her a chance to reflect on her life.
"The world is so chaotic and sometimes we don't stop to give things in our life much thought," she said. "It's nice to relax and take a step back."
Sophomore Sydney Lowry agreed.
"It gives us a chance to be aware of what's going on. Everyone looks forward to it and it helps us focus academically in school," Sydney said.
For Anna Pundt, taking yoga at school has helped with anxiety problems. Outside of school she said she enjoys dancing and sees yoga and meditation as a form of self-care.
Freshman Kaya Burton said she also has anxiety and yoga and meditation have helped.
"It allows me to release myself and just be in the moment. It's also my favorite part of the week," Kaya said. "It's different from gym class because I'm not good at sports so this is a great place to be with no judgment."
Ballweg signed up for Breathe for Change's summer training and will soon get certified. Outside of school, she practices with DragonFly Hot yoga and Pinnacle Fitness.
As more teachers get involved and practice mindfulness in their classrooms, Nankin wants Breathe for Change to grow into a global effort. It's important for teachers all over the world to feel supported and heard, she said, and that's not happening enough.
Nankin hopes to expand Breathe for Change into 25 Madison area schools next year and partner with 10 schools in New York and 10 in the San Francisco Bay Area. She also hopes to host the summer yoga training workshops in New York and San Francisco before including more states.
"We are building a movement that is improving the health and well-being of students and teachers all over nation. In ten years I hope to have this be global, to have trained hundreds of thousands of teachers and families," Nankin said. "I see a shift in education policy, hope to see teacher burnout rates decrease and want to see society valuing teachers and all they do for us."
Breathe for Change has several training workshops scheduled this year, including one this summer in Madison. So far 100 teachers have applied.
Correction: Michael Fenchel was originally identified as Breathe for Change's vice president. He is the company's president.
Share your opinion on this topic by sending a letter to the editor to tctvoice@madison.com. Include your full name, hometown and phone number. Your name and town will be published. The phone number is for verification purposes only. Please keep your letter to 250 words or less.