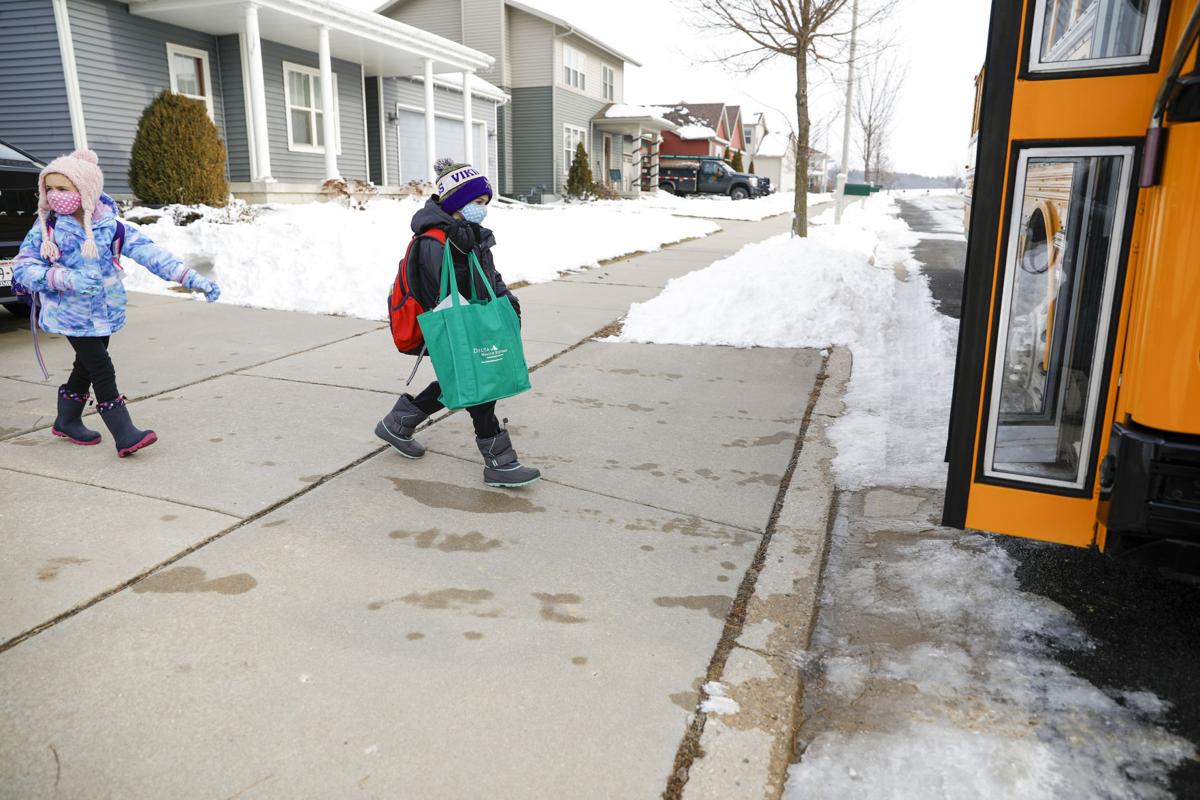 The Madison Metropolitan School District will begin a phased reopening for in-person instruction with kindergarten on March 9.
"When our first student walks through our doors on March (9)th, it will be almost a year since we closed in March 2020," superintendent Carlton Jenkins said in news release. "As a school community, we have come a long way, and remain committed to providing the safest learning spaces possible by continuing to adhere to our safety protocols; and implementing multiple layers of prevention and mitigation measures specifically developed to keep students and staff safe."
Virtual learning will remain an option for families who do not want to return for in-person instruction. First- and second-graders will return March 16 and 4-year-old kindergarten students will return on March 23, according to the announcement sent to parents.
Beyond that, the district will "later determine when other grade levels and co-curricular activities can transition safely to in-person."
"As a district, we're going to be committed to ensuring the reopening goes off without a hitch, and the virtual learning, we're going to continue refining our practices," he said.
The asynchronous learning days, which had been on Wednesdays so far, will move to Mondays for students in all grades beginning March 8.
MMSD executive director of research, accountability and data use Andrew Statz explained during a January Facebook Live event that Monday made the most sense for health and safety.
"If you were breaking your week in half by using Wednesdays to get to four days, you weren't really following some of the science on the way that the virus presents itself," Statz said. "Better, in other words, to have three consecutive days where symptoms may emerge or test results can be acquired for students instead of two days plus one."
Just over a month ago, Jenkins announced the third quarter would begin virtually. He said at the time that, contrary to how the first half of the year was handled, that could change within the quarter if district officials felt they had satisfied the criteria to open safely.
Survey data from December, before many details were available on what an in-person school day would look like as the COVID-19 pandemic continues, showed parents split on whether they would want to send their student back. Some criticized the district for putting out the survey without providing details on what school would look like.
Two staff surveys, one from the district and one differently worded from Madison Teachers Inc., indicated that while about 65% of staff would be able to return, many did not support the idea. In the MTI survey, which asked about their support for reopening rather than their ability to return, found 94% of respondents did not support a return at the time.
"It is our expectation that our staff are returning," MMSD chief of human resources Deirdre Hargrove-Krieghoff said. "We're excited for folks to return to buildings."
Staff are unlikely to all be vaccinated by the time schools reopen. Some school staff are part of the state's 1a tier and in the process of receiving their vaccine, student and staff support executive director Jay Affeldt said.
Teachers and other staff, however, are in the 1b tier, which isn't expected to begin receiving vaccines until March 1. Affeldt said the district will prioritize staff who have been working in-person, followed by elementary school staff, then middle school, then high school and finally central office and substitutes.
"We are working closely with public health to make sure we understand their intended process," Affeldt said. "As soon as the state gives the OK to move on to tier 1b we want to be prepared and understand the most efficient means to get all staff vaccinated."
Jenkins encouraged elected officials to prioritize teachers.
"The individuals who are coming back, we need the support in getting the vaccine to them," Jenkins said.
The MSCR Cares program, which has been running day cares inside of some buildings since last summer, will move to middle school sites to open up space in the elementary school buildings. There will also be afterschool child care offered in "many of our elementary schools," MSCR executive director Janet Dyer said, though details are still being worked out.
Jenkins will hold a previously scheduled Facebook Live discussion on reopening Thursday night beginning at 6 p.m. He did not commit to all grades returning in-person this year Wednesday.
"Would I love for all schools to be back by the end of the year? Yes," Jenkins said. "But we're going to stay with our metrics, stay with our internal, external advisories, listen to the medical advice. The science dictates this."
How school will look
Monday, principals sent videos to parents outlining with the most detail to date what school would look like in an in-person environment. Teachers will likely teach both virtual and in-person students simultaneously, though that will depend on how many students choose each model.
The school day for elementary students will run from 7:50 a.m. to 2:47 p.m. at some schools and 8:40 a.m. to 3:37 p.m. at others.
Students will eat lunch within their classrooms and specials like art, music and phy ed will be taught virtually whether students are at school or at home to keep the co-mingling of adults with groups of students at a minimum.
Students will be required to wear masks throughout the day. They will be able to go outside for recess, but will be required to remain with their classmates in marked "zones" in outdoor areas, which groups will rotate through.
According to the presentation, in-person students would be taught by the teacher during large group instruction while virtual students would watch on Chromebooks at home. Small group instruction would be a mix of live and virtual instruction, while individual work would likely take place on devices using programs students have used throughout the school year.
"It's not a situation where an in-person student has to be consistently tethered to a device," co-chief of elementary schools Tremayne Clardy said Wednesday.
Most Dane County school districts have begun to phase in some students as evidence continues to emerge that schools are not the "super spreader" environments they were feared to be when the pandemic began. However, studies have shown that the risk at schools is strongly correlated with the risk in the community, meaning community spread is a key indicator in considering how safe a school will be.
Parental decisions
For first-grader Sam Cechvala, virtual learning has "been going very well," his mother Julia Richards said Wednesday, noting how impressive the teachers and school leadership at Emerson Elementary School have been.
That leaves her divided about the news from the district. While as she and others in Sam's life are not yet vaccinated, she also believes he would benefit from the social aspects of in-person school and having a teacher to help keep him on task.
"At this point, I'm still feeling like I'll wait until some more of the adults in his life can get vaccinated," Richards said, adding that she "definitely" wants him to be in-person by the fall.
It's unclear if families will be able to move from virtual to in-person after the initial decision-making period, which will be through a survey next week.
Jenkins said Wednesday he anticipates there being later opt-in opportunities, but they are still working on the timing for that possibility.
"The logistics behind this are just a huge part and we have to have some cut off times to do it well," he said.
Richards said she'd consider sending Sam back later this spring if more adults in his life have received the vaccine, adding that she hopes teachers will be vaccinated by the time school reopens as well. 
The decision on her and other parents' shoulders is challenging, she acknowledged, but she doesn't expect the "ongoing level of uncertainty that creates anxiety" to go away even after vaccines are widespread.
"It's just kind of what we're all having to deal with with this pandemic of risk assessment," she said. "Even once we are vaccinated, there will still be risks and we'll have to navigate those."
Correction: The original article misstated the school day time for all elementary schools. The article has been updated and the full list of start and end times can be found by clicking here.
Share your opinion on this topic by sending a letter to the editor to tctvoice@madison.com. Include your full name, hometown and phone number. Your name and town will be published. The phone number is for verification purposes only. Please keep your letter to 250 words or less.