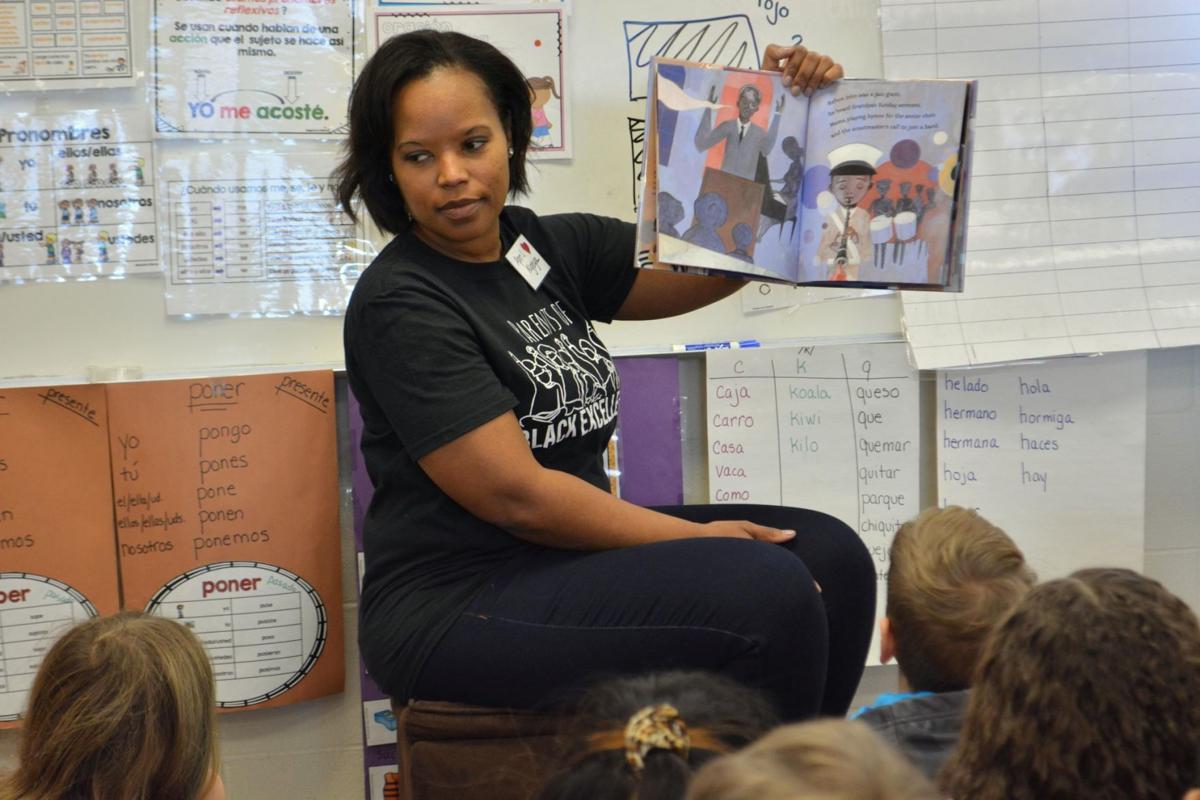 Uchenna Jones recalls a moment shortly after she read her book, "Pretty Black Girl," to her son's kindergarten class two years ago, when she overheard the class' only Black girl talking to her mom.
"She was making those connections, 'I'm a pretty Black girl,'" Jones said. "It almost sounded like a self-discovery. I don't know how many of our Black and brown kids recognize their own beauty, their own worth."
"It doesn't matter what book you read, the fact that you take the time to just say, 'Hey my name is so-and-so, I'm the parent of so-and-so, and I think you guys are amazing,'" she said, complimenting teachers' work to make students aware of the Black authors and illustrators in the books they're reading. "I left feeling full — not just filling somebody else's cup, but my cup was full."
The 17th year of the event, which is a celebration of National African American Parental Involvement Day, will bring Black community members into virtual classrooms to read to students. Even as it looks different during this period of virtual learning amid the COVID-19 pandemic, district Family, Youth & Community Engagement Coordinator Emily Peterson said it's as important as ever.
"We live in a nation where we do not celebrate our Black families and community members enough," Peterson said. "It's an honor and pleasure to be able to coordinate this event and to help schools coordinate this event."
Some students will see recorded videos of readings from local authors, MMSD staff and parents, while others will have live readers in their Zoom classrooms throughout the month. The specific plans vary by school.
Rachelle Stone, a former classroom teacher at Huegel Elementary School who now works in a districtwide position, had helped coordinate the event at Huegel.
"It's really making sure that even before you start reaching out that you have relationships, specifically with your families, that this isn't the first time you're making that connection," she recalled of finding families to come in and read.
This year, she's excited to be a reader, hoping to read the book "All Because You Matter," and is glad the district found a way to continue the event in a virtual setting.
"It's about taking aspects of things that we did do in our brick and mortar that were successful, that were engaging, that really lifted community participation and translating that to a virtual space," Stone said.
Another local author, Krystyn Jones, is a 2019 La Follette High School graduate who published a book titled "Wonderfully Made" last summer. She said being invited to read her book, which is about her accepting herself and her spina bifida, "feels good to see your hard work pay off and actually going the direction you want it to go in."
"Don't let my disability be a disability but take it as I'm just uniquely made," Jones said of the lessons she hopes the book offers.
Uchenna Jones said the event illustrates how "representation matters," in seeing Black families "in a most positive light," seeing characters Black students can identify with and seeing authors and illustrators who look like them. It's also good for her on a personal level.
"It's a very empowering experience," she said. "I know my sons, their chests get puffed up when they see their mom do something. I realized, as a parent, I secretly want my kids to be proud of me."
MMSD universal systems strategist Cynthia Moore, who is among the volunteer readers this year, said it's "an honor to be a part of it."
"Kids ask you questions about what do you do and who are you and where do you live?" Moore said. "It's building relationships with the community, which is the beauty of Read Your Heart Out."
The event's initial creation by then-Midvale Elementary School reading interventionist Michelle Belnavis was part of a celebration of National African American Parental Involvement Day, MMSD's Peterson said.
"She recognized that the narrative around their parental involvement was not always positive," Peterson said. "She knew that to be not true, she knew that these families were engaged and were invested and that they were really a key to their child's academic success. So she wanted to show that, she wanted to welcome them into a space where they felt honored and celebrated."
Share your opinion on this topic by sending a letter to the editor to tctvoice@madison.com. Include your full name, hometown and phone number. Your name and town will be published. The phone number is for verification purposes only. Please keep your letter to 250 words or less.