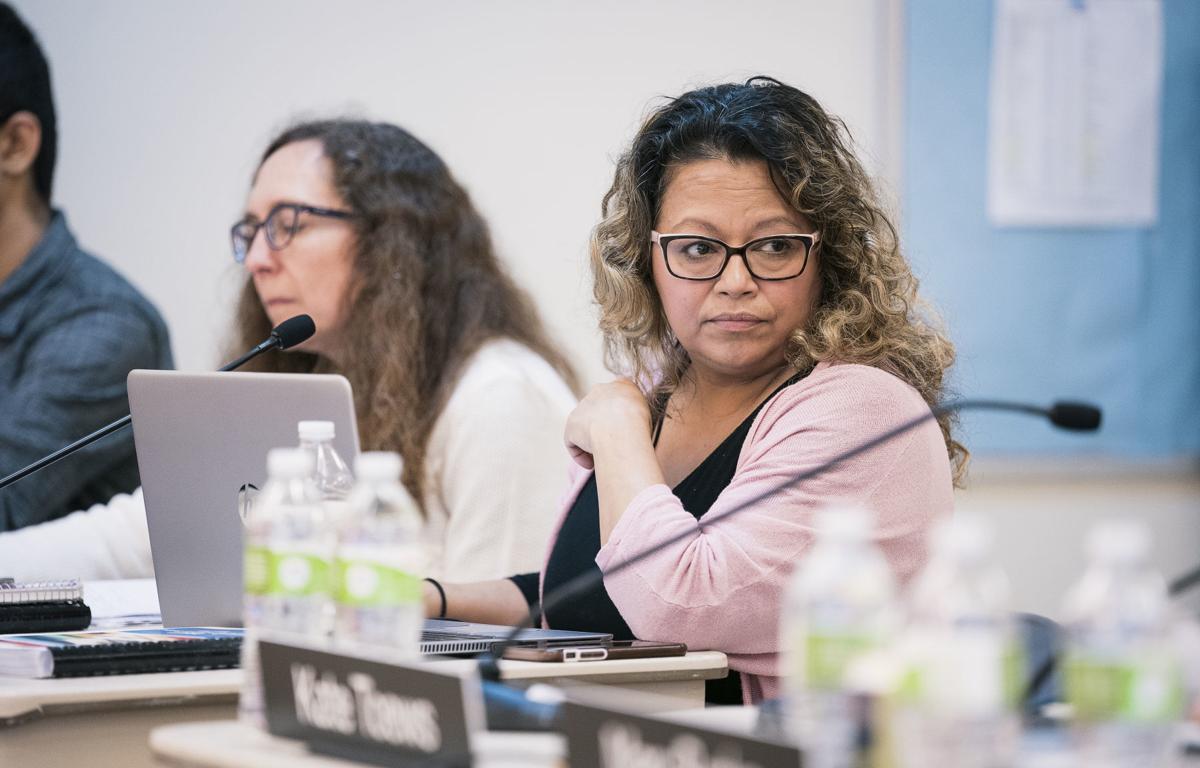 The Madison School Board will establish a subcommittee to work toward removing police officers from schools, board president Gloria Reyes announced in a statement Tuesday.
"Considering the incidents of racial injustice that our nation has recently experienced, and as MMSD continues planning for the reopening of schools this fall, I recommend that the Board of Education incorporate a strategy of options to remove School Resource Officers (SROs) from our school buildings," Reyes said in the statement. "The complexities of these times have lasting and painful memories for our students and staff, and we must press harder to dismantle systems that perpetuate racism and create new structures, void of harmful inequities, and with the wellbeing of every student at the center."
Reyes, a former Madison police officer, has previously supported keeping officers in schools.
The announcement follows a call from Madison Teachers Inc. to end the SRO program, a reversal of its position as well. Some districts around the country are ending their agreements with local police. MTI's call came with the caveat that the district hire additional student support staff at each high school.
Movement on the issue has come quickly in some places following George Floyd's death in Minneapolis May 25. Video shows police officer Derek Chauvin kneeling on Floyd's neck for nearly 9 minutes while Floyd was in custody. The Minneapolis School Board recently severed its contract with the police department.
Reyes acknowledged that and other recent incidents of police and other violence against black people, including the cases of Breonna Taylor and Ahmaud Arbery, have forced the need to "pursue a viable alternative to SROs in our buildings."
"While I know first hand that our Madison Police Department (MPD) SROs have provided our schools and students many benefits that have built trust and relationships, I also feel the culmination of these racially motivated events have served to increase the emotional and psychological impact that having SROs in our schools has on our students, especially students of color," she said.
Reyes noted in her statement that the district's contract with the Madison Police Department is "paused" with schools closed for the COVID-19 pandemic. The subcommittee will include students, parents, teachers and "other stakeholders" to "begin work on a comprehensive review of what MMSD's safety and security strategy could look like without SROs in schools."
"The work of this sub-committee will be grounded in developing strategies of prevention and mitigation, and reimagining our partnership with MPD who will continue to play an important role in our response to incidents occurring in our schools," she said. "Subsequently, the board will be meeting to review the current MPD contract and how we will be working with them in the future."
Officers have been stationed in Madison high schools since the mid-1990s.
Reyes reiterated her support for officers in schools as recently as last week, when activists rallied outside of her house and asked her to commit to ending the SRO program. Freedom Inc. has been leading the "No Cops in Schools" movement for five years, often having youth speak to the School Board at monthly meetings during public comment.
The last contract was renewed in June 2019 on a 4 to 3 vote. It lasts through the 2021-22 school year, but the board can end the contract effective June 2021 with a vote by Sept. 15 this year.
Before her statement Tuesday, it already looked possible the contract would end early. The three votes against last year's contract all still remain on the board, and Savion Castro, who joined the board after the contract vote last year, told the Cap Times last week he would want to end the contract early.
Share your opinion on this topic by sending a letter to the editor to tctvoice@madison.com. Include your full name, hometown and phone number. Your name and town will be published. The phone number is for verification purposes only. Please keep your letter to 250 words or less.