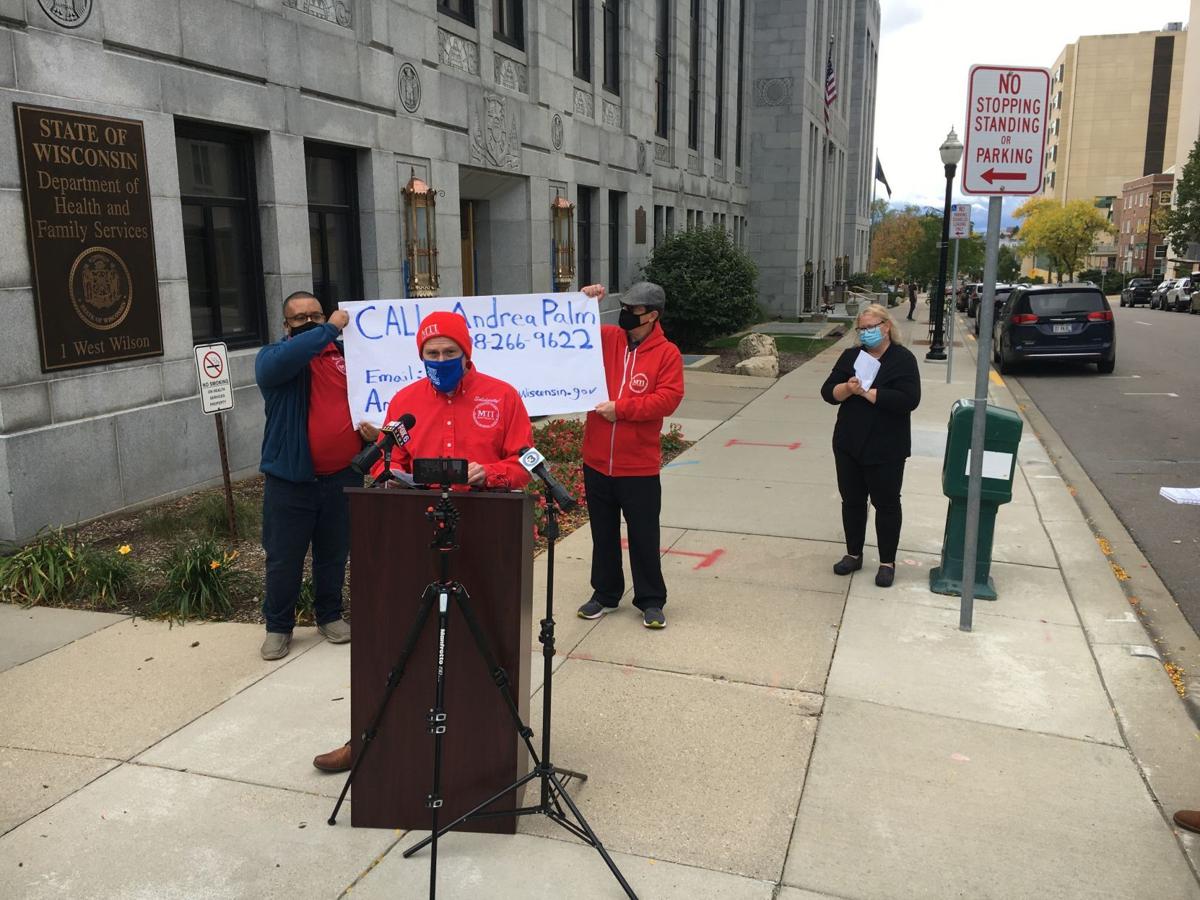 Local teachers unions in the state's two largest school districts are calling for officials to close school buildings around Wisconsin as COVID-19 cases continue to rise.
In a Wednesday press conference outside the state Department of Health Services building, Madison Teachers Inc. president Andy Waity and Milwaukee Teachers' Education Association president Amy Mizialko asked DHS secretary-designee Andrea Palm to order all K-12 schools, colleges and universities to move online.
"Wisconsin cases are out of control with exponential growth," Waity said. "We've seen unprecedented numbers over the past few weeks that continue to trend upwards. We must do more to control the spread of COVID-19."
Palm took similar action in March, shortly after the COVID-19 pandemic first reached Wisconsin. School buildings across the state remained closed for the spring semester, with districts providing varying levels of remote instruction.
This fall, decisions were left to local officials. Many of the state's largest districts, including Madison and Milwaukee, have remained almost entirely virtual to start the year. Other public school districts as well as many private schools have returned to in-person instruction.
"We cannot rely on individuals to make good decisions in a pandemic," Mizialko said, citing reports of parents knowingly sending symptomatic children to school. "It requires a systemic response. This is why we have government and it's why we pay taxes and it's why we have elections."
DHS did not immediately respond to a request for comment Wednesday.
While they were not able to attend the press conference, Racine Educators United president Angelina Cruz, Kenosha Education Association president Tanya Kitts Lewinski and Green Bay Education Association president Justin Delfosse supported the call for all-virtual instruction statewide, according to a press release.
The group asked that face-to-face instruction be prohibited until community spread is "controlled," which they defined by various metrics including three straight weeks of dropping case numbers, declining hospitalizations and deaths and a reproduction rate below one, which would indicate an average infected person was spreading the virus to fewer than one person. Ultimately, though, they asked for health officials to guide those measures.
"We would look to public health experts and an agency that is tasked with determining gating criteria rather than leaving it up to school districts who don't have public health experts on their staff," said MTEA executive director Ben Ward. "Public schools rely on state agencies, county agencies and city agencies that have public health experts and we're watching those agencies punt their responsibility."
Of those 318, 58 are in Milwaukee County, 41 in Brown County, 40 in Outagamie County and 25 in Dane County. DHS is not identifying the facilities subject to investigations.
Wisconsin as a whole is facing its most significant surge in cases of the pandemic, including record highs of hospitalizations, according to the COVID Tracking Project.
An order from Palm would certainly generate legal questions given the state Supreme Court's ruling striking down Gov. Tony Evers' extended "safer at home" order earlier this year. That ruling excluded the K-12 closure, leaving the administration's authority to unilaterally shutter schools unclear.
The state is currently under a third public health emergency order, which Evers declared last week. That order is the basis for Wisconsin's second mask mandate and could be used to back up further directives Evers were to issue. Still, that order is facing a legal challenge.
Evers has repeatedly said publicly he would leave school decisions to local officials.
In Dane County, public health officials in late August ordered all schools closed for grades 3-12, while allowing in-person instruction for grades K-2 with certain requirements in place. The state Supreme Court put that order on hold in response to a legal challenge from various private schools, parents and membership organizations, allowing schools to open.
Many private schools had planned to open for some in-person instruction the week after the Public Health Madison & Dane County order was issued after 5 p.m. on a Friday. PHMDC officials have encouraged schools to use the metrics they issued for reopening schools even if its order is not in effect.
Share your opinion on this topic by sending a letter to the editor to tctvoice@madison.com. Include your full name, hometown and phone number. Your name and town will be published. The phone number is for verification purposes only. Please keep your letter to 250 words or less.