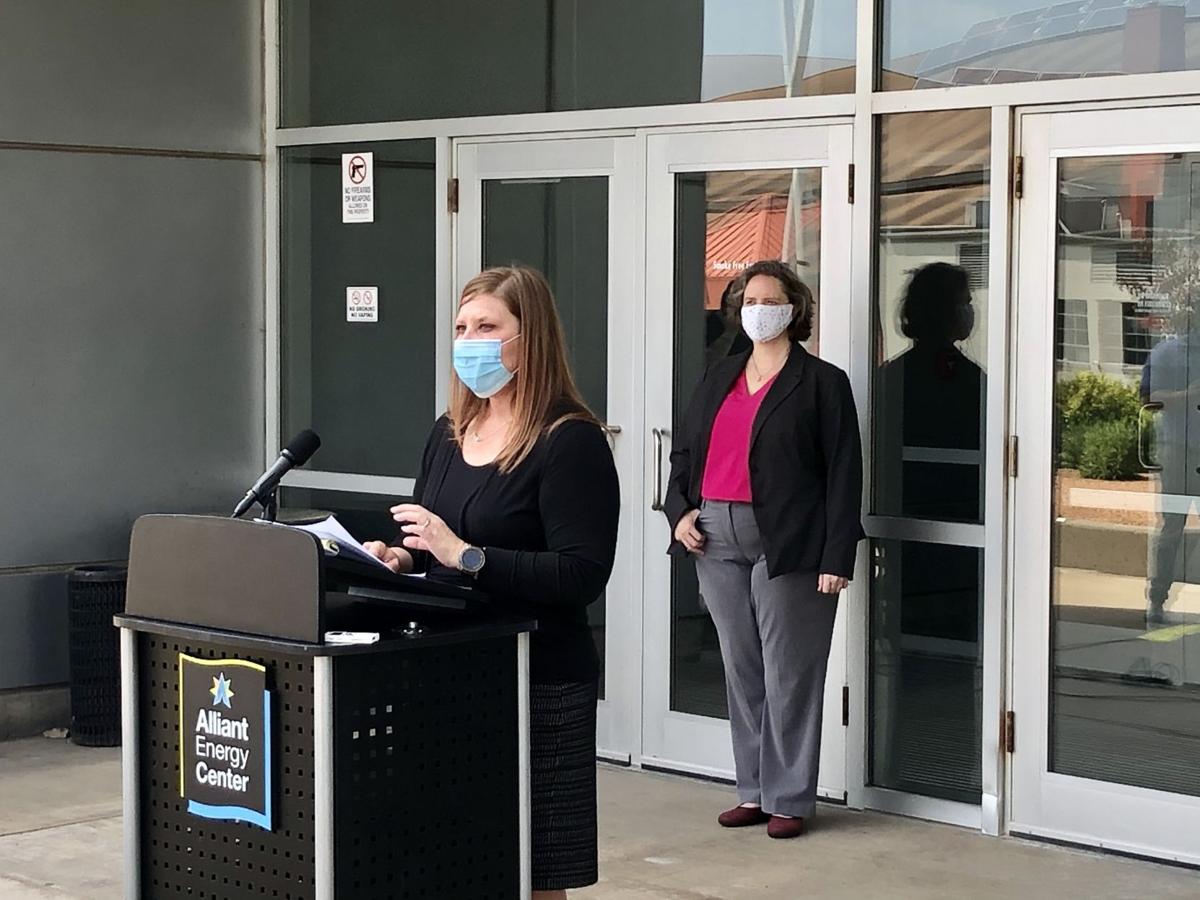 Two separate lawsuits are seeking to block a new public health emergency order that allows only a fraction of elementary school students to attend classes in person in Dane County.
The legal challenges come days after Public Health Madison and Dane County officials in their ninth emergency order restricted in-person schooling to grades K-2 and outlined metrics required for students in higher grades to return in-person.
PHMDC's Friday announcement at 5:18 p.m. came just days before many area private and parochial schools were set to return with at least some in-person instruction. At least one school already had, which formed the basis for the first challenge, filed directly to the Wisconsin Supreme Court Tuesday.
Sara Lindsay James, of Fitchburg, filed a petition for action with the Court asking the justices to stop the order and bar PHMDC director Janel Heinrich from restricting private schools opening or private gatherings. The filing argues closing schools oversteps her authority as a local health official.
"(James') children began the 2020 School Year in the classroom with other students, and are now required to stay home by the ninth emergency order of a single, unelected official," the lawsuit states. "That order effectively bans any in-person, communal, faith-based education, infringing on both the fundamental right to an education and the fundamental right to gather together to worship in a group with other believers. The order is unreviewable and unchecked by anyone, other than by suit."
The court has ordered Heinrich to respond by Friday at 4 p.m. in both that and a separate case filed Wednesday.
In a Question and Answer document posted on its website, PHMDC explained that it had anticipated the state Department of Health Services would provide metrics for school reopenings, but when DHS' guidance came out earlier in the week no such metrics were included.
Dane County Executive Joe Parisi defended the order in a statement Wednesday.
"The order for schools is lawful and we will defend it vigorously, because the reason Public Health put it in place is worth fighting for — the health of our kids and community," Parisi said.
On Wednesday, the conservative Wisconsin Institute for Law and Liberty filed a separate suit seeking emergency action from the state Supreme Court on behalf of a variety of area religious schools, membership associations and parents with children at those schools.
"This case challenges the authority of one unelected bureaucrat to upend the education plans of thousands of students and families and their schools located throughout Dane County via the stroke of a pen," the lawsuit states.
Both cases cite the court's decision this summer striking down most of the state's extended safer-at-home order issued by Department of Health Services Secretary Andrea Palm. They also point to religious freedom, and Wednesday's suit argues that children are not at high risk for contracting the virus or suffering serious complications from it.
Both sought relief immediately from the state's highest court given the timing of the school year as they looked to bypass lower courts in the process.
"The new school year is already upon Wisconsin, and the state's children need certainty as soon as possible," Wednesday's lawsuit states. "Litigating this case through the ordinary process could result in multiple reversals, seriously disrupting student, parent, and teacher class and work schedules."
Parisi in his statement said, "We all want schools and workplaces to be fully open and life the way we knew it to resume."
"We have seen rates of infection come down here, not by accident, but because of decisive actions," he added. "This order, like those, doesn't come without some sacrifice. But it does keep our priority and focus where it should be — keeping our community safe."
An online fundraiser started over the weekend by St. Ambrose Academy, which planned to open on Sept. 8 for in-person instruction, has raised more than $98,000 to fund a potential lawsuit. On Tuesday afternoon, St. Ambrose parent and staff member Angela Hineline said in an interview she hoped the school could avoid a lawsuit, wanting PHMDC to overturn its decision in time for them to implement the plans the school worked all summer on.
"No one wants to go into litigation, it's not a good use of money. It really isn't," she said. "But we're hoping that Public Health Madison & Dane County, they'll hear our voice, they'll respond and rethink the decision that was made."
She said the school had rented space in a nearby building for some of its students to ensure they could safely social distance and that they felt it was important to offer in-person school for families with parents who needed to work or students who don't do well in a virtual environment.
"We have community health to think about, but we also have families that need in-person education for their children," she said.
Share your opinion on this topic by sending a letter to the editor to tctvoice@madison.com. Include your full name, hometown and phone number. Your name and town will be published. The phone number is for verification purposes only. Please keep your letter to 250 words or less.