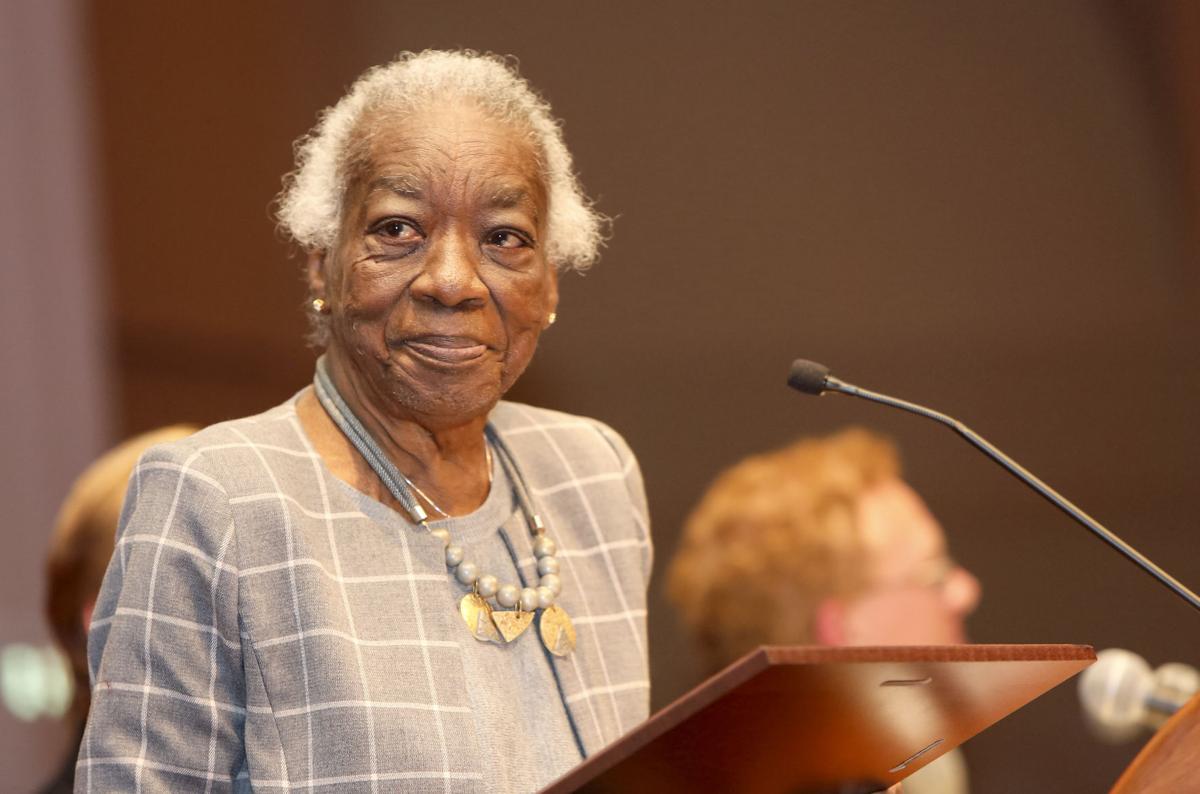 In April 2018, Philip Falk was among the names identified as belonging to a University of Wisconsin-Madison student organization called the Ku Klux Klan in the early 1900s.
While the group was seemingly not affiliated with the national Klan, the connection began a conversation among some community members and staff at Madison's Falk Elementary School about changing its school's name.
In October of that year, Falk's association with racism got another mention, this time in a collection of stories about Madison's early African American Families, called "Settlin'" and compiled by Muriel Simms. There, Delores Simms Greene wrote that Falk, who was superintendent of Madison schools from 1939 to 1963, claimed Black applicants "were not qualified enough."
"At my interview, Falk told me he would hire no Negroes as long as he was superintendent," Simms Greene wrote.
Falk social worker and parent Sarah Hall was among those who wanted a change.
"For us, it's been this conversation and it's been sort of like stewing for us," said Hall.
"(We) couldn't think of anybody who fit the values that we came up with more closely," Hall said. "It's almost like the name picked us."
It would be the second Madison Metropolitan School District building renamed for a Black community leader this year. The former Glendale Elementary School was renamed for Virginia Henderson, a longtime school social worker. Hall said the Falk renaming group spoke with Noble Wray, who helped lead the effort for Henderson, to learn about the process.
Monday night, Hall and the rest of the committee to rename Falk will present a petition to the  Madison School Board. She said Thursday it had gathered more than 300 signatures within 24 hours of posting it Wednesday morning.
The presentation will formally begin the renaming timeline under board policy. The board will have to seek proposed names from the public for 30 days, allow 30 more days for comments on the proposed names and then appoint a Citizens Naming Committee to review the proposals, comments and research. The board would have to eventually vote on the renaming proposal to make it official.
Anana served as the editor and publisher of UMOJA Magazine, which celebrated the accomplishments and joys of African Americans in Madison, for nearly three decades. She was known to many as "Ms. Milele" or "Mother Milele," and is remembered as a "champion of positive Black news" and a "fierce lover of Black people" by those who knew her.
Her long list of accomplishments also includes being the first African American to serve on a Wisconsin school board, and being chosen as the city's first African American affirmative action officer under former Mayor Paul Soglin. She received honors from local social justice and civic organizations throughout her life, including the city of Madison's Reverend Dr. Martin Luther King Jr. Humanitarian award in 2009. Anana missed the celebration to attend President Barack Obama's inauguration.
While the conversations have been going on for nearly two years, the move to rename the school comes amid a nationwide push for American institutions to reckon with systemic racism and their racial past. Statues of confederate generals that have stood for decades have been removed.
Hall said this renaming effort, while coming at a time that may allow it to gather even more widespread support than it otherwise would have, is "something we as a school and a community have been committed to."
"We don't want this to be just the piggybacking off this larger movement or what seems popular for people to be doing right now," Hall said. "This is something that we have believed in to be the right thing to do for a long time."
She hopes that students walking into a school named after a local Black leader will "feel represented," as 22.7% of the school's student body is Black and 28.7% is Hispanic.
While Falk's history wasn't something they talked about or celebrated at the school, she believes that could change if the renaming effort is successful. Hall called Anana the "queen of the counter-narrative" about Black people and said her name on the school would help students "understand Black joy."
"She embodied that," Hall said.
Hall also hopes this effort starts a conversation about other schools in the district — specifically within Falk's feeder pattern. Those are schools that her biracial daughter will attend, and Hall sees a problem "when you name a school after someone who cannot possibly represent our kids" — like slaveholders Thomas Jefferson and James Madison.
"For me, this has just been something that needs to happen," Hall said. "The district needs to continue looking at the naming in our attendance feeder pattern.
"Kids who attend Falk go to an elementary school that is named after someone who participated in a school club called the KKK and maybe didn't hire Black people as a superintendent, and then go to a middle school and high school that are named after slaveholders. As a parent, I do not want my daughter to have that experience."
Share your opinion on this topic by sending a letter to the editor to tctvoice@madison.com. Include your full name, hometown and phone number. Your name and town will be published. The phone number is for verification purposes only. Please keep your letter to 250 words or less.