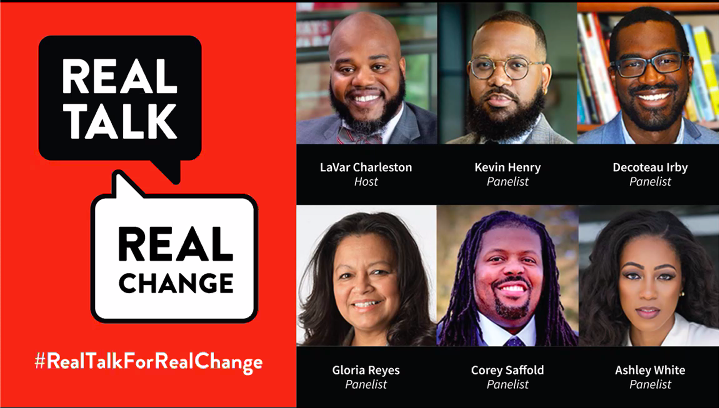 Changing inequities in school discipline means "giving up the world as we know it."
"It's not going to be easy, it's not going to be comfortable, it's not going to be stickers and lollipops," said Kevin Henry, a University of Wisconsin-Madison assistant professor in the Department of Educational Leadership and Policy Analysis. "But it is what's right."
Henry was one of five panelists in the latest "Real Talk for Real Change" virtual symposium Thursday, titled "Addressing Inequities in School Policies, Policing, and Discipline Practices." The series of panels is put on by the UW-Madison School of Education's Professional Learning and Community Education.
Panelists along with Henry were Madison School Board president Gloria Reyes, Verona Area School District director of safety and security Corey Saffold, UW-Madison professor in the Department of Rehabilitation Psychology and Special Education Ashley White and University of Illinois at Chicago professor of educational policy studies Decoteau Irby. The group discussed how the police's role in schools is rooted in a history of racism and a certain ideal of "discipline."
Irby said society, and schools, use three types of discipline: compliance-oriented, relational and interest-based. The first, which is often matched with punishment, is disproportionately used toward Black and brown students. Irby added that we discuss discipline in the context of "spectacular forms of violence" like fights or disruption rather than "mundane forms of violence" that are perhaps less obvious.
"The harm, the slow harm of the day-to-day experiences of racism in schools are just as important to understanding how we can achieve safety and how we can cultivate environments that allow students to cultivate and develop self-discipline," Irby said.
Saffold, a former Madison school resource officer, brought up how laws themselves can lead to disparities in discipline, citing drug offenses that led more Black students with drugs to be charged with felonies than white students, who would face misdemeanors based on the packaging their drugs were found in. Saffold said officers need to use discretion, whether they're stationed at a school or responding to a call, and use "opportunities to educate students."
"The school-to-prison pipeline — or the best way to avoid it — started in the classroom," Saffold said. "The more the student was out of the classroom for disciplinary measures … the closer they are to the criminal justice system."
The Madison School Board voted this summer to remove school resource officers from its high schools after more than two decades of having an officer stationed at the buildings. It came amid a historic reckoning with police violence against Black people and systemic racism following a Minneapolis police officer kneeling on the neck of George Floyd, who died during his arrest.
Reyes spoke to her "learning journey" of shifting from supporting police in schools to voting for their removal this summer. She said both policing and schools are structured in institutional racism. Instead of punishment, schools need to change to "a culture around restorative justice in our schools," she said.
"It takes a lot of time and resources to do these things well," she said. "Relationships are at the center, it is at the heart of what works and building a community and relationships takes a long time."
Oftentimes, even well-intentioned ideas at a big picture level can be diluted when they reach the people they affect, White said.
"By the time laws, policies, regulations, guidance make their ways to school districts and classrooms, they are interpreted and exercised in a way that reduces their strength in terms of equity," she said. "Every policy and practice in our country has a target. I don't think the inequities that we witnessed can be anymore categorized as a structural accident."
Henry is hopeful that the last seven months, which included sudden moves to virtual learning and a major shift in much of society, has shown that making big changes is possible.
"If this pandemic has taught us (anything), it's that we can move beyond the world as we know it and in fact, we have to," he said.
Share your opinion on this topic by sending a letter to the editor to tctvoice@madison.com. Include your full name, hometown and phone number. Your name and town will be published. The phone number is for verification purposes only. Please keep your letter to 250 words or less.