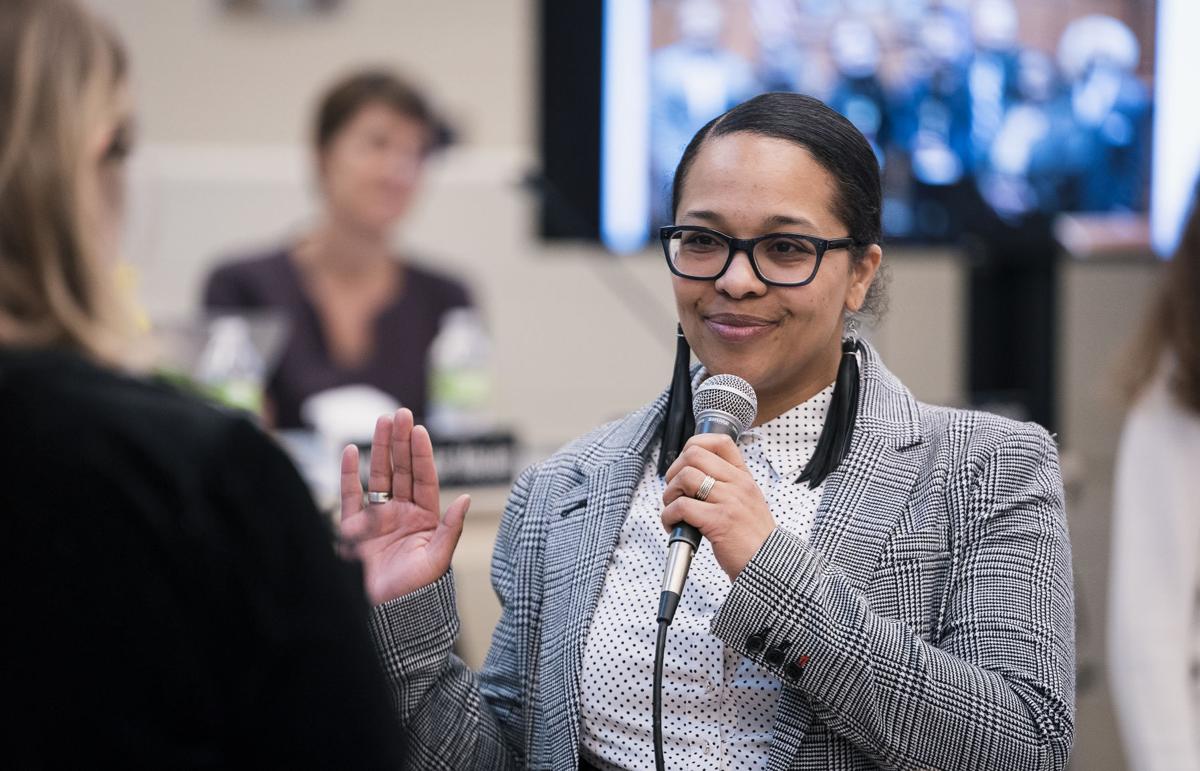 The first came last summer, when the Madison School Board appointed Carlton Jenkins as its new superintendent. Monday, the board chose Ali Muldrow as its president and Savion Castro as its vice president, making it the first time the district had Black people in all three leadership roles.
"In hiring our first Black superintendent, and seeing our community elect one of the most diverse bodies of governance it's ever elected, we're sending a clear message that we're ready for change, that we're ready to value the voices of people who haven't always been put in the position to advocate for themselves or each other," Muldrow said, noting that there are now as many Black people on the board as white people with Maia Pearson's election.
But they now must back up that message from the community with action, as well, both Muldrow and Castro said.
"It is a tremendous responsibility to have this alignment because I think we're all deeply connected to the idea that this has to mean something for our students," Muldrow said. "I don't think any of us are interested in our leadership or our ability to work with one another being something exclusively symbolic.
"It has to produce results or it doesn't mean anything."
Muldrow takes over the role from Gloria Reyes, who decided not to run for re-election this spring after one term on the board and two years as its president, including through hiring two new superintendents and the COVID-19 pandemic. Muldrow served as VP for the past year.
Castro was elected to a three-year term in April in an unopposed election, while Muldrow's first term on the board ends next April.
Both Muldrow and Castro were nominated by another board member and faced no challenge for the role. Castro said in an interview this week that he has high hopes for the two of them working with Jenkins.
"We've got to set a new tone as a body, and I think Ali and myself and Dr. Jenkins kind of have a vision for that," Castro said. "In terms of trying to reorient the administration, reorient the School Board as a body towards our vision of being more anti-racist, being more receptive to community feedback and operating more efficiently."
Both mentioned a few areas of focus for the upcoming year, including most immediately the transition back to in-person learning as the COVID-19 pandemic continues. Muldrow noted that the "vast majority of the young people we serve" are not eligible for a vaccine yet, requiring the district to continue to "provide high-quality educational opportunities" while keeping safety top of mind.
"The other thing I think that the board is really starting to think about differently is how we give our students credit for what they've learned about and from technology," she said. "So how do we recognize that our students are coming back to school with all of these skills around the information age that we've never given students academic credit for, but that are super relevant to their ability to interact with the job market?"
Broadly, Castro and Muldrow have similar priorities from when they began on the board, including early childhood education, as the district plans a full-day 4-year-old kindergarten pilot program at eight schools next year. They hope it's one way among multiple strategies to begin to close the longstanding opportunity gaps between students of color and their white peers.
"Making sure that the color of a kid's skin isn't a determining factor in whether or not they're going to be able to read, whether or not they're going to be perceived as disruptive or talented and gifted," Muldrow said.
Castro is hopeful they can tackle the ever-growing list of priorities — from restorative justice initiatives to helping students through a challenging time for their mental health.
"I feel good about our ability to do multiple things at once, it certainly has not been easy," Castro said. "I'm just thinking about last year's budget to where we had so many different scenarios, but honestly I think that's a testament to how good the leadership is coming from from Dr. Jenkins and his ability to manage really complex situations."
Muldrow hopes to "find the common ground of the board" as a leader, and said she was honored Monday night to see a unanimous vote for her leadership.
"That it wasn't a competitive process, that (it) was a unanimous and resounding show of support for my leadership is something I'll always be incredibly grateful for," she said. "I have a lot of respect for the six people I work with on the board, and it means a lot to have them believe in my ability to lead us through a pretty complex moment in terms of public education."
Share your opinion on this topic by sending a letter to the editor to tctvoice@madison.com. Include your full name, hometown and phone number. Your name and town will be published. The phone number is for verification purposes only. Please keep your letter to 250 words or less.