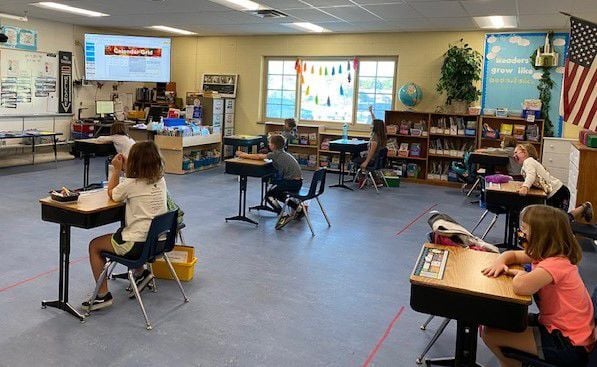 While the Madison Metropolitan School District will continue virtual learning through the second quarter of the 2020-21 school year, some students in Dane County districts have attended in-person for weeks.
While seemingly none have seen an outbreak, a mix of quarantining practices and substitute shortages have caused staffing challenges and even sudden, short-lived closures.
Just this week, for example, the Cambridge School District closed its elementary school Monday and Tuesday due to "a shortage of subs," according to an email from superintendent Bernie Nikolay. The district had given grades K-2 the option to attend in-person since the start of the school year and added grades 3-5 Sept. 28, but the announcement means no school at all for two days, and the school will be move to entirely virtual learning from Wednesday through Nov. 2, at least.
Cambridge, split between Dane and Jefferson counties, is among seven districts in Dane County that has some students in-person, while many area private and parochial schools are also doing some in-person instruction.
No public school districts are fully in-person, but Verona, Waunakee, Oregon, DeForest and McFarland have all had at least grades K-2 in-person for some portion of the school year. Wisconsin Heights has a hybrid schedule for its 4-year-old kindergarten program, a "support hub" for help that 95 students in grades K-12 attend in-person and has brought 45 high schoolers in for "hands-on" lab programming in recent weeks.
"It is going well," superintendent Jordan Sinz wrote in an email. "We are hoping to continue to turn the dial and bring in more K-2 grade students in November. Our staff, students, and parents have been great as we collectively navigate this challenge."
Infection control
Districts reported low numbers of infections among students and staff since the start of in-person instruction.
The state Department of Health Services is not naming schools where there is a public health investigation related to COVID-19, but as of Oct. 14 there were 26 "active" investigations into educational facilities in Dane County. Those occur "when there is evidence of a cluster of cases or a strong possibility for a cluster" to come out of a facility, according to a blog post from Public Health Madison & Dane County. There are only two "unique clusters" that have been identified in schools, according to that same post.
Some districts, however, are publicly sharing their own counts.
The Oregon School District, for example, has 776 students in grades 4K-2 in person for half days, four days a week, according to an email from communications director Erika Mundinger. It moved to that setup Oct. 5, having begun the year Sept. 8 with all students online and moved to two-hours a week of in-person instruction for grades 4K-2 on Sept. 14.
OSD reported in its Oct. 16 update that there were three active staff cases and two active student cases among people working at or attending in-person school. However, the numbers quarantining related to those cases were higher: 24 staff and 23 students.
That can create challenges for staffing buildings, superintendent Leslie Bergstrom acknowledged during the Oct. 12 School Board meeting, with "not a lot of substitutes in the pool." Those quarantines add to increased caution around any illness someone is experiencing at a time where colds are already frequent.
"We're expecting that there may be more absences than there might have been otherwise, because people often come to work with a runny nose. Now, if you have a runny nose and a headache, we want you to stay home," Bergstrom said.
That's the same problem that led Cambridge to briefly close its elementary school, even as it has limited cases. Nikolay wrote in an email that he believed two teachers and one support staffer had tested positive since the school year began, but there had been zero known transmissions at school. However, 12 staff had to quarantine because of close contacts.
The district had about 80 students attending in-person.
Verona Area School District public information officer Raechelle Belli reported she hadn't heard of any teachers or students testing positive for COVID-19, and the district had not been forced to close any classrooms or buildings for a positive test. VASD has 740 students attending in-person, with 720 in grades K-2 and another 20 in the 18-21 continuing education program.
Sinz also reported zero known cases in the Wisconsin Heights School District, though four students and two staff have had to quarantine.
The McFarland School District, which brought approximately 550 early childhood through second-grade students back in September, reported three active staff cases and no active student cases. For the year, there have been eight positive staff cases and five positive student cases.
McFarland's reopening metrics updated Monday include criteria for "stepping back" to virtual learning for grades K-2 if three or more people in one grade level test positive within five days of each other or have symptom onset within five days. In that case, learning would move online for a minimum of 14 days for that grade level. Additionally, an entire school would move online if five or more people tested positive or had symptom onset within five days.
In Waunakee, K-2 students have been in-person since Sept. 8. The district's website shows 12 notifications to families about positive COVID-19 tests since, including one sent Monday about a staff member who had not been in a building for a week.
Ongoing debate
The decision to remain closed or open is heated as it plays out in communities around the country.
Some parents in the Middleton Cross Plains Area School District are attempting to recall School Board members who voted against returning in-person.
Those in favor of returning to in-person argue virtual learning is doing irreparable harm to students, causing stress for families and that schools have not proven to be superspreaders for the virus. Those who support remaining virtual have pointed to the growing community spread in the area and the lack of settled science about how much schools would add to that spread, along with the logistical challenges of stopping and starting repeatedly if quarantining is necessary.
During a recent Oregon School Board meeting, the first hour was spent reading public comments focused on reopening schools. Though addressed to the board, the submissions were seemingly arguing with each other about the wisdom of remaining mostly virtual or adding more in-person instruction.
"We can put many things on hold in our society today to allow for safer environments, but one thing that does not stop is the growth of our children," board member Krista Flanagan read from one submission arguing for an in-person option for families. "For every day they are left out of the classroom and expected to learn at home, they lose the education that comes from interacting with their peers, teachers, paraprofessionals, coaches, counselors, bus drivers, lunch attendants and janitorial staff."
Moments later, Flanagan read from another: "There is a group trying to get the students back into schools and I disagree with them. We have seen across the state schools open that have had to move to virtual options. The back-and-forth from in-person to online creates an unneeded strain on students and teachers."
Share your opinion on this topic by sending a letter to the editor to tctvoice@madison.com. Include your full name, hometown and phone number. Your name and town will be published. The phone number is for verification purposes only. Please keep your letter to 250 words or less.