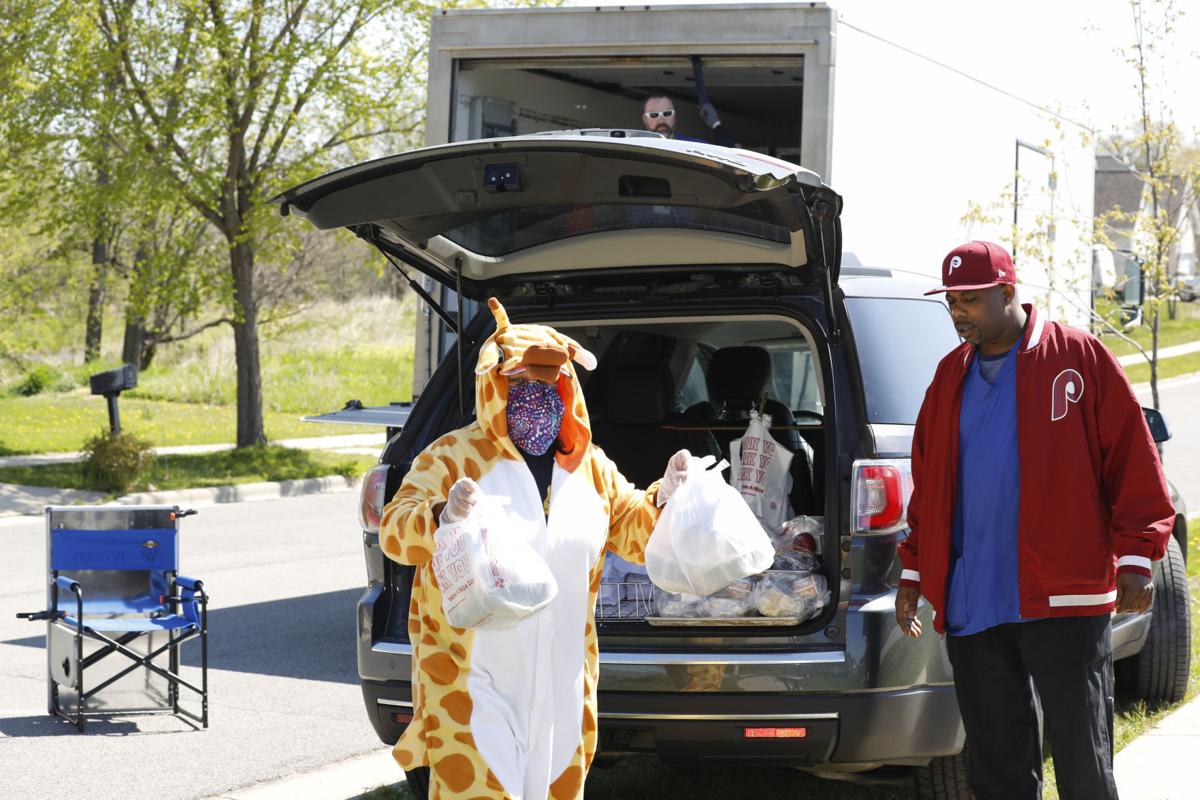 The Madison Metropolitan School District is more than doubling the number of meal distribution sites from the spring and is changing its system as virtual learning begins next week.
It was unclear what exactly the program would look like until Monday, when the United States Department of Agriculture announced it would extend rule waivers that created flexibility for meal distribution this spring and summer. The waivers allow meals to be distributed for free to any student, passed out at different times and given in bulk rather than one meal at a time.
Without them, the district would have had to track families getting meals for free, reduced-price or full-price status — and only give free meals to those who qualified. It would have added a challenging layer of work during an unprecedented effort to keep students fed.
"The news we got from the feds was certainly good news for all of us," building services executive director Chad Wiese said. "There were lots of moving pieces behind the scenes.
"We were literally going to have to take laptop computers out to every one of these sites and verify a student's eligibility, verify that we had the right student and the right parent."
This spring, the Madison Metropolitan School District distributed 223,264 meals at 15 sites around the district between March 16 and June 19, with another 65,603 meals given out this summer through Aug. 28. Breakfast and lunch were available for daily pickup.
"The main thing that stood out for us was that we didn't have the participation rate we wanted," Wiese said. "This is a service to our families and our community and all of our students. We want to try to make sure that as many people that need the service can take advantage of it."
"We think that's appealing. It's more of a weekly grocery drop than it will be just daily meal distribution," Wiese said.
The district is also rolling out a pre-order form on its website, and while Wiese said school staff don't expect to turn away anyone who shows up requesting meals, pre-ordering will help ensure they have enough, but not too much, that would then get thrown away.
"We will most likely just ask if they come back next week if they wouldn't mind just pre-ordering so we know they're coming," Wiese said.
He added that they hope to expand the program to more neighborhood sites soon —potentially apartment buildings or community centers — and possibly add a door-to-door delivery if needed to get the meals to those who need them.
A national challenge
For some students, the two meals they normally receive at school can be the most nutritious — or even only — food they get each day.
According to Feeding America, a national hunger-relief organization, 11 million children lived in a food-insecure household in 2018. That number was expected to rise to as high as 18 million amid the pandemic, according to an April report.
"It's really important to make sure not only that kids are getting sufficient food … but also to make sure the food is of really high nutritional quality," said Jennifer Gaddis, an assistant professor in the University of Wisconsin-Madison School of Human Ecology.
Gaddis said the USDA waivers were an important step, but noted the extension only lasts through Dec. 31. On top of the uncertainty that leaves, Gaddis said people are "incredibly worried about finances" of school food programs as they've lost revenue and had to pay for more expensive packaging.
"The challenge now is that a lot of schools, they've eaten up a lot of whatever reserve balances they have but they're not getting any additional funding from the federal government," Gaddis said.
Andrew Ruis, the associate director for research in the UW Epistemic Analytics Lab, wrote in an email that funding is "the primary barrier to continuing to provide free meals to families that need them, and without Congressional approval, schools will have to return to providing meals only to enrolled students" when funding is exhausted.
In June, MMSD chief financial officer Kelly Ruppel projected a $1.5 million revenue loss in the 2020-21 food service budget during a presentation to the School Board.
Gaddis is worried that those financial challenges could push some districts away from recent trends toward cooking from scratch and buying locally, "reversing what I think of as a positive trend in terms of the direction of school food."
Ruis added that "the challenges schools face now are not dissimilar to the challenges many faced historically.
"A century ago, most schools didn't have kitchens, so in many cases, meals were prepared at central kitchens and delivered to schools," Ruis wrote. "Schools today are facing a similar situation, but in reverse: the schools have kitchens, but the kids are elsewhere."
Share your opinion on this topic by sending a letter to the editor to tctvoice@madison.com. Include your full name, hometown and phone number. Your name and town will be published. The phone number is for verification purposes only. Please keep your letter to 250 words or less.