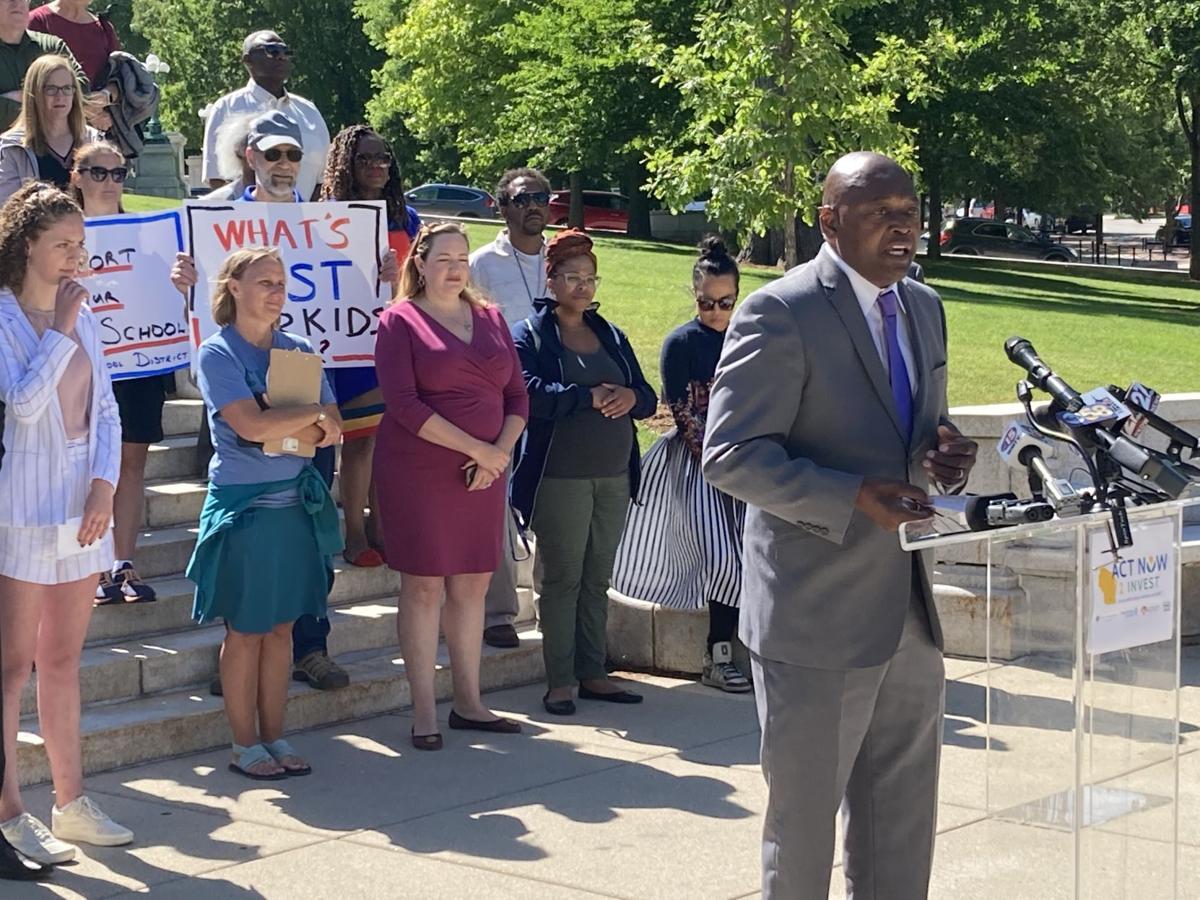 Wisconsin school leaders are demanding the Republican-led state Legislature reconsider its funding plan for K-12 education.
Daily statements from various organizations and school district leaders over the past week have asked legislators to use the $4.4 billion surplus, announced earlier this month, to increase funding rather than decrease local property taxes.
While the Republican budget proposal approved by the Joint Finance Committee last week adds more state spending to schools, it doesn't allow school districts to actually spend any more than they did in previous years — other than their portion of the $2.3 billion in federal COVID-19 relief funds.
That's because the state revenue caps, in place since the early 1990s, place a limit on how much districts can raise through a combination of state aid and local property taxes. When Republicans shifted more money to education last week, it served two purposes: It enabled them to lower property taxes and guaranteed that the state would be eligible for the federal relief funds.
Monday, a host of leaders from around Dane County spoke at a press conference outside of the Capitol building to advocate for a revenue cap increase and more. Sun Prairie Area School District School Board treasurer Dave Hoekstra, who described himself as a conservative who generally supports tax cuts, said that even an increase to cover inflation would be significant.
"Flat budgets, increasing costs," Hoekstra said. "That's my concern."
Republicans have justified their proposal for school funding, which is a small portion of what Gov. Tony Evers proposed, by pointing to the large sums coming to districts through federal funding.
"It is hard to talk about how to fund our schools and ignore the fact that we have so much federal funding coming into the state," GOP Joint Finance Committee member and state Rep. Jessie Rodriguez, of Oak Creek, said last month. "It is part of the conversation."
But district officials have pointed out that funding is one-time money, meaning that relying it to fund ongoing, yearly expenses would create a structural deficit, forcing them to find the money elsewhere in the budget once that funding source expires. The federal funds, they maintain, are meant to cover focused interventions to help students with mental health, social and emotional learning and catching up on academics after a challenging year-and-a-half of learning during COVID.
Waunakee Spanish and social studies teacher Gina Pagel called the Republican budget proposal "a slap in the face."
"It's a fallacy that federal funding for COVID-related needs will be all we need," Pagel said. "They need to quit playing politics with our public schools and our state's future."
Changing budgets
School districts are scrambling to finalize their budgets before the fiscal year begins July 1.
That means they've been operating on assumptions for months as they put together spending plans. Now, those assumptions are being tested, and for many, they'll be forced into last-minute changes to find cuts.
The Madison Metropolitan School District, for example, could be facing a $3 million shortfall from the preliminary budget discussed this spring. Superintendent Carlton Jenkins called the ongoing funding choices by the state a "structural issue" beyond the 2021-23 budget.
"We will begin to have to make even tougher decisions," Jenkins said. "We have to reinvest in our children so that we can have the type of society we want to have."
In the Verona Area School District, new superintendent Tremayne Clardy said no increase in the revenue cap would mean cuts to programs focused on mental health, social and emotional learning and academic acceleration.
Meanwhile, Columbus School District director of business services Nathan Knitt said he planned for "the worst" as he developed a budget this spring. He said he hopes that legislators will think about the broader effects of school funding choices and how those dollars flow into the community, whether it's teachers spending money shopping locally or the district buying local products like Sassy Cow milk.
"If we're hurting, it's going to pass on to them," Knitt said. "One dollar in the classroom really doesn't stay in the classroom, it goes to the whole community."
Push beyond districts
The press conference Monday followed a slew of news releases from various education organizations last week.
School Administrators Alliance executive director John Forester, for example, called the JFC plan "school funding in name only" in a statement on Friday.
"School leaders have developed detailed plans to address the impact of the COVID-19 learning disruptions," Forester said. "However, as they did on May 27, majority-party JFC members essentially said to school leaders: 'Drop those plans in the circular file, reverse the intent of those federal COVID relief funds and use the federal money for school operations for the next two years.'
"It's a total disregard for the post-pandemic needs of Wisconsin school children."
"School communities cannot provide for our students' recovery from the learning disruption and the pandemic that caused it if they have to use one-time federal funds meant to support that work to fund normal school operations," Stanford Taylor said. "We are losing an opportunity to address learning needs at the expense of our students. This is not acceptable."
At Monday's press conference, Wisconsin Public Education Network executive director Heather DuBois Bourenane encouraged people to advocate for more funding with their legislators.
"We've got one week to do right by our kids and if we don't, we're due for two more years of a status quo that makes sure that they're not going to thrive," she said. "It is not OK and I don't want to come back here in two years to say the same thing again."
Share your opinion on this topic by sending a letter to the editor to tctvoice@madison.com. Include your full name, hometown and phone number. Your name and town will be published. The phone number is for verification purposes only. Please keep your letter to 250 words or less.