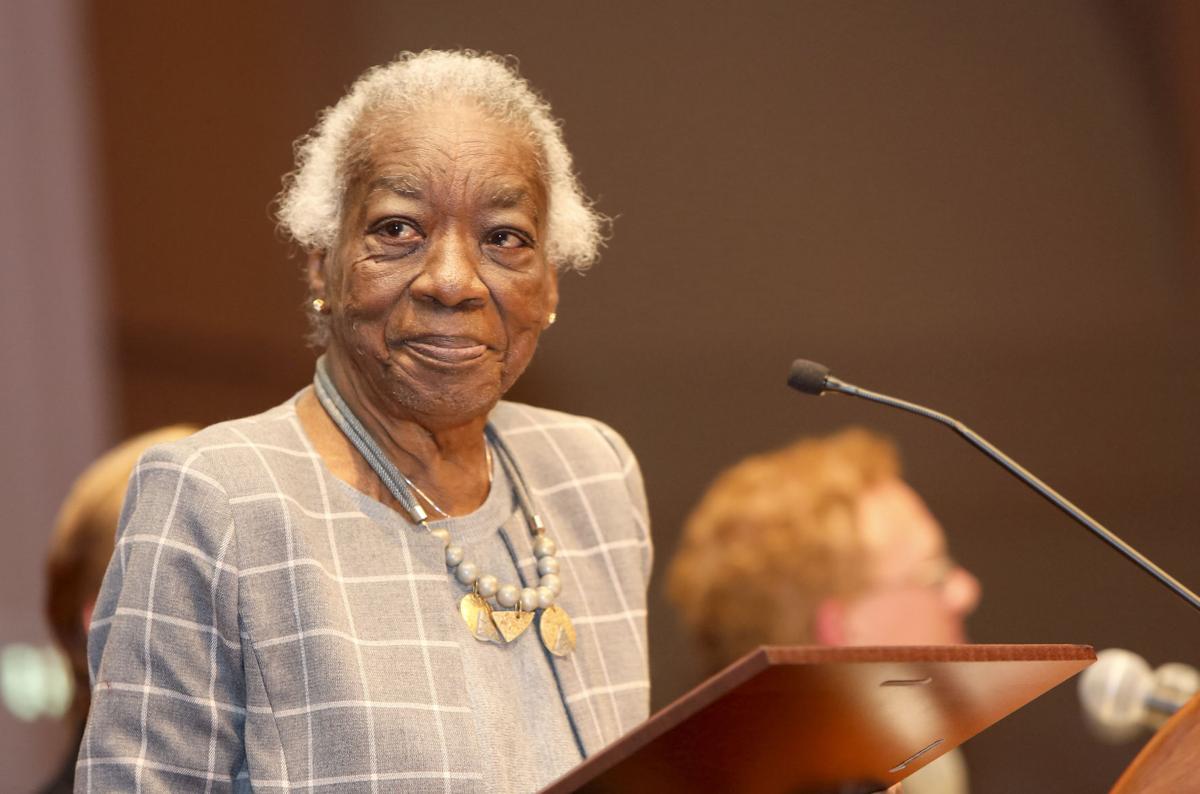 Board members voted unanimously to name the west-side school in honor of the late Chikasa Anana, the community leader and magazine publisher who died in May 2020.
"It's just one of the best things that I've ever done on the board in making this decision tonight," board president Gloria Reyes said.
A group of school staff and parents began considering a new name for the school in 2018 after allegations of racism by its namesake, longtime Madison School District superintendent Philip Falk. Falk served as the superintendent from 1939-63.
Last spring, when Chikasa Anana died, a community member approached those at the school looking for a new name and suggested her. School social worker Sarah Hall said last summer, when the proposal was unveiled, that it was a perfect opportunity to better represent the school's students.
"(We) couldn't think of anybody who fit the values that we came up with more closely," Hall said. "It's almost like the name picked us."
Known to many as "Ms. Milele" or "Mother Milele," Anana was for nearly three decades the editor and publisher of UMOJA Magazine, which celebrated the accomplishments and joys of African-Americans in Madison. Those who knew her remembered her as a "champion of positive Black news" and a "fierce lover of Black people."
Other accomplishments include being the first African-American to serve on a Wisconsin school board and being chosen as the city's first African-American affirmative action officer under former Mayor Paul Soglin. Chikasa Anana received many recognitions, including the city of Madison's Reverend Dr. Martin Luther King Jr. Humanitarian award in 2009. Anana missed the celebration to attend President Barack Obama's inauguration.
The committee considered four names total. Other recommended names were the late civil rights leader and U.S. Rep. John Lewis and two late Madison residents: Dolores Simms Greene and William H. Noland.
The allegations against Falk include his membership in a University of Wisconsin-Madison student group called the Ku Klux Klan, though it was unaffiliated with the national group. Simms Greene also wrote in the book "Settlin'" that Falk told her that Black applicants for teaching positions "were not qualified enough."
"At my interview, Falk told me he would hire no Negroes as long as he was superintendent," Simms Greene wrote.
While refuting some of the allegations against her father, Falk's daughter was among those to submit a comment to the committee supporting a renaming, specifically in honor of Chikasa Anana.
"The Falk name on the school served its purpose in its day — giving my parents a great deal of pleasure in their later years," Carol Falk wrote, according to comments included with the committee's Nov. 11 agenda. "Since my mother had been an elementary teacher and supervisor, she enjoyed their visits to the school as much as my dad did.
"I'm only sorry Ms. Milele is no longer alive to bask in the recognition and enjoy a similar connection with the school, although I understand she has daughters in the Madison area who, I hope, will have that chance."
It will be the second school renamed in honor of a Black Madison woman over the past two years. The former Glendale Elementary School became Virginia Henderson Elementary School last year, named after the former school psychologist and assistant superintendent. Henderson died in April 2019.
Board member Ali Muldrow said the renaming for Chikasa Anana was especially meaningful given that she died during the pandemic, preventing an in-person community celebration of her life.
"This for me allows for us to remember our contribution to our city, remember the way her leadership mattered and shaped us," Muldrow said.
Share your opinion on this topic by sending a letter to the editor to tctvoice@madison.com. Include your full name, hometown and phone number. Your name and town will be published. The phone number is for verification purposes only. Please keep your letter to 250 words or less.