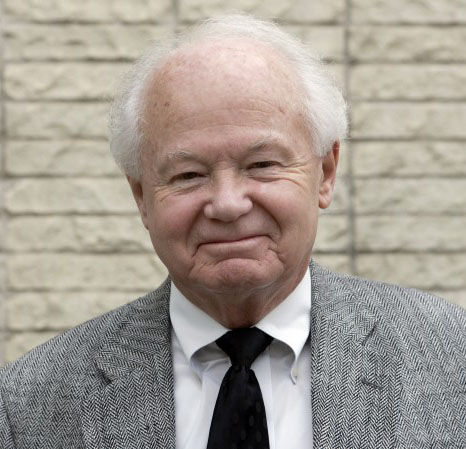 John Matthews was praised for his strong leadership and dedication to teachers Tuesday after announcing that he is retiring as head of the Madison Teachers union, where he has worked for nearly 50 years.
In a letter he wrote to members of Madison Teachers Inc. on Monday, Matthews said he will retire by the end of January 2016. He commended the union for being a supportive, dedicated staff and wrote, "I never thought this day would arrive, but I provide this notice knowing we have accomplished so much for MTI members, that while I leave with a heavy heart it is one filled with great satisfaction."
Matthews, 76, joined the union as its executive director in 1968, at a time when MTI had around 900 members. The group has grown to over 4,000 people. 
Despite suffering a health issue in August, Matthews still returned to work a few weeks later. But he realized he soon had to step away from the demands of his job. In an interview Tuesday, he said his wife influenced his decision to leave the union although it was a tough choice to make because he loves his job.
Matthews has tackled countless issues he's proud of, he said, but one story is particularly memorable to him.
In 1971, a young pregnant teacher approached him seeking his help. Her story would soon turn to a much larger case that ended up reversing a common practice, one that would be viewed as archaic now.
"Immediately upon becoming pregnant, you had to notify your supervisors. Once the pregnancy started to show you had to resign," Matthews said. "That not only meant losing your job, but you had to reapply and you may or may not be rehired. It has an impact on the rest of your life and those years you didn't teach counted against you."
After the teacher approached him and said she didn't want to lose her job, Matthews fought for her right to keep her position. He represented her case which ended up going to the state Supreme Court. The woman won the case, was awarded over $100,000 and the district she worked for had to pay her legal fees.
Since then, Matthews has pushed for significant changes such as teachers having the right to take days off when their religion requires them to. He also led the union during the tumultuous fight over Act 10, which deprived most public employee unions of much of their collective bargaining rights.
"John is going to be missed and he's been a great leader," said James Howard, president of the Madison School Board. "I've always had a good relationship with him and in terms of what a union stands for, John has done an exceptional job and fought hard for teachers to be treated fairly. He has such a strong legacy here in Madison."
Mike Lipp, a retired West High School teacher, athletic director and former MTI president, said he was happy for Matthews and wishes him well in the future.  
"John's sense of social justice is beyond what I've ever seen. Just the fact he served in that position for 48 years says so much about how committed he is to his job and how much he cares for teachers and the union," Lipp said.
For Kaleem Caire, Matthews' departure is bittersweet news.
Caire and Matthews were on opposing sides of the debate over Madison Prep, a charter school Caire proposed in 2011 aimed at boosting academic achievement for African-American boys. Matthews objected to the proposal in part because the plan would have offered lower salaries and benefits to its teachers. Earlier this year, the two were spotted at Ground Zero Coffee discussing future education proposals, which seemed to shock people who saw the photo on Caire's Facebook page.
"John is an institution by himself and he made the union what it is by himself," Caire said. "He didn't veer from his job agenda for the near 50 years he served and did an excellent job. Teachers felt protected in their role, he protected them and they operated with a level of confidence because John had their backs."
"We're losing 50 years of history and he's one of the greatest senior figures in Madison. I have great admiration and respect for him," Caire added.  
Others were also sad to see such a prominent leader go, like Art Rainwater, a former Madison schools superintendent who served for 10 years.
"He has devoted many years to the school district. We all appreciate the work he's done," Rainwater said.
During Rainwater's tenure, the two could be seen at Vientiane Palace on South Park Street on Wednesdays, where they routinely met for lunch. 
Rainwater replaced former superintendent Cheryl Wilhoyte, who had a rocky relationship with the union.
Matthews said Rainwater called him the morning Wilhoyte resigned, and said, "'John, we've got a lot of bridges to build, when can we get started?'" Matthews recalled. "I said, 'How about noon?'"
"Oftentimes people would say, 'What are you guys doing together?'" Matthews said.
Carol Carstensen, a former Madison School Board member said she was shocked to learn Matthews finally retired.
"I was surprised, I didn't know he would ever leave that job," she said with a laugh. "John was the epitome of a good union leader. As a board member I was sometimes put in difficult situations and didn't always agree with his positions but I understood it," Carstensen said.
"He will be missed a lot," she added.
In his retirement notice to his staff, Matthews said his contract with MTI will provide him another three years of availability, and he hopes staff members will seek his help if needed. He is recommending Doug Keillor, currently assistant to the executive director of MTI, as his replacement.
So what's next for Matthews as he retires?
"I intend to remain committed to social justice issues and do things that help people," he said. "This was a very difficult decision to make but my job has always involved helping people and I plan to carry on that plan as long as I can."
Be the first to know
Get local news delivered to your inbox!