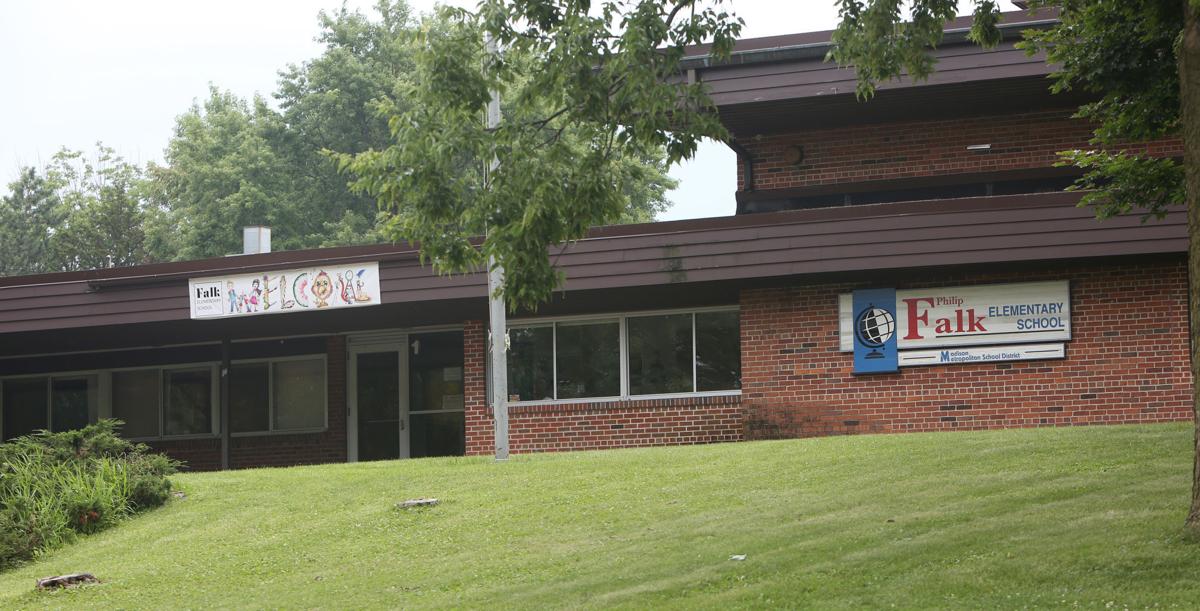 A committee will consider three proposals for renaming Falk Elementary School Wednesday night.
Some at the school began discussing changing the name from Falk after allegations surfaced of racism in its namesake's past. In 2018, Philip Falk, the superintendent of Madison schools from 1939 to 1963, had his name come up in connection with a University of Wisconsin-Madison student organization called the Ku Klux Klan in the early 1900s. Later that year, Greene wrote in the book "Settlin'" that Falk claimed Black applicants for teaching positions "were not qualified enough."
"At my interview, Falk told me he would hire no Negroes as long as he was superintendent," Simms Greene wrote.
Those revelations spurred a conversation among staff and community members at the school about changing the name. Falk social worker and parent Sarah Hall, who is on the renaming committee, said earlier this summer it was "sort of like stewing for us" in the two years between the start of conversations and the official proposal.
The group making the initial proposal settled on Anana, and Hall said, "it was like a unanimous, 'We love it,'" for the renaming committee.
"(We) couldn't think of anybody who fit the values that we came up with more closely," Hall said. "It's almost like the name picked us."
The School Board's process for renaming schools, however, allows other proposals from any community member. That's where Greene and Lewis come in, as people submitted their names as possibilities in August, forcing an extension to the initial timeline.
The committee is expected to make a recommendation by Nov. 11, with a public hearing on that recommendation at the School Board's Nov. 30 meeting. The School Board will take its vote Dec. 14, according to the current schedule.
Whoever is chosen, it would be the second Madison Metropolitan School District building renamed for a Black leader this year, after the former Glendale Elementary School was renamed for Virginia Henderson.
Here's a look at each of the three proposals the committee will discuss.
Milele Chikasa Anana
She served as the editor and publisher of UMOJA Magazine, which celebrated accomplishments and joys of African Americans in Madison, for nearly three decades. Anana was known to many as "Ms. Milele" or "Mother Milele" and was remembered as a "champion of positive Black news" and a "fierce lover of Black people" by those who knew her.
Anana was also the first African American to serve on a Wisconsin school board and chosen as the city's first African American affirmative action officer. She was honored with the city of Madison's Rev. Dr. Martin Luther King Jr. Humanitarian Award in 2009 but missed the ceremony to attend President Barack Obama's inauguration.
Hall said renaming the school for Anana would help the school's student body, which is 22.7% Black and 28.7% Hispanic, "feel represented."
Delores Simms Greene
As the woman who made the allegations about Falk's racist hiring practices, Greene could be a fitting replacement.
Susan Young Hoffman submitted the proposal, stressing Greene's 47 years spent "active in public education," including as a reading specialist and coordinator in the DeForest Area School District and a literacy volunteer in MMSD. A graduate of Madison's Central High School and UW-Madison, Greene died in April 2019.
"She was active in community volunteer work and seen as a woman of integrity as she pursued African-American and women's causes addressing principles of equal opportunity and nondiscrimination in employment in Madison and throughout Wisconsin," Hoffman wrote in her proposal. "She was an active member of numerous professional, educational, and community associations throughout her life and recognized and listed in 'Who's Who in Education.'"
Hoffman wrote that Greene had a "noteworthy career" despite the rejection from Falk.
"Other names may be submitted for renaming Falk Elementary School, but none are as poignantly appropriate and have the broad background, local and state impact, distinguished career, and humanitarian and educational heft of Dolores Simms Greene," she wrote.
John Lewis
A national pioneer for Civil Rights, John Lewis received nominations from two community members.
Lewis, who died in July, was the chairman of the Student Nonviolent Coordinating Committee in the 1960s and served as a U.S. Representative in Georgia for 33 years until his death.
"John Lewis is an inspiration to all Americans and especially to African Americans," Dennis McGilligan wrote in his submission. "His journey from humble beginnings, his thirst for higher education, his life-long fight for equal rights and justice for African Americans and all those who have been denied their fair and just rights which began when he was still a student and continued as an elder statesman in Congress, his values and integrity and character all serve as shining examples of what is possible for the MMSD student to set his/her goals toward."
McGilligan noted that MMSD "has many schools named after prominent nationally known and historical Caucasion people," specifically mentioning James Madison, Thomas Jefferson, Charles Lindbergh, Henry David Thoreau and Georgia O'Keeffe.
"Wouldn't it be great to have another school, in addition to Malcolm X (Shabazz City High School), in the MMSD named after this prominent, nationally recognized, African American who inspired so many people in the United States and across the world," he wrote. "Wouldn't it be special to be among the first, if not the first, school district in the United States to name a school after John Lewis."
Muriel Simms, who compiled the collection of stories that made up "Settlin,'" submitted the other recommendation for Lewis. She pointed to Lewis' commitment to education and voting rights in her support.
"John R. Lewis Elementary School is (the) most appropriate name for someone who will give the school pride and will motivate the teachers and students at the school to study civil rights, especially in these times of efforts to suppress the vote," Simms wrote. "Deceased African American newcomers, having lived their successful lives in Madison, could not generate civic engagement in children like John Lewis could."
Share your opinion on this topic by sending a letter to the editor to tctvoice@madison.com. Include your full name, hometown and phone number. Your name and town will be published. The phone number is for verification purposes only. Please keep your letter to 250 words or less.