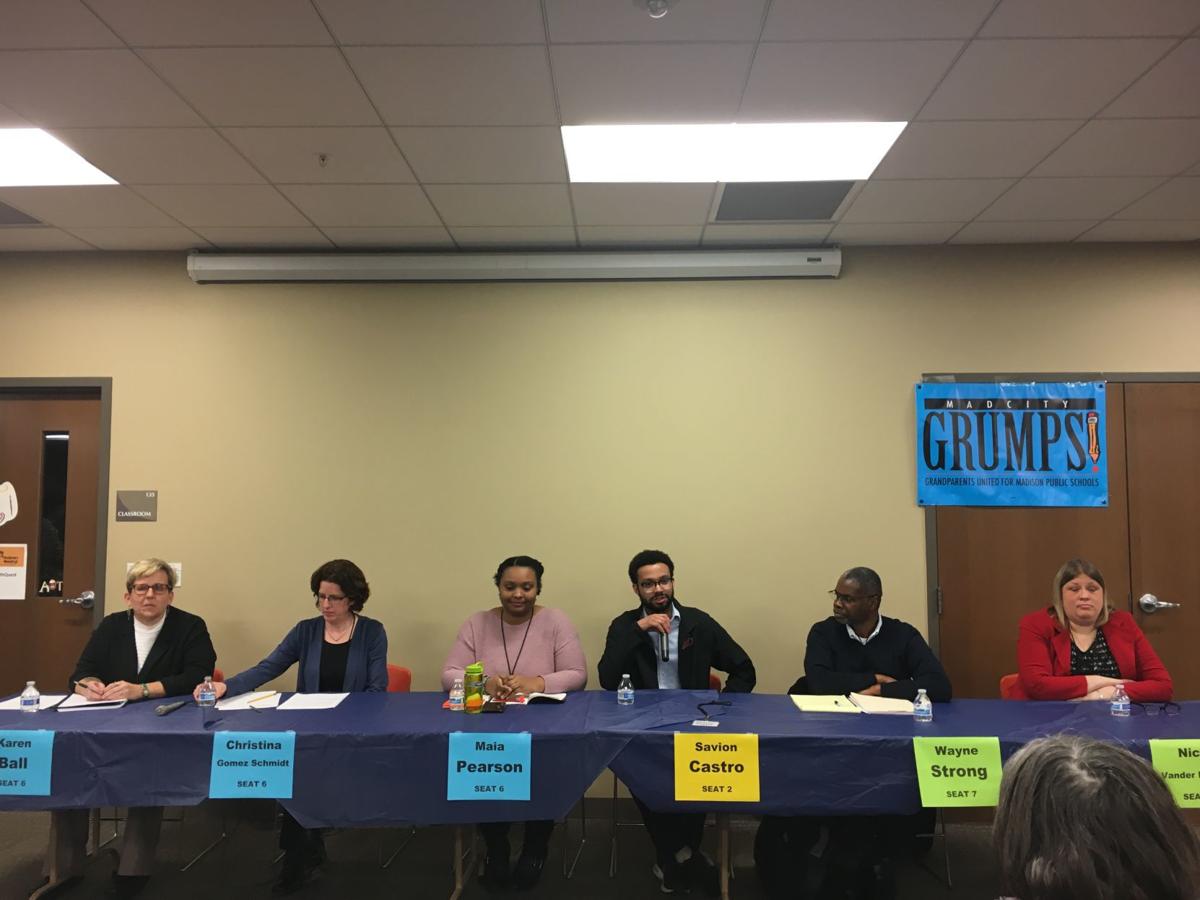 Spring campaign season typically features local candidates or their surrogates knocking on doors to talk with hundreds of potential voters.
Amid the closures and social distancing in response to the worldwide COVID-19 pandemic, Madison School Board candidates told the Cap Times they're doing their best to adjust their campaigns to the circumstances.
Wisconsin still has an election scheduled in less than two weeks. Gov. Tony Evers has so far resisted calls to move the date, pointing out that in addition to the Democratic presidential primary, there are elections for local offices. Because terms for Madison School Board, for example, are set for three years, the seats up for election could become vacant until an election was held.
There are two contested races for Madison School Board. One features two newcomers hoping to fill the seat of Kate Toews, who is not running for re-election. The other pits an incumbent against a challenger running his third campaign for the board.
Additionally, incumbent Savion Castro is running unopposed to finish out the term of Mary Burke, whose seat Castro was appointed to last summer after she resigned from the board.
Over the past couple of weeks, candidates have increased their focus on methods that would normally supplement the planned door-to-door canvassing. They feel something is missing without being able to talk to voters, especially given that most of the forums have also been canceled.
"It's certainly a lot different than my previous two campaigns, that's for sure," said Wayne Strong, who is running for Seat 7. "Just meeting people face-to-face and being able to talk to them and show them in-person the passion you have about education, the passion you have about making the school district the best that it can be for all of our students and having them see that sincerity and genuineness in you is lost."
His opponent, incumbent Nicki Vander Meulen, canceled a few canvassing events she had planned for her campaign and said they "gave people a few days' break last week" to deal with the fast-moving changes to work, parenting and socializing.
"We are now back and posting some positive posts," Vander Meulen said of her social media effort. "Yes I want your vote, but I want you to be safe as well."
That was something echoed by each of the candidates. While it's an important election to each of them, they recognize the bigger concerns for people at this time and are doing what they can to share information about topics like staying safe and early voting.
The state has seen a sharp rise in the number of absentee ballot requests, adding an additional need for candidates to speed up their messaging plans in case people fill out their ballots early.
Maia Pearson, who is facing Christina Gomez Schmidt in the race for Seat 6, said she "hand-signed over 700 letters in one night" to be sent to voters.
"I felt like the letters, first of all, had to come from me," she said. "It had to, basically, just talk about the things I would've talked about door-to-door."
Gomez Schmidt, meanwhile, is "keeping things in perspective" as she adjusts her campaign, using her website, social media, email, phone calls and snail mail to reach voters.
"Whatever challenges we're facing as a campaign pale in comparison to the challenges and hardships that are being faced by families and students, businesses and workers and the community-at-large," Gomez Schmidt said. "The situation calls for a community-wide response and I believe we're seeing the community come together to face the pandemic."
She said social distancing has "changed the face of the election," but she was "grateful that people are still finding time to talk about the important election coming up."
Pearson has also shifted to social media, holding a virtual interview conducted by her daughter and planning to film talking with her grandmother, a former poll worker, about how to request a ballot online. She is sad to have lost some of the insight she was gaining from conversations with voters, she said, which she relied upon ahead of the February primary election.
"People win elections by hitting pavement, just historically. That was one of my biggest things, before the pandemic," she said. "I wanted to gain the knowledge, or get more insight and talk to more people regarding my platform so that if I win the election that I kind of have that knowledge already."
Like Pearson, Strong said he was adding some personalized letters about his platform to his plans along with more mailers.
"We knew eventually, once we saw other states putting in the stay-at-home placements, that was going to definitely impact us at some point," Strong said. "It's going to be a very close race, I believe it's going to be very hard-fought. So I'm just trying to garner as much support from the community as I can."
Vander Meulen said as a "semi-tech person," the transition to focusing there hasn't been too hard. What she misses, though, is connecting with voters on the campaign trail.
"People need human connection," she said.
Share your opinion on this topic by sending a letter to the editor to tctvoice@madison.com. Include your full name, hometown and phone number. Your name and town will be published. The phone number is for verification purposes only. Please keep your letter to 250 words or less.
Concerned about COVID-19?
Sign up now to get the most recent coronavirus headlines and other important local and national news sent to your email inbox daily.