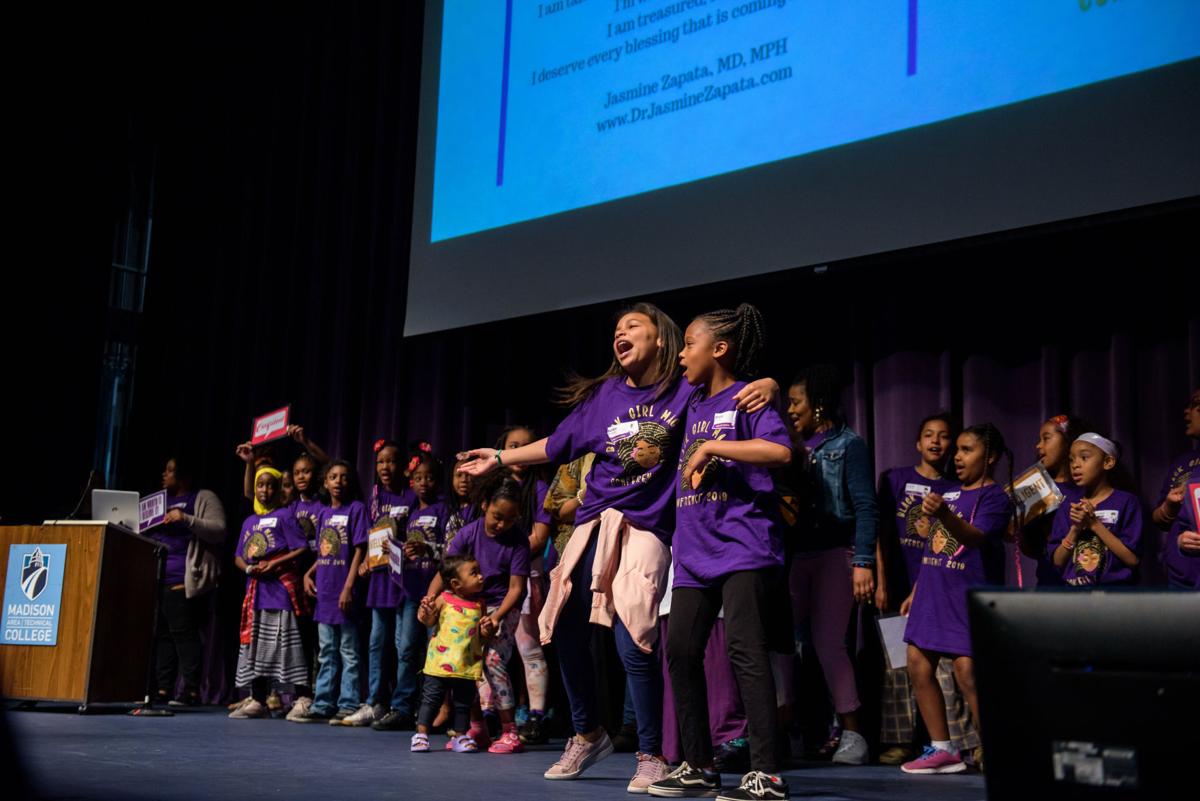 In just its third year of existence, Madison's Black Girl Magic Conference had to figure out how it could best empower black girls in Madison schools without seeing them in person.
Rosa Thompson, who founded the event, said she was in "such denial" that the in-person event wouldn't happen after schools closed in mid-March amid the coronavirus pandemic.
The conference for fourth- through seventh-grade girls had been scheduled for May 21 for students attending west-side schools and May 22 for those in east-side schools. Eventually, Thompson had to acknowledge that it wasn't going to happen, and shifted to how they could still provide a day of interaction and learning for young black girls in the Madison Metropolitan School District.
"I felt like it was still necessary to put something on, just to break up the day to day monotony of schoolwork, not being able to see your friends," she said Thursday. "I wanted a celebration for the girls."
The event will be streamed live on the group's Facebook page, and Thompson credited the MMSD technology department with helping her figure out how to make the logistics work. Girls of any age are welcome to watch, though the content remains targeted at those in fourth through seventh grade.
Black and biracial fourth- through seventh-graders will be able to use their school district email to enter a Zoom session.
"Kids learn by asking questions," Thompson said. "I didn't want them to just watch something and then learn that way. I wanted them to be able to ask questions and be able to interact and see other kids."
Others can watch the sessions on Facebook Live, with less interaction, and anyone may watch individual sessions or the entire day.
There will also be a set of prerecorded sessions posted on YouTube on Friday for people to watch at their convenience. Those include "Cooking with Khandra," "Boxing with Jerome Jensen" and an "HBCU Proud Read Aloud by author Yvette Manns."
The live sessions will feature five events, two of them half an hour long and three a full hour. A welcome from Thompson and keynote speech from Dr. Jamila Lyiscott, a nationally renowned author, speaker and spoken word artist focused on racial justice, will open the conference.
From 10:30-11 a.m., there will be a WERQ Out with local fitness instructor Keena Atkinson.
At 11 a.m., there will be an hour to focus on "Black Girl Self-Care: Taking Care of Me." At noon, "Black Girl Magic Table Talk: Identity and Self-Love" will take place, followed by "Green Card Youth Voices: Immigrant Stories From Around the World" at 1 p.m. as the final event of the day.
It's scaled down from what Thompson was planning for the in-person event this year, but she said they had to focus on doing "what was possible."
"It'll still be fun, it'll still be engaging," she said.
When the conference began in 2018, it was on "a whim," Thompson recalled, after hearing about some conferences in other districts for black boys. She didn't think at the time about its growth or expansion, but after seeing the huge interest from schools around the district, now she's looking at what it can be in the future.
"Now I'm in a place, how do I want this to grow in order to serve more kids, more kids across the state? How can we figure this out?" she said. "It would be a beautiful thing."
She's cautious, however, to avoid making it too large and losing the "feeling of community" that creates a special energy on the day of the event.
"That feeling of just watching these girls coming in with such excitement and just such wonder, it's a beautiful thing," she said. "It's what teachers are looking for when we teach something and our kids finally get it."
This year's virtual conference also comes at an unexpectedly significant time in the black community, amid nationwide protests over the death of a black Minneapolis man, George Floyd, while in police custody.
When they set the new date, Thompson said, they didn't anticipate any such movement, but it has made holding it even more important.
"This is just a little bit of joy we can bring to our girls," she said. "It's a distraction that's a welcome distraction for our girls for what they're going through in life, what our families, what our black community is going through in life.
"Remember that we do have things to celebrate too. Our girls are special, they need this encouragement."
Share your opinion on this topic by sending a letter to the editor to tctvoice@madison.com. Include your full name, hometown and phone number. Your name and town will be published. The phone number is for verification purposes only. Please keep your letter to 250 words or less.
Be the first to know
Get local news delivered to your inbox!