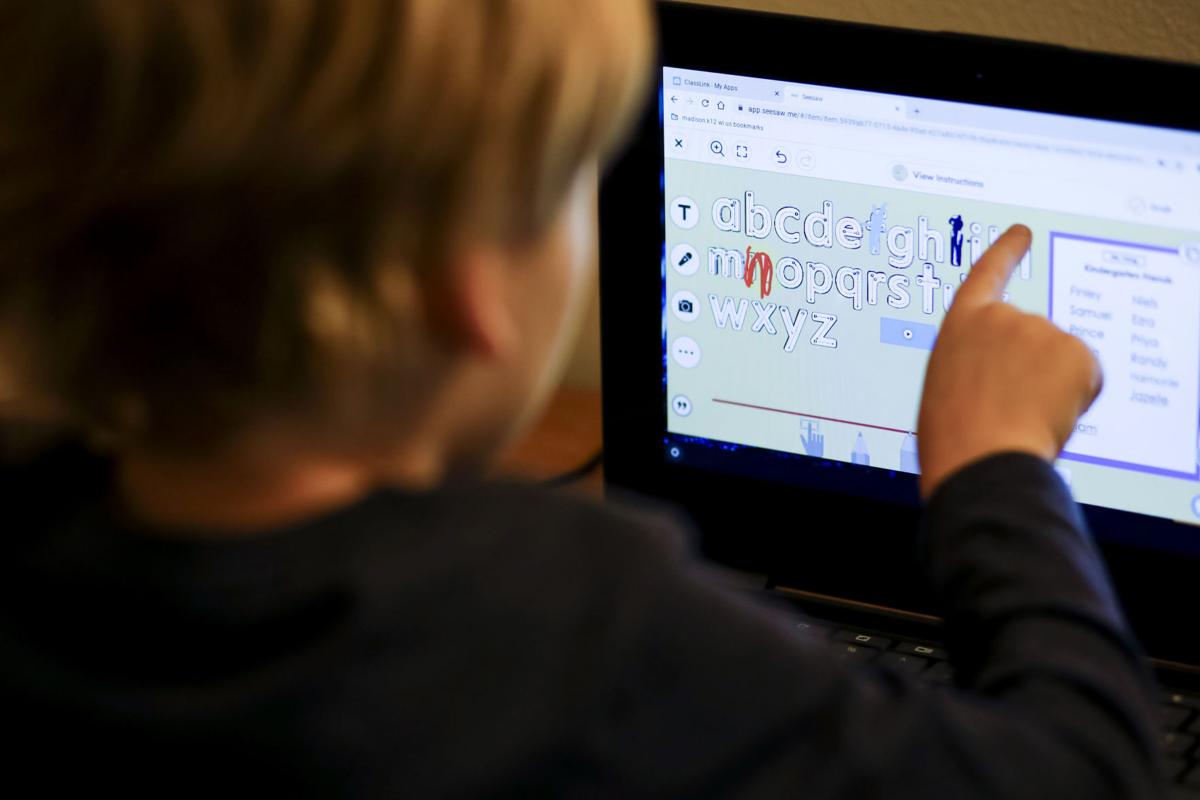 About five times the number of students in grades 4K-5 the Madison Metropolitan School District was prepared to have in its last-minute virtual option applied for the program.
MMSD spokesman Tim LeMonds told the Cap Times Tuesday that "roughly 750" families applied to the program between its announcement last Thursday and the noon Monday deadline. The district had initially planned for about 150 students, though it had said it would consider expanding if the demand were above that number.
Madison Teachers Inc. president Michael Jones said earlier Tuesday the union was working with the district on staffing the program.
"The discussions for planning have been positive and we're hopeful that we'll have a model that'll meet the needs of our kids, staff, and families," Jones wrote to the Cap Times.
The district sent a letter to families that had applied Tuesday, explaining it had received "better than anticipated interest" in the program that "has far exceeded our predetermined enrollment limit." It promised to let parents know if their student would be in the program by Wednesday — the day before the year begins for students in grades 4K, kindergarten, first, sixth, seventh, ninth and 10th.
"The district is working collaboratively on accommodating every family who submitted interest with the 4K-5 learning option," the letter states.
For much of the summer, officials maintained they would only have a virtual option for students in grades 6-12 through the Madison Promise program. The district received 452 applications for that program and planned to offer enrollment to 234 of the applicants, with the program capped at 250 students.
The situation for younger students in grades 4K-5 changed just one week before the year began, however, as officials heard growing concerns from families over the Delta variant and amid reports of thousands of quarantines and cases in schools around the country that had already opened.
Children under 12 remain ineligible for vaccination at this time, with speculation from officials that it would come late in the year, if at all, in 2021. Risks for immunocompromised family members also contributed to the decision, according to the district's announcement last week.
Students who enroll are committed to one full semester of virtual learning.
K-5 students will participate in live instruction for up to 3.5 hours per day for core classes and recorded instruction for specials like music, art and physical education. Students in 4K will have 3.5 hours of "age-appropriate learning" per day with a mix of live and recorded instruction.
Unlike the spring, when teachers taught students in-person and online at the same time, some staff will be exclusive to the online students this fall. It remained uncertain Tuesday how the program would be staffed. As of last Friday, the district had 138 vacancies to fill overall — 69 teachers and 69 support staff.
Whether teachers will share grades, with one teacher having a mix of second- and third-grade students, for example, will depend on enrollment, though the goal is to have teachers supporting each grade level districtwide.
Jones wrote in an email following last week's announcement that the union had advocated for a virtual option for at least grades 3-5 since the spring, "when we identified students and families who were comfortable in that format much like students and families in grades 6-12."
"We're definitely in favor of this decision and hope this decision will also include plans to offer positions to MMSD staff who might be more comfortable in this format due to their and their family's health and safety needs," Jones wrote. "We also hope this is a sign that the district is not interested in concurrent teaching, which was not a successful model for a majority of our children, staff, and families. We are ready to collaborate with Dr. Jenkins and district leadership to help make this a successful endeavor for our kids and community."
The virtual programs will follow the same curricular goals and support for learning as in-person students receive.
According to the district's web page for the option, specialized programming like dual language immersion will not be available in the virtual program. Students in special education programming or who receive English learner services will be supported.
Share your opinion on this topic by sending a letter to the editor to tctvoice@madison.com. Include your full name, hometown and phone number. Your name and town will be published. The phone number is for verification purposes only. Please keep your letter to 250 words or less.