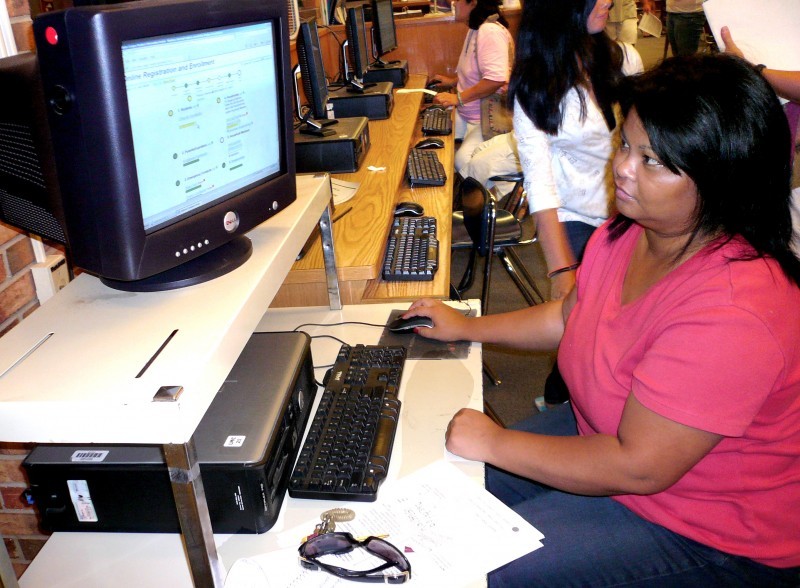 With area schools getting ready to open their doors for the 2010-11 fall semester, some version of the following conversation will be regularly repeated in many local homes.
Parent: How was school today?
Parent: Do you have any homework?
Seventh grader: I did it in study hall.
Parent: What about that science test coming up?
Seventh grader: It's under control.
Toki Middle School parent Carrie Smith doesn't worry about whether she's getting the complete story from her middle school daughter, Andie.
Since Andie was in sixth grade -- she'll be entering eighth grade Sept. 1 -- the Smith family has used Infinite Campus, an electronic data system that gives parents access to information about how students are doing in school. It often provides more information than the typical middle school student brings home and it helps parents know from week-to-week what's going on in the classroom. Madison, like most other Dane County school districts, has been using some form of electronic communication system for the last several years.
"I don't have to ask to look at her planner anymore," says Smith. "And, her group of teachers at Toki wrote a weekly newsletter last year that I could read online. When your kids get into middle school, they've got more classes, and parents generally have fewer connections with the teachers so I really appreciate the way it works."
For the first time this year, Smith, like the rest of the parents and guardians of the approximately 24,000 students in the Madison Metropolitan School District, is using the online system to enroll her children in class. She also has a son, Sam, who will be a 5th grader at Chavez Elementary this fall. District officials hope that giving parents a password and user ID at the enrollment stage will expand the number of parents using Infinite Campus. A primary goal is to help increase communication ties between home and school, which is a proven way to engage kids and boost academic achievement.
But whether all parents will take to the system remains to be seen. Despite the boom in electronic communication, there are plenty of homes without computers, especially in urban school districts like Madison where poverty levels are rising. The extent to which teachers will buy in is also unclear. Teachers are required to post report cards and attendance online, but things like test scores, assignments and quizzes will be discretionary.
"It's kind of a back-and-forth dance to get an electronic data system with student information working the way it should work," says Kurt Kiefer, the Madison public schools' guru for information technology who will be leaving the district to take a similar job with the state Department of Public Instruction in September. "You need to have a certain number of parents using the system and wanting online information, and that helps drive the interest teachers have in using the system as a communication tool. There's just an enormous amount of potential, but at some point you just have to jump in and start doing it."
The district's first year of required online enrollment has been a mixed success. Parents and children still needed to show up at school to pay fees and get photo IDs taken and while the district had encouraged parents to pre-enroll before coming to school, most did not.
Tui Goodweiler arrived shortly before 10 a.m. at Blackhawk Middle School on Thursday to register her daughter, Chloe, for seventh grade. But Goodweiler, who is tech savvy and familiar with computers, was still waiting two hours later for the system to allow her to navigate from page to page.
"I think there are several problems," she said. "The system isn't handling all the people who are using it at the same time, and then the instructions on this website are simply not user friendly. There just aren't the prompts that help people know when the information on each page is complete, and when it's not. I actually wound up adding my daughter's name twice because I couldn't tell if the system had accepted it. Then that bounced me back out to the beginning again."
As Goodweiler explained the problems she was having, a staff member spoke Spanish with another family that had been patiently waiting for assistance for more than an hour. Meanwhile, a harried mother of several children at three different schools described her experience trying to enroll online as "horrible."
Her biggest complaint was that she had gotten two letters from the district that provided her with a password to the system but not the necessary user ID. She needed both to enter the electronic data system, and for security reasons the school district sent the information in separate mailings.
"When I got to East this morning with my daughter, I needed a user ID, too. Well, the district sent me two passwords and no ID. Unbelievable," she said. She wasn't in a mood to give her name.
Blackhawk's new principal Sean Storch was keeping his cool, but it was clear he was having a trying day as grim parents waited and babies started fussing. "I think Wednesday was better than this because today all the elementary schools are registering students, too, so it could be overwhelming the system. And we don't have quite as many people working to help the parents out today so that slows things down too."
Online enrollment saves time, money
In the past, parents enrolled their children by filling out multiple forms which school staff would then need to transfer to the school's computer system, eventually getting current family address, emergency contacts, health records and other pertinent data in a readily usable form. District officials turned to online enrollment to save money and staff time as well as to increase communication.
Some parents found it a breeze. Smith pre-enrolled Andie at home and found registration at Toki Wednesday fast and easy. "It was one, two, three and we were out of there."
At Lake View Elementary, enrollment seemed quiet and cheerful, and principal Kristi Kloos was smiling as she welcomed new parents as well as familiar faces. But during at least part of the day, electronic enrollment wasn't working at all. Kloos stayed calm as parents were forced to fill out enrollment forms on paper because the online system had crashed in the early afternoon. She waved the problems aside, saying, "Well, yes, there have been some problems. But we've gotten support right away from the district and we're just dealing with it. Next year it will be easier."
There were also many parents, grandparents and guardians who said they weren't very familiar with using a computer at all, and found the online enrollment process challenging.
A northside grandmother who is the guardian of her granddaughter, a middle school student at Blackhawk, says she doesn't have a computer at home, and isn't comfortable using one at the library or community center. "I'm going to talk with her teachers and make sure they call me if there's anything I need to know. That's the way I've always done it, and I hope they (the teachers) will still be willing to do that. I'd like to learn how to use the computer, but honestly, I don't really know even where to start or where to find somebody to help me." She said she didn't want to use her name, because it would embarrass her family. But other parents sitting at the table nodded when she spoke.
Over at Toki, parent Andrea Walton said she hadn't used a computer much but sees the potential for keeping track of what her eighth-grader, Asia, is doing. "She's pretty good about doing her homework, but now that I know about this Infinite Campus, I think I'll love using it. It doesn't hurt for her to know that I know what she's supposed to be working on," Walton said.
Of a handful of teachers contacted about their experiences with the system, none wanted to talk on the record because they don't want to be seen as less-than-enthusiastic team players. But their concerns about the district's new commitment to electronic communications fall into several categories. Teachers in schools with high poverty levels, or large percentages of students who are not native English speakers, fear that many of their parents will miss communications because they don't have a computer at home. "In my years of teaching, I have never gotten an e-mail message from a parent because my kids' parents just don't use computers," says one teacher at a school with a poverty level above 60 percent.
On the other end of the spectrum are teachers who are concerned that they will be overwhelmed by so-called "helicopter parents" who will use Infinite Campus to second-guess assignments and send a blizzard of messages. "It's never the kids who make my job hard," says a teacher at a school known for its high test scores. "It's the parents."
And then there are teachers, like some parents, who feel they aren't very adept computer users. "It's not exactly an intuitive system, and we haven't had much training. They keep piling more on us, and no more time in which to do the work," says one teacher.
Teachers, especially in elementary schools, will no doubt continue to supply hard copies of school materials to parents who request it.
Kiefer says concerns from teachers and parents will be worked out over time and argues that the benefits of electronic communication far outweigh the problems.
In addition to saving money and staff time, the information gathered on students will likely be more accurate because no guesswork is needed to interpret handwriting or spelling, he says.
It's a greener option as well, he adds. "If we can cut down on some of the tremendous amount of paper we generate and distribute, that's a really good thing."
Be the first to know
Get local news delivered to your inbox!