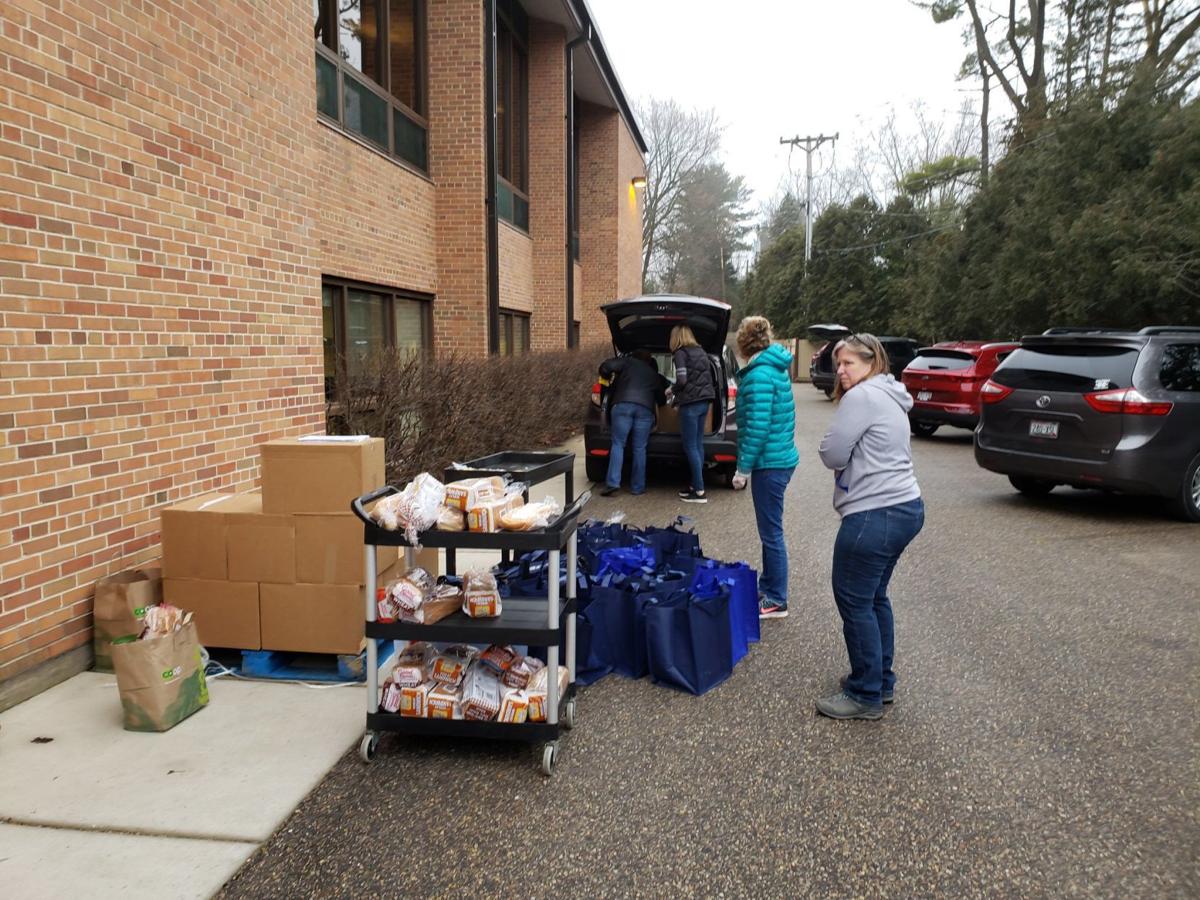 In the first nine days since schools closed for the COVID-19 pandemic, the Madison Metropolitan School District has given out 15,500 meals to students.
The Monday through Friday distribution of breakfast and lunch at 12 sites has been "running without a hitch," MMSD spokesperson Tim LeMonds wrote in an email Thursday.
And it's being helped by community efforts that are delivering some of the meals to families and others offering additional food to cover snacks, dinner and weekends.
A partnership between Thoreau Elementary School and Cherokee Middle School has delivered meals to 275 families — all of them from food collected through the Second Harvest and River food pantries. It will soon expand to serve between 400 and 500 families, all in the elementary schools that feed Cherokee plus West High School.
Cherokee social worker Abby Ray said the effort has "come a long way" from the first day of the closures, March 16, when they were just delivering to families they knew were in need. Schools are closed until at least April 24 by order of Gov. Tony Evers.
"A lot of it shows the relationships that families have with schools already," Ray said. "The school is so much more than a place for kids to get learning and so many other needs are met through education in schools."
On the city's southwest side, the People on Premises group is picking up meals from an MMSD distribution site and bringing them to families, rather than making the families come to the site. Tutankhamun "Coach" Assad, founder and CEO of the Mellowhood Foundation that P.O.P. is part of, said it helps ease the stigma that can surround needing such meals and he and his team know the neighborhood and who has needs.
"It got started because we're of the neighborhood, we're in the neighborhood," he said. "We have relationships that a lot of people wouldn't know how to benefit from."
The four team members delivering food receive "a chorus of thank yous" from the families they're visiting, Assad said. The team practices social distancing and never enters the homes.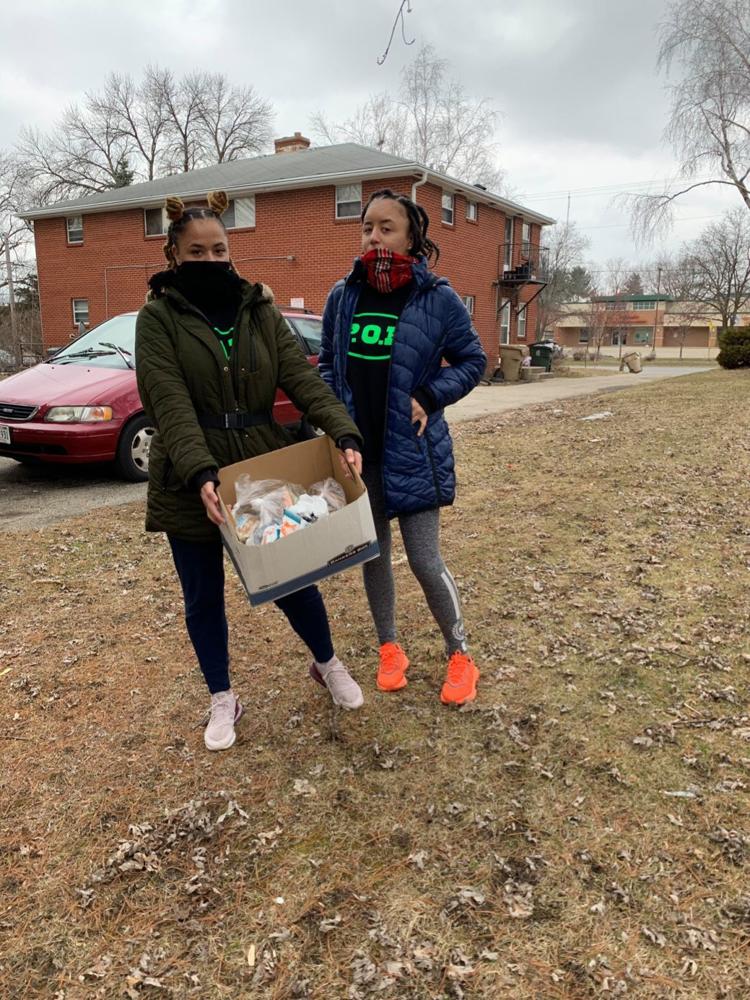 "We consider it an honor and privilege to step up when something that has the capacity to alter our people, whether or not people eat," he said. "Organizations have to step up and not talk."
The group has been delivering 180 meals each day to families, Assad said, and also plans to help with schools distributing student Chromebooks for virtual learning, expected to take place near the end of this week. He also hopes they can work on assistance to senior residents in the community.
The gratitude is something the West High School distribution group is feeling from families, too, Thoreau social worker Laura Glaub said. They've set up a makeshift warehouse to keep and organize the food at the Westminster Presbyterian Church, where the weekend food program that occurs throughout the school year operates from.
She and Ray knew many families who would need the food, but have also now sent a form through Google and text messages to ask families what they need and how many kids are in the households. Other schools are doing the same, and Glaud said there has been quick interest from many.
The group offers toiletries and other items in addition to food.
"We want to make sure they're still getting their needs met when they're outside the school building," Glaub said.
Many of the volunteers with the program are school staff members, which the social workers said shows the love they have for their students — this week was technically spring break and staff were not required to work.
"Our teachers are still wanting to be there for our students, which is super cool," Glaub said.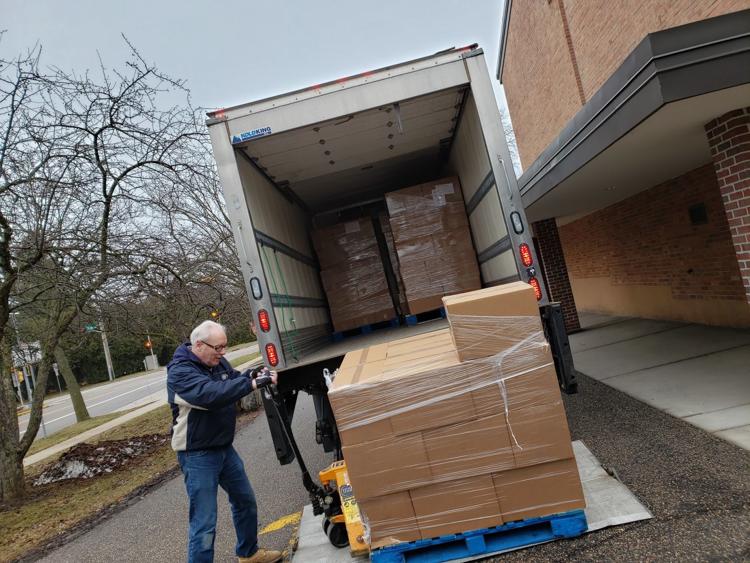 While they can't give hugs or high fives to the students, Ray said seeing their kids waving from the window has "been really good for staff" and the families, helping to maintain a connection with school.
Ray credited the community members who have pitched in to the effort, which she said "could not work" without them. Brad Bodden, who is among those who contributed to the weekend food bag program, is now helping with the new food distribution effort. He said it's nice to make "a huge difference" for families and be part of an effort with all of the money going to help the community.
"To see that 100% of every nickel is getting put to good use," he said. "There's no administrative fees, it's all people volunteering their time."
Ray said it's important to notice the positives during a challenging time.
"It's really a positive light in a really, really dark and hard time for families and kids and teachers," she said. "People are thinking of their kids all the time and really miss them. I think our kids and families really miss school and all that it provides for them, too."
Assad said he knew immediately the organization had to help in the neighborhood it knows so well.
"What it means to me, it's a calling, it's a responsibility, it's an honor, it is an obligation that we do this," he said. "It wasn't a situation where I had to be asked, it was a situation where I said, 'This is what we must be doing.'"
Correction: The story incorrectly stated Brad Bodden runs an American Family Insurance branch, but Bodden recently retired from that role.
Share your opinion on this topic by sending a letter to the editor to tctvoice@madison.com. Include your full name, hometown and phone number. Your name and town will be published. The phone number is for verification purposes only. Please keep your letter to 250 words or less.
Concerned about COVID-19?
Sign up now to get the most recent coronavirus headlines and other important local and national news sent to your email inbox daily.