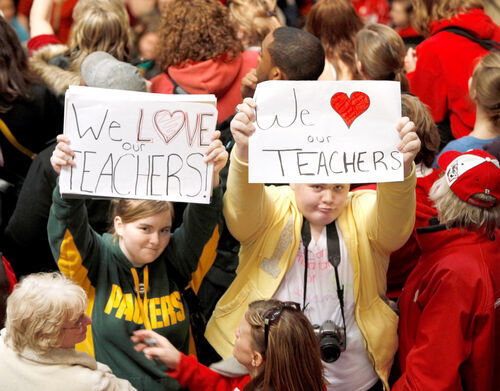 As a child of two teachers, Act 10 hit close to home for 13-year-old Emma Stutzman in 2011.
But the Whitewater native didn't realize at the time that two Saturdays walking around the Capitol carrying an "Aaron Rodgers for Governor" sign with tens of thousands of other people would become such a formative experience.
"The Act 10 protests (were) the first time I really understood how one policy could affect the lives of Wisconsinites across the state," Stutzman said.
Now 23, Stutzman is pursuing a master's degree in public affairs at the University of Wisconsin-Madison and traces that interest directly to the historic response to Gov. Scott Walker's controversial legislation.
"It got me hooked on the idea of fighting the wrongs that I see in the world," she said. "There are so many things happening that in my opinion are just plain wrong."
The month of protests, which drew tens of thousands on a regular basis with crowds surpassing 100,000 some days, was part of what UW-Madison sociology professor Pamela Oliver calls a "protest wave." The Tea Party demonstrations came before it, and the decade since has included the Occupy movement and protests over injustices against Black people.
"The number of participants was huge, given the size of Madison," Oliver said. "New York has huge protests all the time, there's just a lot of people in New York, so 100,000 people is whatever in New York."
Similar to Stutzman, Tasha Gjesdahl can trace some of her major life decisions since 2011 to Act 10. Unlike Stutzman, the then-high school junior living in Green Bay never attended the protests.
She recalls conversations with teachers about how the legislation made them feel, as well as hearing some of her peers disparaging those same teachers, as formative events.
"I used to stay after school and I would talk to my art teacher, who was truly one of the most beloved people in our community. He was so sad," Gjesdahl recalled. "It was really upsetting for me as a 17-year-old to see him really upset."
In recent years, working in the nonprofit world and having studied political science at Edgewood College, Gjesdahl has regularly been asked, "What was your turning point?"
"I always go back to Act 10," she said.
Riley Moore, an East High School senior during Act 10, led some student marches from the school up East Washington Avenue to the Capitol in February 2011. He said he felt "excited and frightened" being part of such a large movement.
"It was kind of the first time I felt like a citizen of Wisconsin," Moore said. "I felt a real sense of community seeing everyone come out for that."
Suddenly, he was sleeping in the Capitol building three to four nights a week, asked by filmmaker Michael Moore (no relation) to blog about the protests and "my whole life kind of became centered around it." He recalls being glad to have his school credits done so he didn't have to worry too much about grades.
The experience gave him "an instinctual reflex to, when important social movements are happening, to not ask too many questions of myself or make excuses and just get up and get out of my house and get involved."
That reflex, which is especially active when it comes to the issue of solidarity with the working class, came up last year when Moore took part in the Black Lives Matter protests in Portland, Oregon, where he has lived for the last five years. Despite finding his voice in early protests, he also had to learn that in a movement like BLM, "white people who are taking part in the movement need to do a much better job of shutting up and listening."
"I enjoyed leading and organizing when I was doing stuff with Act 10 … but it's been really important for me to learn — and I didn't learn it right away — that in this current movement my role as a white person is to listen to and lift up Black voices and do what is suggested of me," he said.
Three years behind Moore, Maya Banks was a freshman at East at the time who had "just learned about the labor movement in my U.S. history class.
"It was a very fascinating link between history and present and it was something that made that history feel really real to me," Banks said.
She can recall the "community care" she saw on display at the protests with donated supplies and hygiene products. She still remembers making peanut butter and jelly sandwiches at 3 a.m. and a changing feeling about the Capitol building as she stayed overnight.
"This really surreal sense of, 'Oh I thought this building was so fancy and powerful, but actually I'm standing in the bathroom barefoot brushing my teeth right now,'" she said with a laugh.
Now involved in the environmental Sunrise Movement and a graduate student at UW-Madison, she sees the legacy of Act 10 in both her activism and her professional track. On the latter, she's a member of the Teaching Assistants' Association, which has not had a contract since Act 10 curtailed collective bargaining rights for most public unions.
On the former, she learned a valuable lesson from what was a "contemporary model" of the social movements she'd learned about in school: while "people power" matters, so does "political power."
"You can have tens of thousands of people all in the streets and still not have people in power actually listen to you," Banks said. "It was sort of a moment of realizing the extent to which power can be entrenched and this interesting tension of people have so much power, but also politicians can choose to just totally ignore it if they want."
Share your opinion on this topic by sending a letter to the editor to tctvoice@madison.com. Include your full name, hometown and phone number. Your name and town will be published. The phone number is for verification purposes only. Please keep your letter to 250 words or less.