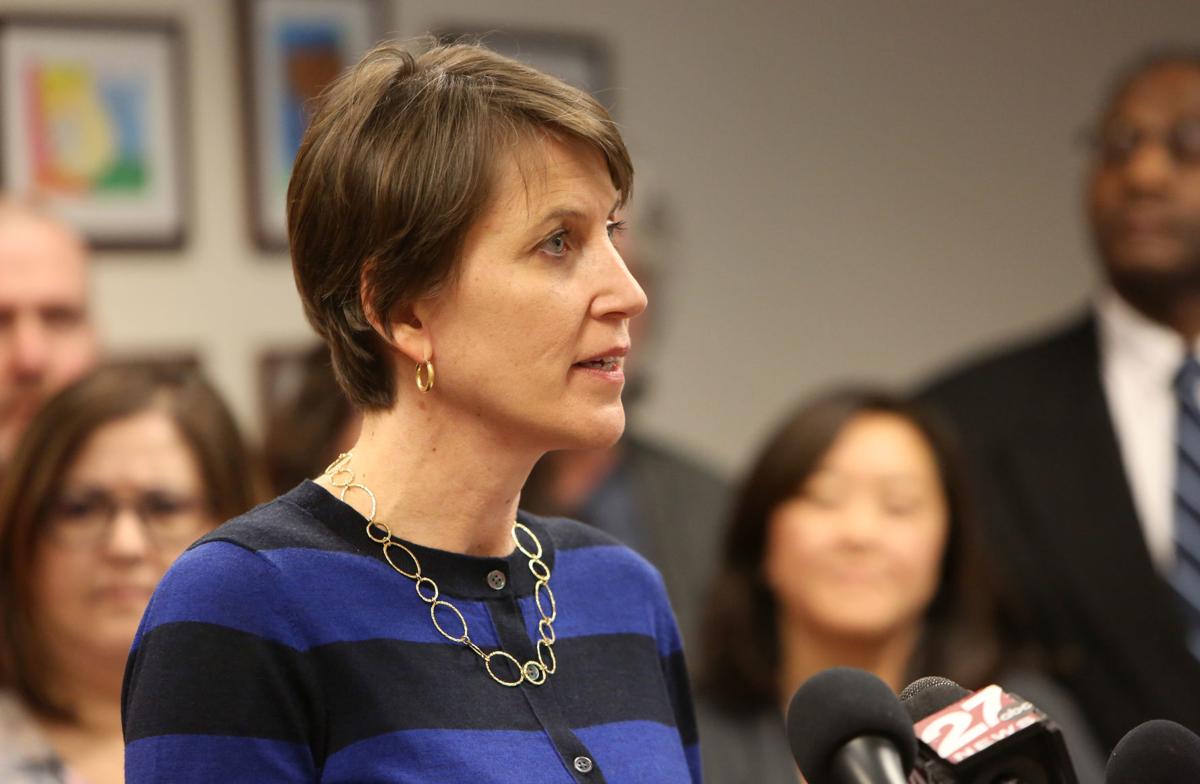 Several dozen parents, students and community members from La Follette High School showed up to Monday evening's Madison School Board meeting to address mounting concerns about safety at the school.
The outcry follows the shooting at Marjory Stoneman Douglas High School in Parkland, Florida, earlier this month. In the last two weeks, Madison Police have responded to high profile incidents at La Follette, including disarming a student who brought a handgun to campus.
Parents like Jose Pacheco urged the School Board to do more to make students feel safe at school.
"I came here to express how disappointed I am with how things are being handled at the school," he said. "Start making changes so security can improve at the school... I don't want my kid to be afraid to go to school. We need to wake up."
Others questioned if the district's behavior education plan, with its focus on restorative justice, was enough to deter students from misbehaving.
"Restorative justice practices that may have worked for certain infractions don't appear to be working for the kids who are constantly getting in trouble over and over," said Michelle Hellrood, a La Follette parent and member of the school's booster club, which held a meeting with Superintendent Jennifer Cheatham last week at the school about safety concerns.
"What it shows these kids is that there are no real consequences for their escalating behavior," Hellrood said.
Some students provided suggestions, like interior locks on doors and a greater focus on discipline for their peers who are consistently getting in trouble.
"If we want to protect our students, we have to treat these potential threats as real threats until proven otherwise," said Grace De Broux, a La Follette student. "Our policies are outdated. We need to update them so that when class is in session, doors are locked and closed from the inside."
"Three minutes is not enough (time) to explain every incident," La Follette junior Caden Delabarre said, referring to times when his teachers had to pause learning to address disturbances.
District officials acknowledged that there are a small number of students at La Follette for whom the traditional high school setting is not working. Chief of secondary schools Alex Fralin said the district will open an additional alternative school site in the next three weeks to accommodate students. The district also stationed an extra Madison Police officer at La Follette to temporarily assist its educational resource officer.
Fralin also told parents that the district is committed to improving school culture and climate at La Follette, but will not revert to exclusionary discipline policies that simply remove students from class, but don't address the root of the issue.
"It is moving from a system that was primarily reliant on removing the student from the space as almost the thing to do," he said.
Board member Nicki Vander Meulen agreed.
"We are trying to educate every child. Is it seamless? No. But I've seen it go the other way," she said.
Joe Balles, head of safety and security for MMSD, said security procedures are "solid" overall, but proposed the district complete a security assessment to address any gaps.
Cheatham said the need for social-emotional services for middle school students is growing and students are transitioning to high school without the support they need to thrive.
"We need some serious work on our eighth- to ninth-grade transitions... and helping students and families make the right decision about where to go to high school and the supports they need," she said. "We have more ninth graders headed into our schools that need increased support and we are trying to catch up to the challenge."
Fralin said ninth and tenth graders are disproportionately represented in fights, and the school may consider eliminating open campus lunch for those students.
"I'd venture to say, it's not just La Follette, but all of our high schools might need to engage stakeholders to gauge, is that an adequate privilege for ninth and tenth graders given what we're seeing in incidents and the need to monitor a dozen or more doors at that time?"
School Board member Mary Burke said the district needs to strike a balance between giving kids who misbehave the support they need, while addressing other parents' and students' concerns about safety.
"Students can't learn, teachers can't teach with the level of disruption occurring in our high schools," she said. "I'm not saying we throw the kids out... but we better figure out what it is going to take." 
Cheatham assured the public that the district will act quickly to support La Follette.
"We will act with urgency," she said.