While the La Follette High School Key Club is used to serving the community outside of school, the group is giving back to its own student body through an on-campus food pantry.
In September, the service organization opened a food pantry for La Follette students and their families. To date, the club has distributed over 1,000 food items to 200 students and community members. Seventy percent of La Follette's student body qualifies for free or reduced lunch.
Danielle Wendricks, a La Follette senior and president of the club, said donations from local groups help sustain the pantry.
"We've had a lot of different community donations through G.R.U.M.P.S. (Grandparents United for Madison Public Schools) and we've had (donations from) the Young Progressives. We've worked with Food For Thought from East and a lot of donations from parents here at La Follette."
The La Follette key club credits Madison East High School as an inspiration for the food pantry. East opened their food pantry in February. La Follette's model differs from East since their pantry is 100 percent student organized and operated.
Donna Kennedy, business education teacher at La Follette, said that having their peers staff the pantry makes students feel more comfortable taking advantage of the service.
"If they see that it is just another student there, I think students see it as a little more accessible," she said.
Wendricks agreed that student staffing is important, and stressed that there is no stigma attached to students who decide to use the pantry.
"We wanted to make sure (the food pantry) was in a discrete place, but I feel like the majority of people who visit the pantry don't really feel like it's a big deal. It's a very welcoming space for everybody," Wendricks said.
The pantry is staffed by students during breakfast and lunch time. It is located in an office near the main entrance of the school. Students are able to enter the office and anonymously access the pantry. There are backpacks available for students who need to take a little bit more.
Wendricks said students consult with faculty and staff for suggestions on how to improve the pantry. La Follette's key club is seeking to expand the number of care packages it sends out to families every week as a result of those conversations.
"We've had a lot of growth in the last few months about how we can make the food pantry better. We've worked with principals, different administrators and social workers about how we can better serve students," she said.
Moving forward, the club hopes the food pantry can serve more students and families. They have the space to offer more food options, but what they can do depends on community donations.
"We are looking for more variety and to increase how much we can give. At this point, we are limited to how many donations we are getting and the money that our club has to fund it," Wendricks said.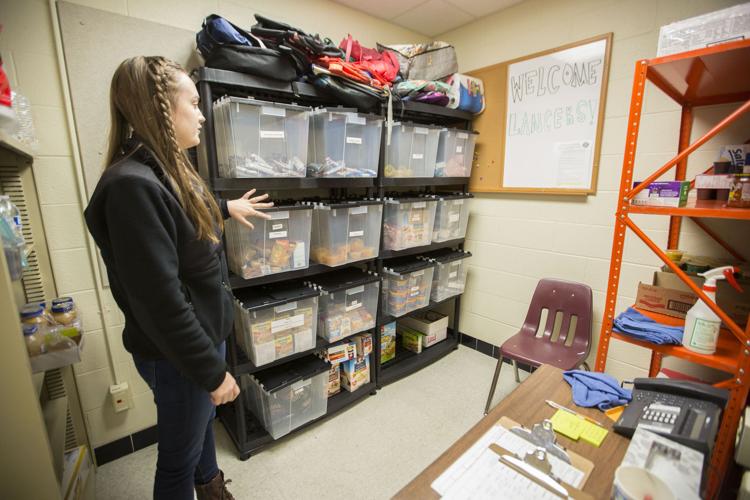 Althea Anderson, vice president of the group, said the success of the food pantry exemplifies the supportive environment at La Follette.
"That's kind of the culture at La Follette," Anderson said. "We don't have a lot of extremely wealthy kids. Everyone is really accepting here."