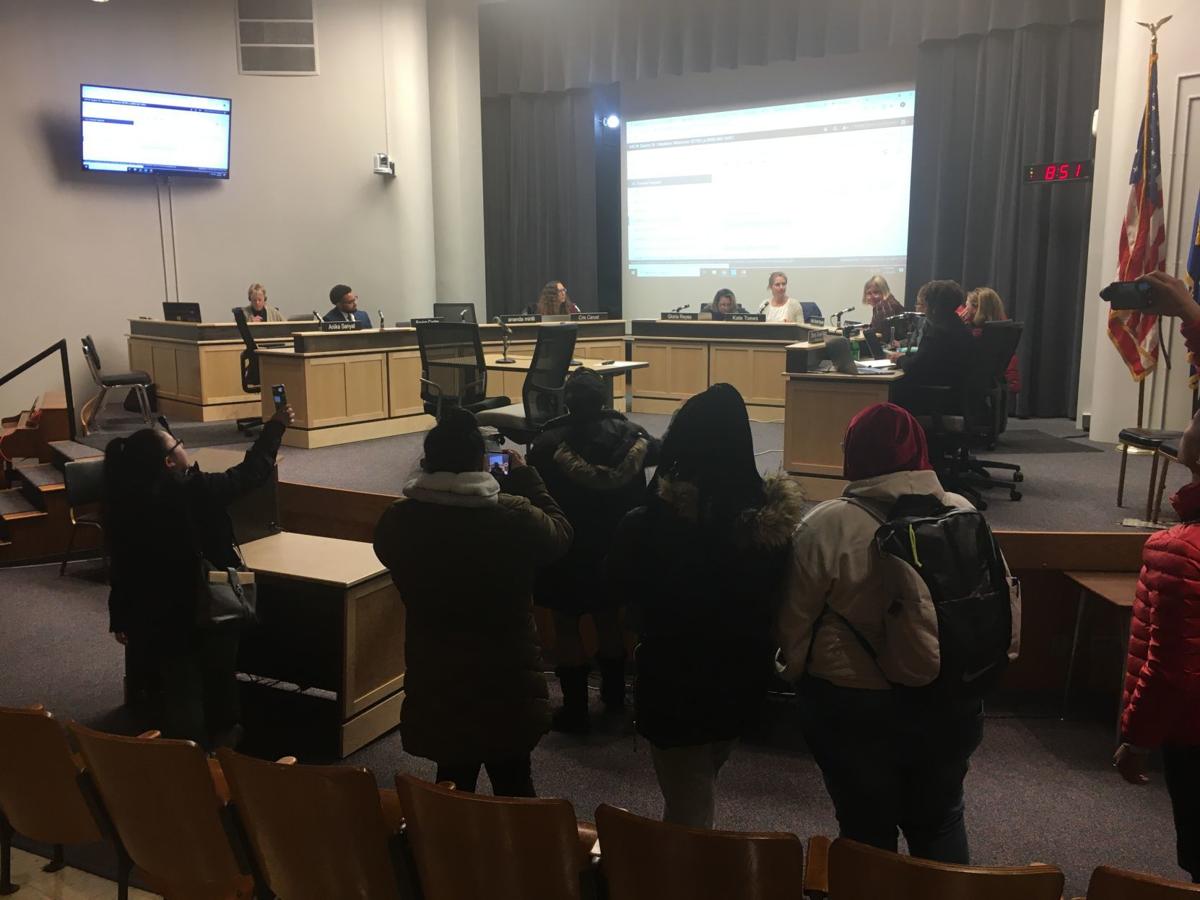 A $35,000 contract not initially up for discussion at the Madison School Board meeting Monday night ended up the most hotly debated topic among board members.
The contract with the city of Madison provides for up to $35,000 paid to the Madison Police Department in 2020 for officers to provide security, safety and crowd control services at extracurricular events like well-attended sporting events and graduation.
The contract passed on a 4 to 3 vote over shouts from Freedom Inc. activists and after an amendment to redirect the funding to community organizations was offered and later removed without a vote. Board members Savion Castro, Cris Carusi, Gloria Reyes and Kate Toews voted in favor; Ananda Mirilli, Ali Muldrow and Nicki Vander Meulen voted against.
It had been on the consent agenda for the meeting, which is a group of items usually passed without discussion, but was removed for discussion at Mirilli's request.
District interim general counsel Sherry Terrell-Webb said if the item was voted down, it could put the district in violation of existing contracts for events like graduation, where they are required to provide security to use the Kohl Center. Toews said they needed to ensure those events could go on as planned.
"We're talking about cancelling graduation because we can't make a decision about this? This is crazy," Toews said.
Freedom Inc. activists, many of whom spoke during public comment against police in schools and some of whom spoke specifically against the contract, disrupted the items that came after the contract vote. Board members took a recess as activists yelled, "do not put black children under strain when you're voting in favor of violence."
When the board reconvened, the chanting began again. Some of the group took to the stage to continue as the board gathered around Reyes to vote on remaining issues, though the voting results were not clear on some of the items.
Muldrow said it was important to have the conversation about how police affect students, specifically those of color.
"When we talk about safety, we have to talk about keeping folks safe from specific things," Muldrow said. "When you look at the impact incarceration has on a juvenile brain, there's a lot of reasons why we would want to keep our students protected from things like arrest and incarceration."
Madison Metropolitan School District chief of high schools Mike Hernandez, a former East High School principal, said he was unaware of any arrests made of students at any of the events with officers covered by this agreement. He said crowd control for major events like the recent East-La Follette basketball game is needed, and said it's not just students who attend these events.
He clarified that the issue was separate from the more general topic of school resource officers, which Freedom Inc. speaks out against at every School Board meeting.
Toews expressed strong support for the measure and pointed to data from the district showing arrests of students have gone down in recent years.
"We have an obligation to keep people safe at large events from simply crowd control," she said. "That method will cost money in some way, shape or form."
Mirilli's amendment would have redirected the funding to community groups to help de-escalate any situations that came up. District chief financial officer Kelly Ruppel said it was unclear what would be required to move funding in such a manner within the budget, saying it could require a two-thirds vote but she would need more legal clarification if they wanted to do so.
Mirilli withdrew her amendment because of the questions over its legality, but had said while discussing it she wanted to invest money into the community rather than the police department. That was a thought Muldrow also shared, saying the district invests more in school resource officers than its Black Excellence initiative.
"There's another element of this that I think we as a board have to talk about, which is how the school district invests funding," Muldrow said. "We continue to shift resources into the police department."
A memo to board members from MMSD chief of school operations Karen Kepler said, "Schools have made use of the police in the past, and each school has paid for the services rendered at its own location and events."
"Having extra personnel trained to provide safety, security and crowd control during such events is important for the well-being of our students and staff," the memo stated. "An agreement with the city for the use of police officers when we cannot find enough trained personnel within our own staff gives our schools options for ensuring safety."
Vander Meulen suggested staffing the events with district staff members, but Hernandez said staff often do not want to stay late to work evening events and some security assistants have other jobs given their regular pay rate.
Hernandez emphasized the difficulty in finding staff for these events, saying they had to promise staff members seats for the recent sellout East-La Follette basketball game to get them to work for the $9 an hour pay.
"The alternative is we have to figure out another way to get people to do it," he said. "I'm just not sure how. I don't know how we have some of these events if we don't have the right security.
"It's easy to sit in an ivory tower to say (find an alternative). It's very hard when actually living it."
Share your opinion on this topic by sending a letter to the editor to tctvoice@madison.com. Include your full name, hometown and phone number. Your name and town will be published. The phone number is for verification purposes only. Please keep your letter to 250 words or less.