Cris Carusi, Ali Muldrow and Ananda Mirilli made history when they won their elections to the Madison School Board earlier this month. When the three members-elect are publicly sworn into office at the April 29 board meeting, it will be the first time the seven-person School Board is all women.
In addition, three of the board members are women of color, overseeing a district that's about 57 percent nonwhite. The three new board members were privately sworn into office at the Doyle Administration Building on Monday.
Despite this historic moment, members and those observing the School Board's year ahead know that there is a lot of work to be done, particularly after what Superintendent Jennifer Cheatham lamented publicly as a "trying year" for the Madison Metropolitan School District.
School Board members will need to pass a budget and will look to improve board and community relations. They will need to decide on how to proceed with the police in schools contract, a potentially historic referendum as well as respond to calls for increased anti-racism efforts. Yet there's a strong acknowledgement that change will not happen overnight and that the board is only part of the solution to challenges in Madison schools.
"It's been an incredibly tough year," School Board member Nicki Vander Meulen said. "The board is the main way that people follow what's going on in the schools. So oftentimes, if people aren't happy, they blame the board without asking, 'Does the board have a role in this?' We're responsible for three main roles: pass a budget, hire or fire a superintendent and pass policy. That's it. I'm not saying we don't do a lot, but there are certain things that we're just not necessarily able to do."
School Board elections are staggered so there aren't too many new members starting at the same time, yet nearly half of the board will be new. Muldrow, Mirilli and Carusi, though already well-versed in a host of education issues, have been meeting with district officials since the election to get oriented.
"The onboarding process is a lot more extensive now than it was when I first came on the board," said Mary Burke, the current board president who was first elected to the governing body in 2012.
Burke said she will not run for president again. Members will elect new officers shortly after oaths of office are taken next week.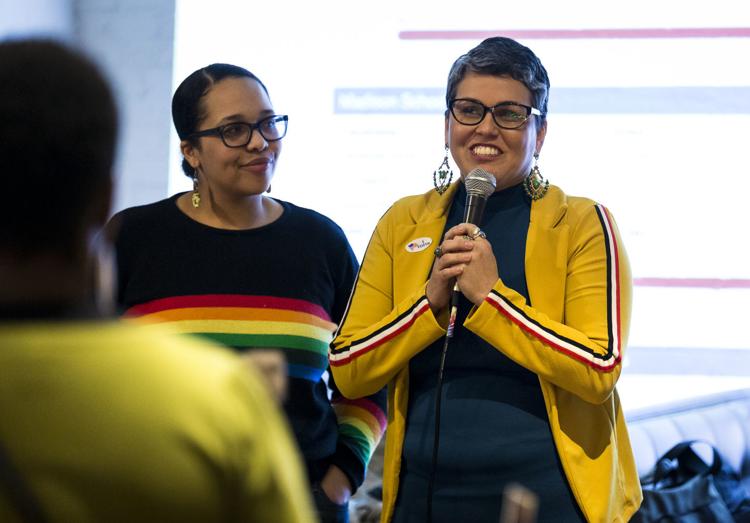 Budget
Approving the budget is the first priority of the new School Board. The district's draft budget proposal for the 2019-2020 school year will be shared with the board and the public at the end of the month with a goal of passing a preliminary budget in June.
Several topics have emerged during budget discussions this spring, including supporting students with the highest needs, providing alternative ways of learning for at-risk youth and adequate compensation increases for educators that align with the cost of living.
On the heels of passing an updated Behavior Education Plan earlier this year, MMSD also wants to provide more mental health support for students.
The updated BEP covers a variety of student behavior and discipline issues. Some of these changes could include expanding trauma-based behavioral intervention to ninth-grade students as well as expanding MicroSchools — small learning environments for at-risk students — piloted last year at La Follette High School.
The administration is also proposing several items that it says are tied directly to MMSD's strategic framework, including a plan to direct $250,000 to a Black Community Coalition Fund. People who signed up to be part of the coalition earlier this year would identify projects they'd like to fund to help advance progress for black students. The money would be repurposed from Community Service Funding designated for the district.
"I have no doubt that this new board is going to want to put their fingerprints on this budget before it's approved in June," Cheatham said. "We're excited to introduce this draft preliminary budget. I'm excited about what we can do to support the strategic framework commitment to black excellence, and I think the community coalition fund is one good example of that. It's just a proposal at the moment, and will be shaped by the board in the next couple months and the coalition itself."
The board will also have to find a way to provide more equitable opportunities for advanced learning. Cheatham in 2016 signed an agreement with the Department of Education's Office of Civil Rights after a compliance review found statistically significant racial disparities in advanced placement courses' enrollment data.
A operating referendum approved by Madison voters in 2016 allowed the district to raise $26 million over four years. The additional funding from that referendum runs out at the end of next school year, which could make future budget years more challenging for the district. Board member Kate Toews noted that there are a lot of uncertainties after the funding runs out, especially on what will happen with the state budget that is supposed to be passed this summer under a divided state government.
"There's a lot of unknowns with the current state budget and other funding sources. It's too early to comment on where we would be at that point, but there's always a lot of competing priorities for the budget," Toews said. "Where the state budget lands will determine a lot."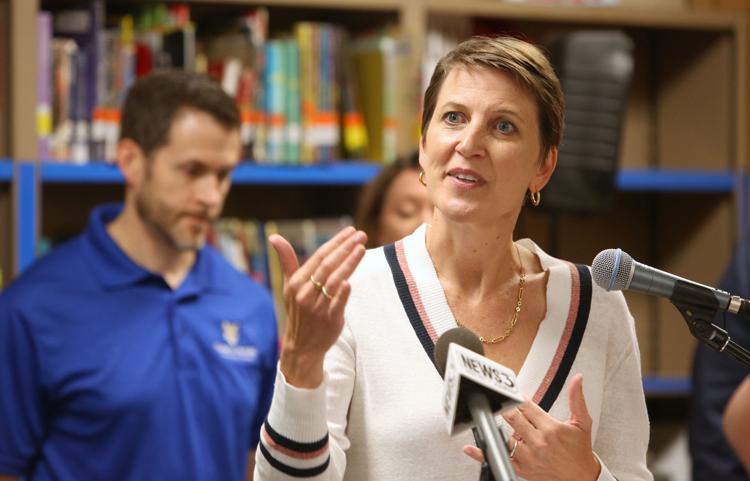 Supporting an anti-racist agenda
"I hope to see the new board take a firm and aggressive stance against the pervasive racism in MMSD," said Nikki Kenyatta, a teacher at Mendota Elementary School and member of BEN. "I would like to see them fund people and programs that will help support the anti-racist agenda."
Part of the group's mission is to support black educators, which members say is critical if the district ever wants to support black and brown students.
"My biggest hope is that people will start to realize that taking care of educators (namely black and brown educators) is an integral first step in meeting the needs of black and brown students," said Darlinne Kambwa-Bell, another BEN member who's also a teacher at Mendota.
Cheatham said while this year has been difficult, any organization making a bold commitment to equity has to overcome challenges.
"MMSD has made a commitment to becoming an anti-racist organization from the boardroom to the classroom — committed to creating liberating instructional experiences that lead to deep learning," Cheatham said in an email. "But making good on that commitment, that promise, also requires that we identify and deconstruct the practices that oppress, and that can be hard."
"Some of the challenges that we faced this year have occurred and have been revealed because of the explicit commitment that we've made," Cheatham said. "What comes next, we think, is an important commitment to building the relational trust necessary to be in this ongoing dialogue with one another about what it actually means to be equitable, and what it means to disassemble the systems that reproduce racialized outcomes."
Cheatham noted that the new board is coming together at a critical time for the district and that members can help further MMSD's commitment to being an equitable organization.
"(The School Board) needs to be part of the process of building relational trust among themselves and within the community that they serve," she said. "We'll all have to be part of that process to make the progress we want to make as an organization."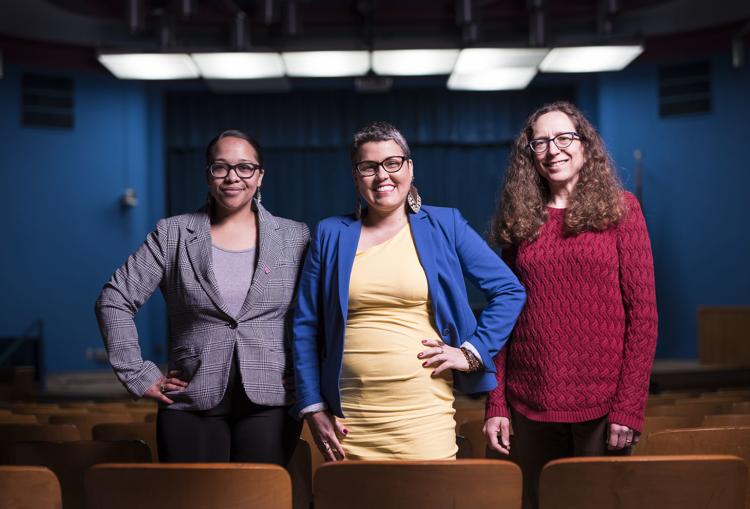 Improving relations
As its new term begins, the board will also consider how it conducts its meetings and interacts with the public more generally.
A multi-year "No Cops in Schools" campaign organized by the local social justice advocacy group Freedom Inc. reached a peak during the past seven months over a renewed contract that would keep police officers stationed in Madison's four conventional high schools. Last October, protests shut down a meeting where the board was supposed to pass its budget. 
The current board has tried to strike a balance between allowing people to protest and voice their concerns about issues in MMSD while also ensuring its meetings can continue.
The board added a digital timer so speakers could see how much of their 3-minute time limit remained. Security staff passed out fliers that re-emphasized how to peacefully speak out during the public comment period of meetings.
The board also displayed the names of speakers on a screen after Burke was criticized for mispronouncing speakers' names.
Members have acknowledged the strategies haven't necessarily worked and expressed a desire to find better ways to engage with the community.
To that end, the district announced Monday that the board's April 29 meeting will be held at Chavez Elementary School, 3502 Maple Grove Drive, with a meet-and-greet session before the public meeting starts. The board typically holds its meetings at the Doyle Administration Building downtown.
Monday's meeting marks the first time the board has held a regular meeting outside of Doyle since 2014, when it held a meeting at La Follette.
"As the board works to create more opportunities for engagement with the community, it will hold regular meetings at schools across the district for the next several months," MMSD spokeswoman Rachel Strauch-Nelson said in a statement.
While speakers during the public comment period can talk about any topic, members are bound legally by Wisconsin's open meeting laws to only discuss what is on the day's agenda, which often does not include the school resource officer issue.
"I think for most board members, it's not easy to sit there for two hours and have people talk at you when you can't say anything," Burke said. "And we've done this for seven months now with the issue of SROs. If you take that, we probably have listened to at least 10 hours of people talking about SROs without us being able to actually engage in dialogue, and there has to be a better way of doing that."
Burke said that while the ad hoc committee process is meant to give community members more of a decision-making voice, changes could be made. In the last few years, ad-hoc committees were formed on student behavior and school resource officers and led to policy proposals.
Though each of the committees included representatives from schools, the district and community, Freedom Inc. and others have said they don't represent enough student and community perspectives.
"We should look at where (ad hoc committees) are at and where it's not serving the purpose it's intended to," Burke said. "We should look at how (ad hoc committees) can better do that."
Muldrow emphasized that it's important to acknowledge the demands of community groups such as Freedom Inc.
"I think that we have to be proud to live in our community where people have every right to protest and show up and tell their elected officials they disagree with them," Muldrow said. "It's important to listen to the people when they believe they're not being taken seriously or being listened to."
Listening to speakers and creating more authentic ways of engaging with the community is something Rudy Bankston, a restorative justice coach and member of BEN, said is important for the new board to accomplish.
"My hopes for the board is that there is authentic engagement with the community, and that each board member presses out of their comfort zone in doing that," Bankston said in a statement. "It cannot only be up to the newly elected women of color on the board to do it."
Freedom Inc. isn't the only group that wants better ways of communicating with the School Board. Imaad Said, a Memorial High School senior who is serving as the student representative on the board, emphasized a need for members to visit schools and talk to students regularly.
"I think students would like to see a higher level of collaboration between the board and students, whether it's reaching out to student Senate more, or being more active within a school setting just so everyone in schools are more aware of what they're seeing and how decisions are being made at the board level and how they're implemented," Said explained. "I think the skepticism or loss of trust happens because people are like, 'Why wasn't I made aware of this?' or 'Why didn't I know about this until it happened?'"
One topic on students' minds? The alleged sexual assault at East.
"We want to see a more cohesive, in-depth, understandable and applicable sexual assault education in health classes," said Maggie Di Sanza, a Memorial High School student, explaining that current sexual health classes spend only a little time talking about sexual violence and consent.
Each School Board member is assigned a particular set of schools by the board president, but there are no requirements for the amount of school visits or what they should look like.  
Lots of board members say they have good relationships with the community and that they receive input from community members frequently. But there's a clear desire among new members to expand the ways in which the board can engage with the community.
"I would not say that the board had really close ties with the community," Mirilli said. "There have maybe been a few members over the years that have had more of a connection with certain people that felt more collaborative because of their roles in the community.
"I find it really interesting how we use community. Who are we talking about? Because every board member would say they are hearing from the community, but it ends up being whatever echo chamber they belong to," Mirilli said.
Carusi said the board needs to engage with parts of Madison it usually does not.
"I don't think there has been a collective commitment to be out particularly in schools," Carusi said. "People are out in the communities they live and work in, but trying to get out of those comfort zones and into other parts of the community is needed."
'Historic referendum' possible
The School Board will also soon be the public face of a facilities referendum that MMSD is eyeing for the November 2020 election. The proposed facilities upgrades currently focus on East, La Follette, West and East high schools, which have an average age of 75 years old and have been identified as having significant deferred maintenance needs that have piled up over the years.
The price tag for the facilities plan is still unknown, but could range from $120 million to $280 million, according to plans presented to the School Board earlier this spring. The ask could be significant — in 2015, Madison voters authorized a $41 million school facility improvement plan that addressed needs across the district.
Pressure to pass a referendum of this size is on the district, as neighboring school districts have recently approved a slew of referendums for new schools and upgrades in the Middleton-Cross Plains, Verona Area and Sun Prairie school districts.
Students and parents from Madison West have been on a campaign of sorts to push the School Board to prioritize upgrades there. West is acknowledged as one of the most space-constrained high schools. The swimming pool lags behind current standards and has led to students developing health problems, according to several students who testified before the board.
Cheatham said the district is also attempting to look at facilities inequities, including identifying how to better serve areas that do not have a neighborhood school.
Though Vander Meulen said the board will have to manage its expectations for what it can accomplish this term, items such as improving facilities have to be prioritized.
"We can't do everything all at once, but with some of the stuff happening at West right now with the tiles falling off the pool, we have to make sure nobody gets hurt," Vander Meulen said.
The district plans to present an initial range of options for the referendum to the School Board in May. The School Board would need to authorize a referendum by May 2020 if it wanted to get the project on the November ballot.
"What we are looking at is a big, big project when you look at renovating four high schools that are all old," Burke said. "We're going to have to work to gather community support to get it passed … this almost could be a historic referendum in Madison."
Police contract
What happens with the school resource officer contract between the city and district will also determine the future of a strained relationship between some activists and the School Board.
Organizers from Freedom Inc. have slammed the board repeatedly for not committing to remove police officers from the city's high schools and instead voting to approve an amended contract that would keep them in the schools on MMSD's dime for another three years.
Burke and James Howard, who served as the board's vice president this year, reached out to Freedom Inc. last month to meet about the group's concerns and find a way forward.
But the meeting never took place, which Burke attributed to the fact that there will be new leadership on the board. She's hopeful new board officers can connect with Freedom Inc. beyond just hearing them at School Board meetings.
Bianca Gomez, the gender justice coordinator for Freedom Inc., said the group's demands of ending the contract and redirecting resources to investing in youth remain.
"Regardless of who the School Board members are, we don't want them to have the power to act on behalf of families, because the School Board as an institution has failed at that," Gomez said. "We want the decision-making power to be in the hands of parents, youth and community members who reflect the students who are being harmed in schools … We are demanding community control over schools, school safety, school discipline, school climate, school curriculum, all the things involving schools."
Gomez said the prospect of meeting with new board officers is still up-in-the-air, but that the group would continue to try to empower students to be a part of the decision-making processes.
Carusi said that while Freedom Inc. doesn't want police in schools, other aspects of its demands speak to larger challenges.
"Clearly they are asking for no cops in schools, but some of the things they are asking for instead of cops in schools really gets at some of the things that are holding kids of color back and are at least not helping them," Carusi said. "They're asking for more special education assistants, more counselors, more social workers, better school lunches, more time to eat those lunches, smaller class sizes. I think it's important for the board to really look at how our schools and district is structured if we are going to ensure we're working toward equity."
The election of Muldrow and Mirilli provided a boost for Freedom Inc.'s campaign, as both incoming members said on the campaign trail they did not support having police in the four high schools.
The city and district are negotiating an amended contract approved by the School Board last December that would keep officers in schools, but give MMSD the authority to remove an officer if school officials found cause to do so. The city has argued that removing an officer is only under the authority of the chief of police, set by state law and the city's police union contract.
The board voted 4-2 on the amended contract in December, with Vander Meulen and Toews voting against. Reyes, a former police officer herself, was not present for the vote.
Assistant Madison city attorney Marci Paulsen said she is unsure of when the contract will be approved. The current contract expires in June.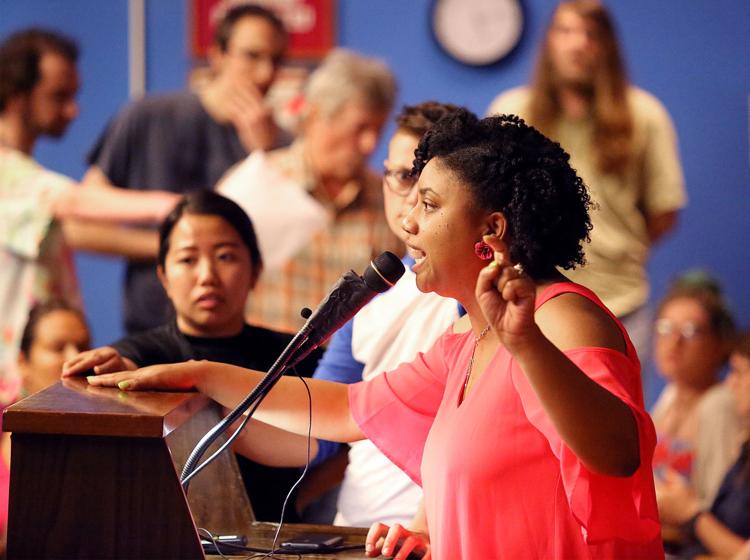 Women rule
Much has been made about the new School Board being the first all-women School Board in Madison's history. Members are excited about the diverse perspectives everyone can bring.
 "I definitely ask the community to hold us accountable for the decisions we make, but also be very supportive, to ensure we are preparing our School Board members to make sure they do their best work," Reyes said. "I ask the community to respect the professional women who have served our community in many different capacities."
 However, there's a belief among members that their tenure shouldn't be defined by gender.
 "I want to focus on the issues. I love being a feminist and I am a feminist but it doesn't matter if I'm serving with men or women, we get the job done," Vander Meulen said.
 Muldrow said that the fact that the School Board will be all-women shows an effort to continue to challenge the history of men being the majority of decision makers.
"I think it means our decisions will be different, that means our decorum will be different and it shifts the nature of the board," Muldrow said. "I don't think any of the women on the School Board think they are defined by their gender so I think one of the things we want to stay away from is stereotyping —  that because we're all women, that means this one, specific thing about who we are."
The seven members bring a variety of experiences and perspectives to the table, which is something Toews said she is excited about.
"I feel really proud to be on an all-female School Board. I'm excited about what that's going to be like," Toews said. "More than anything, we have a strong set of perspectives. We don't always agree on everything and I think that's a good thing. I think we are going to have a strong year."