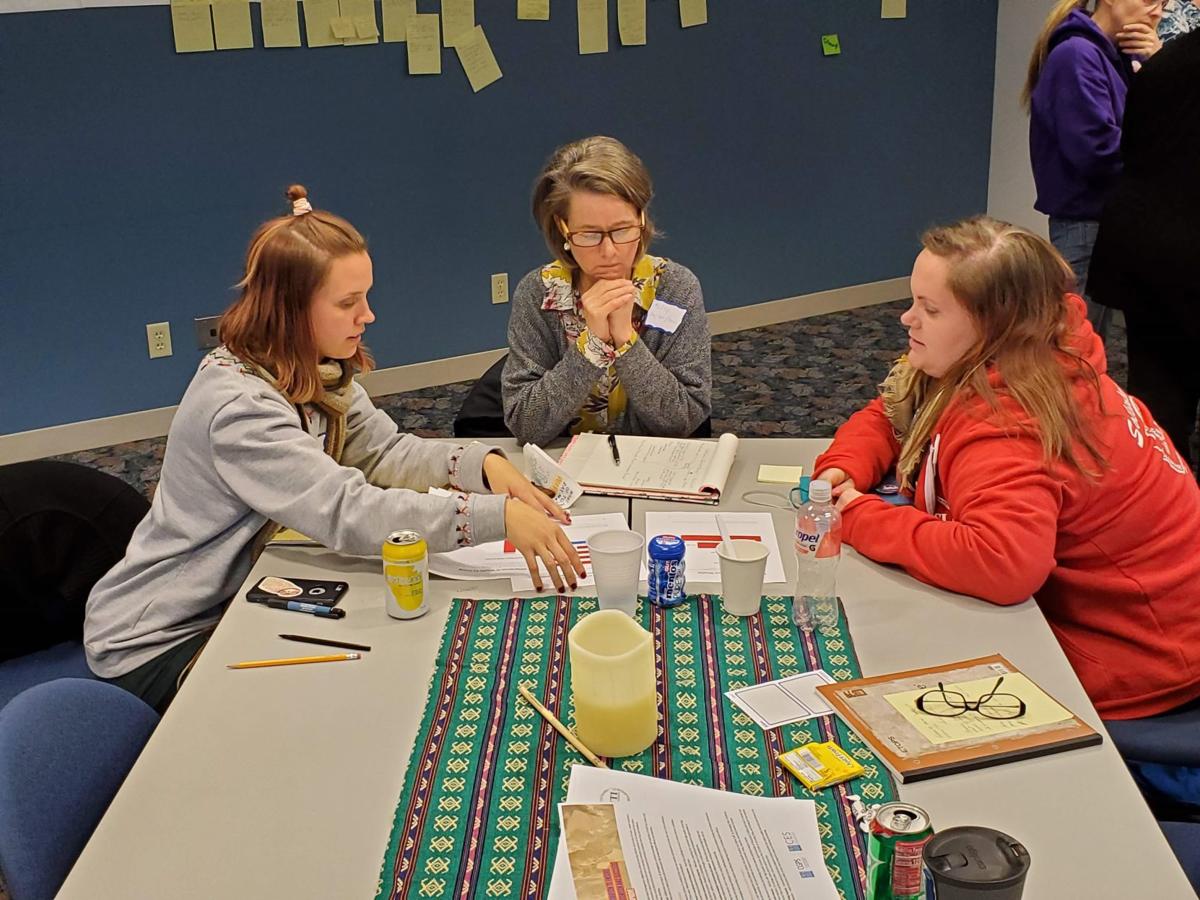 About 20 Madison School District educators were late for lunch.
It was Saturday, Nov. 2, at the Madison Teachers Inc. headquarters, and the group was locked in a conversation about racial justice. They were spending their day, from 8:30 a.m. to 3:30 p.m., working together to gain a better understanding of how the history of race in the United States factors into their classrooms today.
"I keep finding out how much I don't know," said Hamilton Middle School math teacher Laura Godfrey.
MTI staff member Kerry Motoviloff helped organize the monthly Racial Justice Summit gatherings, which are part of the union's equity focus. They began last year, and were in development a year earlier as MTI received a grant funded through national teachers' union dues.
The sessions' popularity amid the district's Black Excellence push made it an easy decision to bring them back this year, Motoviloff said, with the added benefit of the National Education Association testing out its EdJustice curriculum and bringing in national trainers once per month. 
Motoviloff, the MTI president-elect during the 2011 Act 10 protests, said it's important for the union to make clear that it exists to do more than bargain with the school district over contracts. That bargaining is now relatively limited, given the maximum increase each year set by state law. Now, they're trying to help teachers dive into a complex topic that can be tough to talk about with supervisors in the room.
"We're trying to create those safe places," Motoviloff said. "It's so personal and it's so deep."
The programming through MTI's CENTRS project, led by Motoviloff and aimed at helping retain new educators, includes book clubs and partnerships with community groups in addition to the Saturday summits, which are limited to 35 people each to ensure a deep and meaningful conversation, she said. And that's seemingly what's been happening, as 100% of the Nov. 2 attendees said in a follow-up survey they planned to participate in a future summit.
"Every time I do this work, I learn something new," wrote one respondent to the survey. "Whether it is a piece of history or the perspective of a colleague, I think this learning also helps me learn new ways to have these important conversations with my students as well as my family and friends."
The rest of this year's Saturday topics include a Black Lives Matter Week of Action Planning in December, Combating Implicit Bias and Microaggressions in January and Understanding White Privilege and White Fragility in March.
Much of the Nov. 2 event, titled "Racism: History, Levels and Systems," was spent examining the marginalization of people throughout the country's history, from the first slaves brought here to the minimization of minority contributions to the country's development. Walking through that history included a look at how the economy has changed over time and the resulting income inequality.
Motoviloff said understanding that history can help teachers contextualize what their students are dealing with today. Even if the teachers themselves feel they've been progressive or aware of racial issues, there's always more to understand for the people who ultimately can be "the agent of change" in a student's life.
"It doesn't have to be our fault to be our responsibility," Motoviloff said. "I really think the union has an incredible opportunity to lead this work."
Motoviloff said that's important as the district continues to develop its own internal professional development opportunities for staff related to racial justice topics.
"The work inside the union points out the willingness of the teachers," she said. "The question is, if there's such a need, how is the district also planning this in a strategic and universal way? At this point we're still searching for that."
Schenk Elementary School teacher Eileen Kennedy, in her 24th year of teaching, said it was especially good to get ideas from the training and other staff members there about how the lessons could be brought into the classroom — and that it won't be just one solution that solves the problem.
"It's just really important to learn," said Kennedy. "There was a long time where you can see the disparities, but it was kind of like, 'What do you do?' There's not one thing to do."
Flor Mitchell, a bilingual resource teacher at Midvale Elementary School, said staff lack the time for professional development within the school, so she was glad to come out for a Saturday event that could inform her practice, especially understanding the systemic barriers to family involvement in schools.
"I'm here to learn how to support my coworkers and be able to go back to my building and bring back what I'm learning," Mitchell said. "I'm just trying to learn how to be a better advocate for my kids and the kids I serve in the community."
Share your opinion on this topic by sending a letter to the editor to tctvoice@madison.com. Include your full name, hometown and phone number. Your name and town will be published. The phone number is for verification purposes only. Please keep your letter to 250 words or less.