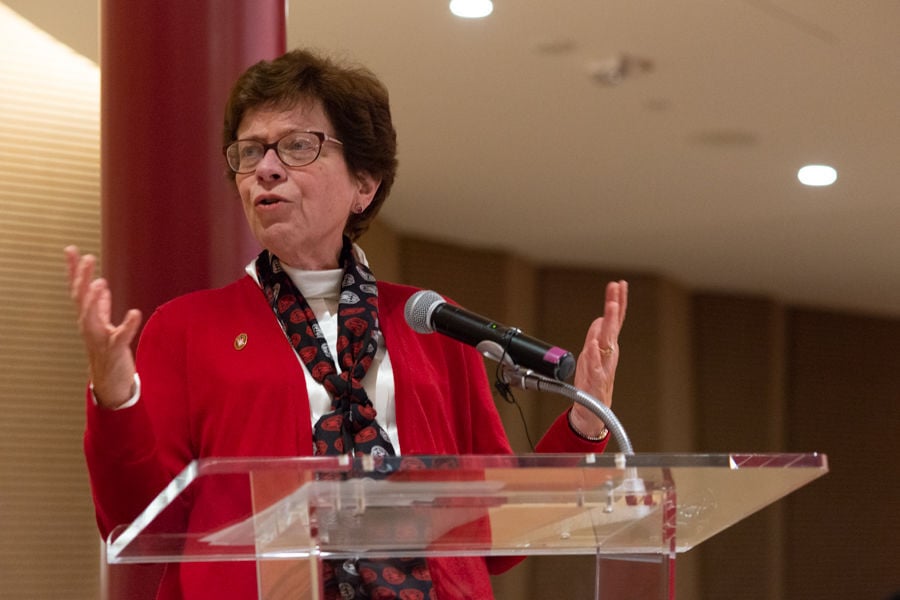 The University of Wisconsin-Madison hired a record number of faculty and graduated a record number of students in the last academic year, Chancellor Rebecca Blank announced Monday.
In her annual State of the University address, Blank said UW-Madison hired 171 new faculty last year, 85 of which are faculty of color. She joked that faculty should not to get used to this good news, given hiring freezes this year due to the pandemic.
Blank added that the university has achieved its highest six-year graduation rate yet at 88.5%. The four-year rate, or number of students who graduate in the spring, is at 71.2%, with the highest percentage ever among Pell Grant recipients and targeted minority groups.
The majority of Blank's address involved the university's most pressing issues: pandemic response and racial justice. She reiterated that UW-Madison's positive COVID-19 test numbers have dropped to rates below those of Dane County and Wisconsin.
"It is a time of enormous uncertainty, and we will continue to be guided by the best information we have," Blank said.
Though the majority of students are "doing exactly what we want them to do," Blank said administration is continuing to take disciplinary action against students who break with health and safety protocols. She said 650 students are under investigation for conduct violations and 21 have been referred for emergency suspensions, up from 300 investigations and eight suspensions in mid-September.
UW-Madison has continued to place research at the forefront of its reopening plan. Since the start of the pandemic, Blank said there have been almost 400 COVID-related grants or grant proposals at UW-Madison, which has become "one of the national leaders" in the field.
Steve Ackerman, vice chancellor for research and graduate education, said at a University Committee meeting earlier Monday that these grants totaled over $29 million. The university also had $1.3 billion in research expenditures last fiscal year, which Ackerman said represents a slowdown but is still over 6% more than the previous year.
The university has also received 114 research continuation applications from people whose work has been affected by the pandemic, Ackerman said. Another 140 graduate students with delayed dissertation timelines have submitted applications for a total of $1.5 million in grants. 
Blank said at the UC meeting that the university is beginning to forecast for the upcoming budget cycle with a good estimate of fall and spring enrollments. Though cash reserves can make up some of the COVID-19 deficit, she called it "unconscionable" that UW-Madison is the only major state school among its peers without state borrowing power.
"We have been working on this unsuccessfully for the past six years," Blank said. "If this year does not persuade people why they need to bring their state university in the modern age financially, I don't know what will."
Be the first to know
Get local news delivered to your inbox!