Madison West senior Mercer Dilweg was in fourth grade when protests erupted in Madison after newly elected Gov. Scott Walker made his signature legislative mark after the passage of Act 10, which eliminated collective bargaining rights for most public sector employees.
"As a fourth grader, that to me was just a free vacation," Dilweg said of the 2011 protests. "Now that I'm 18 and more cognizant of what's been happening to school districts, the lack of funding and educational support — it makes me angry, and I'd like to see a change."
That's why he decided to register to vote.
Dilweg is part of a newly minted class of voters who weren't able to vote in the 2016 presidential elections, but will get a chance to make their voice heard during next week's midterm elections.
Voters between the ages of 18 and 29 have historically voted in low numbers relative to other age groups. In 2016, only 43 percent of eligible voters in that age group turned out to the polls, according to an analysis of U.S. Census Bureau data by the United States Elections Project. In non-presidential years, the turnout numbers are even worse. Just 16 percent of eligible voters under the age of 30 voted in 2014, which was the lowest turnout rate for that group since 2000.
In Madison's high schools, students are working to buck that trend by getting their peers registered to vote.
"The reason I think a lot of young people don't vote is that they think their one vote isn't going to have any difference," said Bryn Gunther, another senior at Madison West.
Gunther enlisted several of her classmates to start an informal club at the school that made presentations in front of history classes over the past month about the importance of voting. Their club's name? Defenders of Democracy.
Representatives from the League of Women Voters of Dane County were on hand at the presentations to help students who had turned 18 to register.
"Since I wasn't able to vote myself, I wanted to encourage my peers to vote so students' voices can still be heard," said James Shaack, a senior who is still 17 years old. Shaack and several other members of the group at West plan to register themselves once they turn 18 later this school year.
Gunther said that most of the students who were old enough to vote registered during the presentations, which were held at the school's library.
"We had to go over things like how to find your polling place online, and other tricky issues such as how to register if you don't have a driver's license," Gunther said.
Even though many seniors haven't turned 18 yet, members of the voter registration group hope to have similar voter registration drives later this school year ahead of the spring elections.  
"This was our first attempt at really trying to get this to work," Gunther said. "We hope that in future years we can pass this group on to the underclassmen so that they can have students who can say they are proud they voted and make others excited that they are able to vote."
Much of the voter registration activity has been happening separately at the high schools, but these students hope that changes in the future.
"We would like to connect with kids at Memorial and the other high schools," said Hugh Gabriel, a senior who also helped make presentations to classes. "We want to make sure that this is not a one-time thing and that it continues."
While some have suggested that the current political polarization has made more students engaged politically, David Ross, a social studies teacher at West who advised the voter registration group, said political enthusiasm has ebbed and flowed depending on the controversies of the day.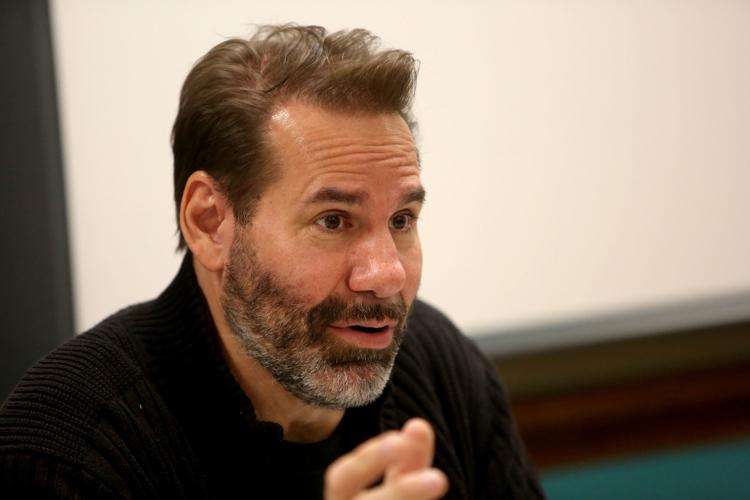 "It kind of depends on what's facing students. With Parkland for example, there are issues that are staring us right in the face and they are intense and affect our lives, so there's reason for people to want to be engaged," Ross said.
Ross used to advise the Young Democrats and Young Republicans student groups at West. He said civic engagement and discussions around the school sprung up after the contentious 2000 election between George Bush and Al Gore. Barack Obama's 2008 election also motivated many students, Ross said.
However, Ross advised the students organizing the voter registration drive to make sure it was nonpartisan.
"We wanted to make sure this was a way to get students to become active in the political process," he said. "We didn't want this to be politically motivated and more of something that is just important to do because having an engaged citizenry is important."
At La Follette High School, junior Grace Jensen set up a table during the lunch period recently to get students to vote and to talk to them about the importance of voting.
Jensen, who is the development director for March for Life Wisconsin, said it's important to get young people to vote so lawmakers reflect the young people they represent.
"We see all these senators and representatives that have been there for decades and not really reflecting the young people's opinions and voices," Jensen said. "It's important to vote so we have fresh minds and fresh ideas, and have someone who can understand how diverse our young people and our country is becoming so we don't just have the stereotypical rich, white old man."
"It's affecting everyone and is on the minds of everyone in terms of risk," said Paulina Baker, a La Follette senior and first-time voter. 
Baker said she was prompted by Grace's voter registration efforts to make sure she was registered.
"I think people at our school are very opinionated, and I think it's important to have opinions related to our society and to voice it," Baker said.
A slew of issues have motivated students to vote. School shootings and gun control were the top non-economic issue motivating 18- and 19-year-old voters, according to a survey on youth politics released this week by the Education Week Research Center. Among economic factors, a high cost of living and the gap between the rich and poor, as well as the economy in general were listed in the survey as top issues facing these young voters.
"I would say the most important ones for me would be immigration rights and abortion," said Ruby Lambert, a West senior who registered to vote right before the August primaries. "When young people don't vote, they're not setting up a good future for themselves."
For some, the current political climate itself is enough to go to the polls.
"I just feel like there is so much turmoil in the political landscape. That's why I want to make my voice heard," said Andrew Glasgow, another West senior.
Students at both West and La Follette stressed the need for more civic education in schools so students can more easily know how and when to vote, and why it's important.
For some, a lesson on the importance of voting comes during an AP U.S. History or Government and Politics class, while for others it comes in a different social studies class. But it's up to teachers to decide how they want to talk about voting.
According to the Education Week survey, 49 percent of respondents who never had a standalone civics class do not plan to vote.
Some political groups are hoping to capitalize on what they hope will be a "blue wave" next week by getting young people to vote. The political action committee NextGen America, which was founded in 2013 by billionaire hedge fund manager Tom Steyer, has poured about $2.5 million into youth turnout efforts in Wisconsin, according to Sean Manning, a spokesperson for the Wisconsin chapter.
The activist group also spent over $400,000 this cycle on digital ads targeting voters who are between the ages of 18 and 35 and has gotten over 48,000 young people to pledge to vote.   
But as these voter registrations have ramped up in the weeks leading up to the Nov. 6 election, a looming question remains: will these newly registered voters actually vote?
"It's something that I hope happens," Gabriel said. "I think once someone registers, they are much more likely to go out and vote since they've had a taste of the process."
Researchers who led the Education Week Research Center said it's important to be somewhat skeptical of the high number of people saying they will vote in November. In its survey, 63 percent of respondents said they plan to vote, which would buck historical trends significantly.
Since 1986, the highest non-presidential election voter turnout rate for people under the age of 30 was just 21 percent, a figure reached in 1994.
But despite the trends, Ross said it's important to get students into the habit of voting regardless of the political tide of a certain election year.
"We're really hoping to develop a stronger culture around voting in a nonpartisan way," Ross said. "We want to teach students to develop a routine around voting. When we get them to start registering early in their life, students can learn that they have power if they are willing to wield it to help create a well-informed public."