Rodrigo Stabio, a master of business administration candidate at the Wisconsin School of Business, remembers picking up his mobile phone from the repair shop last fall and turning it on to find more than 200 text messages.
"I called my friend and asked, 'What's going on?' He said: 'They're thinking about cancelling the program. Everybody's upset about it,'" Stabio said.
At Grainger Hall, home of the business school at the University of Wisconsin-Madison, talk among students that day turned immediately to an email reporting a proposal to end the full-time MBA program, ranked 37th in the nation this week, down from 34th a year ago.
News that faculty at the school had given preliminary endorsement to such a plan spread.
"The word was out there, and it went far," said Stabio, a first-year MBA student from Texas. The Wall Street Journal wrote about it next day.
Speculation about the future of the two-year MBA at Wisconsin spawned news stories and social media posts, leading to anger and angst among donors, alumni and students. Business school officials struggled to gain control of the story on the eve of Oct. 20 homecoming festivities. Scheduled events included a reception for the school's most prestigious benefactors.
Dean Anne Massey, just three months on the job, was quick to apologize that donors and alumni had not been directly informed. "I take full responsibility," she wrote in an email in which she insisted that the proposal was not to end the full-time MBA program but pause applications for one year while the school's program offerings were analyzed.
Still, there was faculty support for the concept. And UW-Madison Chancellor Rebecca Blank apparently backed it. Blank "reiterated her belief, which business faculty and others appear to share, that the WSB dean has the right vision of where WSB should go and that should keep moving forward," read the minutes of the Oct. 30 meeting of the University Committee, which leads the campus shared governance Faculty Senate.
In December, Massey resigned from the dean's post, saying her departure would allow Blank to pursue her vision for the business school. "I have realized that my vision for the school differs from Chancellor Blank's," wrote Massey, who is teaching this semester.
A backlash by donors and alumni — as revealed in emails to and from Massey obtained by the Cap Times under state open records law — hampered business school attempts to realign its programs for a changing market.
Efforts by the school, where revenue is not covering cost of operation, to expand a growing undergraduate program and focus on increasingly popular one-year specialized master's degrees and part-time MBAs have been constrained for at least a year.
Stabio, who is vice president of the Graduate Business Association, said he was not as concerned over the possibility of the full-time MBA program being phased out as some of his classmates. But he was struck, he said, by something Massey said in one of the "town hall" meetings hastily arranged with students after proposed changes made news.
"She said: 'Do we want to be a follower or a leader?' Thinking about that is a great learning experience for me – do I want to follow or do I want to lead? Sometimes when you are a leader, you take a hit."
The business schools at UW-Madison's Big Ten peers typically bear the name of a benefactor. There is the Kelley School of Business at Indiana University, where Massey was an associate dean, named for the chairman of Steak and Shake company. At the University of Michigan, the Ross School of Business is named for a New York real estate developer who donated $250 million to the school. At Northwestern University, the Kellogg School of Management honors a son of the cereal company founder who donated $10 million in 1979.
At UW-Madison, the business school is the Wisconsin School of Business, as set out in a 2007 donor agreement. The Wisconsin Naming Partnership brought together 13 alumni donors, whose initial $85 million in gifts to the business school preserved "Wisconsin" as the school's name for 20 years. The original group has been joined by four others and the gift has increased to more than $110 million.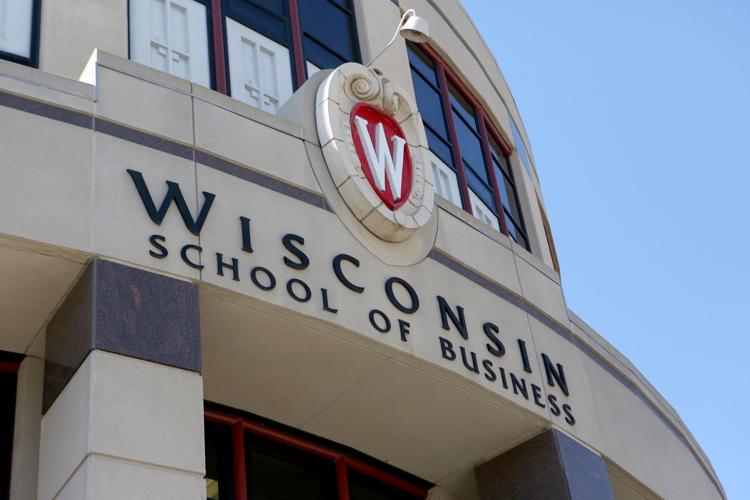 The reach of the WSB naming partners extends much further, however. Their total gifts to UW-Madison exceed $800 million, according to Mike Knetter, a former WSB dean who now heads the UW Foundation, in an email to Massey. The foundation is the fundraising and gift-receiving organization of UW-Madison.
Knetter, while still WSB dean, engineered the Naming Partnership, the 10th anniversary of which was celebrated during homecoming last fall. The partnership preserves the possibility of future naming gifts, and increases the number of influential donors with expectations – and sometimes legal agreements – about how funds can be spent. Leaving donors with the impression that program changes violated the spirit of their gift agreements "could be measured in the tens or hundreds of millions of dollars," Knetter cautioned Massey.
WSB touts the way its MBA program is organized around several "knowledge centers" at the school. Branded groups — the A.C. Nielsen Center for Marketing Research, Bolz Center for Arts Administration and Nicholas Center for Corporate Finance and Investment Banking — administer MBAs that offer specialized study on top of general business school material. Each center has its own staff and administrators, as well as an advisory board, increasing the ranks of influential stakeholders.
The business school has a network of alumni who support it with financial donations and expertise. As leaders at major employers, these alumni turn to the school to recruit well-qualified hires, building the school's job placement rate in a symbiotic relationship.
UW-Madison officials responding to the Cap Times' request for records redacted the names of two donors.
"Because many donors expect privacy, and are assured of privacy in discussions with development personnel, making public the university's donor relationships could have a deterrent effect on current or future donations to the university from those individuals," wrote Lisa Hull, records custodian for UW-Madison. That tips the public interest in favor of withholding the names, she said.
One donor whose communications with Massey were included in the released emails was naming partner John Oros, a WSB alumnus and co-chair of the school's fundraising campaign.
Oros was blunt in his criticism of Massey's handling of events.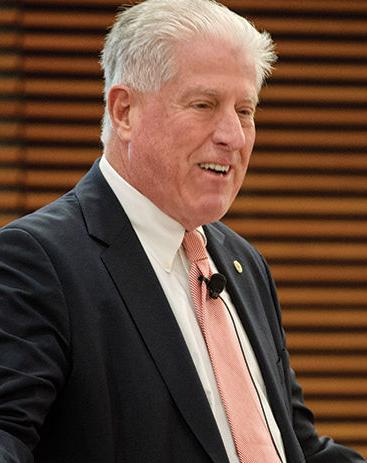 "I am dumbfounded by this apology and the decision to continue to dismantle the (full-time MBA) regardless of the negative reaction that you, and we, have all experienced. It is one thing to stick your foot in your mouth. It is quite another to continue to gnaw on that foot," he wrote to Massey.
Oros called Massey's insistence on sticking with the proposal a public relations disaster on the order of Chicago Mayor Richard J. Daley's infamous order to police to shoot during riots following the assassination of Martin Luther King, Jr. in 1968.
"Of course, I exaggerate, as the stakes here are not life and death but I see the suspension of the 2 year FTMBA as a crippling blow which is maiming and with virtual certainty will lead to its death," wrote Oros, a managing director of J.C. Flowers & Co., a New York private equity firm.
Oros described himself "at my wit's end."
And he declared himself finished with WSB. "I have no choice but to exercise the last and only viable option that I have as a volunteer which are to (1) lead, (2) follow or to (3) get out of the way. I tender my resignation as Chairman of the School of Business Capital Campaign because of my inability to communicate with or have confidence in its leadership and will turn my attention to other parts of the University," Oros wrote.
A WSB spokesman said this month, however, that there was no change to the  fundraising steering committee structure.
Other influential alumni argued that putting the full-time MBA on "pause" was a self-defeating course of action.
Phill Gross, a member of the advisory board of the WSB's Nicholas Knowledge Center, said delaying a decision was damaging.
"If a decision has been made so be it. This wish-washy approach will cause substantial damage to the brand in the name (I guess) of saving a few dollar(s) in the short term should we ever decide ANY FORM of FTMBA continues in the future," wrote Gross, a co-founder of Boston-based Adage Capital Management.
Some alumni lamented school officials' failure to consult with them before considering such drastic action as backing away from the MBA, begged off being associated it, or implored them to slow down the process. One called the messaging on the proposed change "clumsy."
One alumna promised she would not be recruiting from WSB, or donating anymore, if it ended the full-time MBA program.
But other alums expressed support for the direction Massey was headed.
"I am very aware of the issues and financial implications. I support the decision and hope that resources that would be freed up, both financial and human, would be used to continue to grow innovative, leading edge teaching and learning at both the undergrad and graduate level," wrote Cindy Ihlenfeld, a former member of the WSB Dean's Advisory Board and co-chair with Oros of the WSB fundraising campaign.
"Key here is to turn this into a big positive story," wrote Ricky Sandler, a WSB alumni and donor, UW Foundation board member and founder of Eminence Capital.
Officials at WSB were trying. Massey conferred on the content of her messages with staff in her office, and alumni relations and communications specialists at the business school, as well as John Lucas, executive director of communications for UW-Madison. A set of talking points for an interview with the Wall Street Journal was produced.
WSB even enlisted the services of a crisis consultant with Edelman, a global communications firm based in Chicago under contract with UW-Madison. Edelman will be paid $1,800 in WSB gift funds for assistance in the MBA issue, according to Peter Kerwin, assistant director of public relations for the business school.
The message was massaged past meaning, said one 1998 alumnus.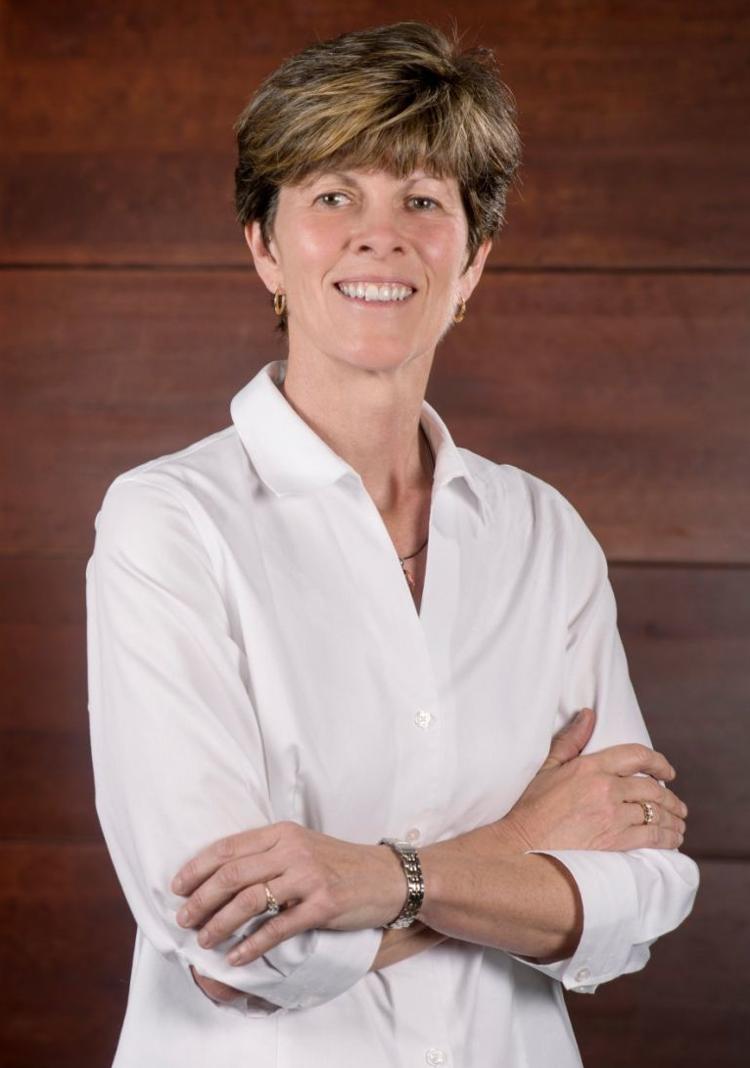 An set of frequently asked questions sent out by the school was "perfectly executed mumbo-jumbo," wrote Brian Heller. "It lacks anything actionable or quantifiable, but it sounds nice. One might even say it's MBA-speak," he wrote.
What Massey told naming partners was that WSB's current model for the two-year full-time MBA was not sustainable.
"The issue with the FTMBA is not about quality," Massey wrote. "I feel confident that the experience we have been able to deliver to our FTMBA students has been a transformational one, but the issue is truly one of a shrinking market combined with intense competition."
Massey noted a steady decline in the number of MBA seekers, an increase in the number of MBA programs, the growing popularity of other graduate school business degrees and the increasing dominance of the top-rated programs in the market.
"At WSB specifically, in a declining MBA market, we are having to generate more applications to fill the same number of slots we did in the previous year," Massey wrote. "My assessment is that while we could try to invest millions more (which we don't have) in improving our standing, it would not move the needle and make us a top business school in the FTMBA space."
Massey recommended the school reorganize to fold the knowledge centers into departments. The school could increase enrollment in its fast-growing bachelor of business administration undergraduate program — now at 2,717 — to 4,000 by 2023, she predicted. That would generate $9 million in revenue and provide a pipeline for the school's popular one-year master's degree programs, in accounting, finance and global real estate.
The University of Iowa announced last summer that it would phase out its full-time MBA to focus on growing its part-time MBA and specialized master's programs. Wake Forest University in North Carolina ended full-time MBAs in 2014 to focus on part-time programs. Virginia Tech similarly turned to part-time programs in 2013.
More colleges and universities have entered the MBA space, boosting the number of full-time programs in North America by more than 300 in the past 10 years. But the number of prospective students taking the qualifying Graduate Management Admissions Test in the United States has dropped nearly 12 percent in recent years, from 90,541 in 2013 to 79,862 in 2017. The number of test-takers worldwide is up 5 percent in that period, to 250,884, but fewer international students are opting to attend graduate school in the U.S., according to the Graduate Management Admissions Council.
And more GMAT-takers are selecting one-year specialized master's programs: 23 percent in 2016 compared to 15 percent in 2009.
As competition for MBA students has increased, programs ranked in the top 10 by U.S. News and World Report are growing, while lower-ranked programs compete for students with GMAT scores high enough to support their rankings and attract well-paying recruiters.
WSB's full-time MBA was ranked 37th this week by U.S. News, down from 34th last year.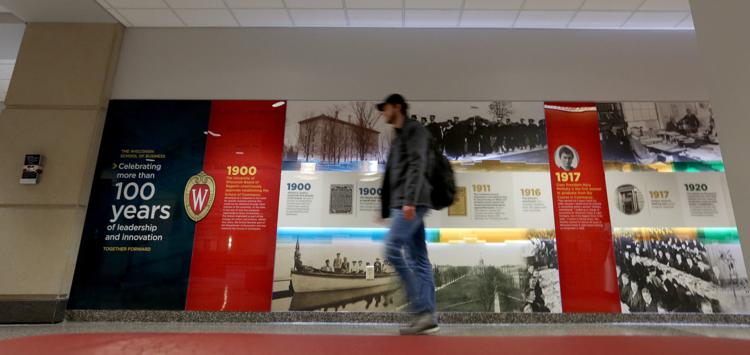 WSB has the capacity to enroll about 100 students in the program each year. It drew 556 applicants for fall 2017, down from 730 in 2016 and 800 in 2015, when enrollment spiked with intensified marketing, according to WSB officials. Applications for the full-time MBA for 2018-2019 were down 16 percent from last year at this time, Kerwin said. But students were applying and accepting admission on par with the two previous years, he said.
The average GMAT score for 2017 incoming MBA students at WSB was 678, compared to 732 at Kellogg, 716 at Michigan and 678 at Indiana.
WSB full-time MBA graduates in 2017 reported a median base salary of $98,000, compared to a $105,000 median starting salary nationally projected by Graduate Management Admissions Council.
Tuition for the MBA program at WSB was $17,452 for residents, and $35,316 for non-residents for the 2017-2018 year. But "discounting" to attract top candidates is common among MBA programs competing for strong students.
WSB tuition and fund transfers from the campus totaled $34.35 million in fiscal year 2016, 53 percent of the school's total revenue of $65.4 million on $68.7 million in expenses. The school's second largest source of revenue was gifts and philanthropy, which totaled $23.2 million in 2016, or 35 percent of revenue.
The school was forced to tap a campus line of credit to cover its expenses.
Barry Gerhart, interim dean of WSB, is not saying much about what is likely to come out of a new program review to be completed this fall, when officials said they will begin the search for a new dean. In an interview, he said he didn't know much about changes in the MBA market in general.
"I think the full-time MBA, whatever the long-term trend is, is going to be an important component of what we do at schools like Wisconsin and most of our peers going forward," Gerhart said. "At the same time, we'll continue to look for other ways to serve students who want to get a business education."
More online programs and blended offerings with both online and face-to-face sessions are possible, he said. Increases in the summer program and the other one-year master's programs also are possibilities, he said
Professor Terry Warfield is the chair of the Department of Accounting and Information Systems at WSB and a member of the University Committee. He also served on the search committee that recommended Massey, then a research professor of information systems and administrator at Indiana.
A review of the full-time MBA and how it fit into the school's program package had been going on for quite a while before Massey arrived, he said.
"While we were searching for a dean, we were looking to hear from people about how our educational offerings might evolve," including the (Bachelor of Business Administration), the master's degree programs and the full-time, part-time and executive MBA programs, Warfield said. "All the finalists talked about general trends in the MBA market and how we might meet students where they are."
Broad consensus about growing the undergraduate BBA program remains, Warfield said.
Brian Mayhew, associate dean of the undergraduate program, said the school has room to accommodate a 20 to 25 percent growth in the number of BBA students in the next five years. But it would take more faculty and staff to meet that growth.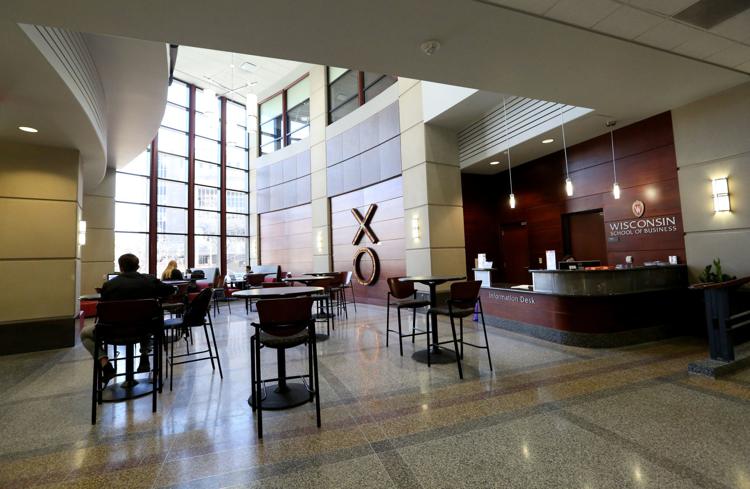 In their questions for Massey at the town halls held last fall, Wisconsin MBA students shared concerns about continued support of the school and its graduates by the alumni and recruiters with which it has had productive relationships.
Asked to share her thoughts about the full-time MBA issue for this article, Susannah Maiken, outgoing co-president of Graduate Women in Business, said she had confidence in the value of the program organized around the Knowledge Centers.
"Our specialized model is what draws our recruiting partners to WSB and I knew we had such a strong alumni base, I wasn't too concerned that the program would be suspended," she said.
Close bonds with alumni, as well as fellow students, are an important part of the WSB MBA experience, Stabio, the first-year MBA student said. A graduate of Brigham Young University in Idaho, he was working and raising a family when he started thinking about going back to school and heard about WSB from a BYU alumnus.
"The MBA is not only classes, it's the networking and friendships," between first-year students and second-years and alumni in the business world who mentor them, he said.
"It's like a bond of brotherhood that we create as Badgers that I feel will last. I might forget what I learn in finance, but I won't forget the bonds that I create. And 10 years from now, if I feel I need something new, I'll reach out to them," said Stabio. He's got a marketing internship with a big consumer products company lined up for the summer.
Stabio watched the MBA fiasco unfold with particular interest in Massey, who was essentially the CEO of the business school.
"I think there's a lot of lessons to be learned," he said. "It takes a lot for a leader to admit they were wrong. It's a great sign of a leader to display humility and say they were wrong."
Does humility play well in business?
"I think it can," Stabio said. "There's always opportunities to show power."