A class trip to South Dakota exposed Charlotte Conner to impoverished conditions she didn't know existed in the United States.
Charlotte, a sophomore at Shabazz High School, went on the eye-opening one-week trip to Pine Ridge Reservation with her "Road to Indian Country" class in October.
"People there are living in trailers that are disintegrating," she said. "Some houses have up to 17 people living in them."
Gene Delcourt, a social studies teacher at Shabazz High School, teaches Road to Indian Country. Students in the class learn about contemporary Native American issues including poverty, the use of language in history and culture. Then each fall and spring, Delcourt takes the class to Pine Ridge for a week to volunteer. 
Shabazz is an alternative high school in Madison that emphasizes hands-on, experiential education. Several classes involve students taking trips and doing community or volunteer work as a means of learning. 
Pine Ridge is home to the Oglala Lakota. There's a high rate of poverty on the reservation and many homes are overcrowded and don't have running water or sewer. Statistics around suicide, alcoholism, infant mortality and unemployment all exceed the national average, according to Re-Member, a nonprofit organization in Pine Ridge that works to improve the quality of life on the reservation.
Teens commit suicide at four times the national average and one in four babies are born with Fetal Alcohol Syndrome or show signs of its effects there, according to 2007 statistics cited by Re-Member. The unemployment rate on the reservation hovers around 80 to 90 percent. The diabetes rate is 8 times the national average. 
The life expectancy on the reservation is the lowest in the United States, according to Re-Member. In the Western hemisphere, only Haitians have a shorter life expectancy. 
Re-Member volunteers come from schools, churches and corporations go to the reservation to build homes and bunk beds, construct outhouses and wheelchair ramps and complete other work projects.
During their time, Shabazz students stayed in dorms and completed work projects.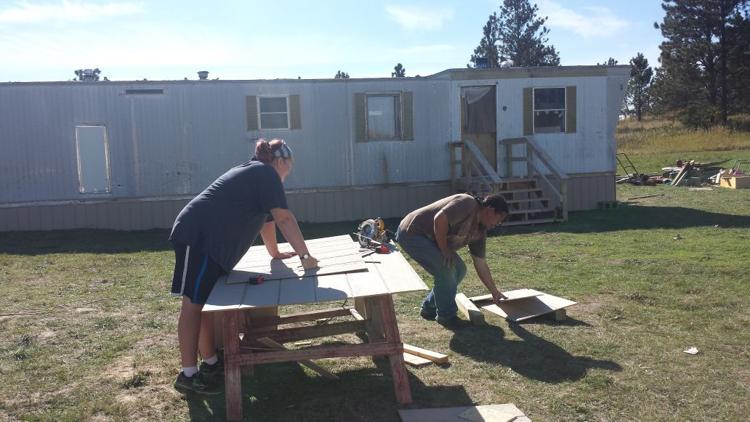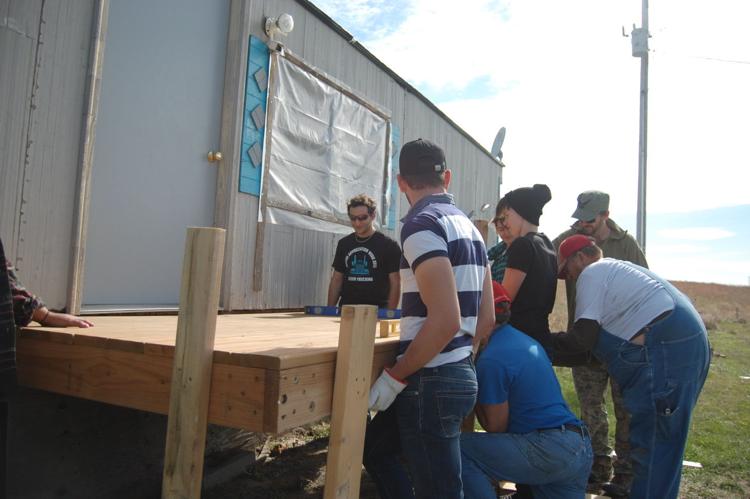 Three Shabazz students — Charlotte Conner, Mars Jindrich and Dana Nelson — who participated in the trip described the harsh living conditions of people on the reservation. Some houses were without doors, with openings covered only by blankets. Others had no running water or heat. The amount of trash littered around the reservation was something that stuck out to Mars.
"There's garbage everywhere and there is no service to pick up the garbage for you," Mars said. "There were no garbage disposals and people have to drive an hour away to a garbage dump to throw away their trash. And many people don't have cars to do that so in most cases the trash just sits there."
They also described how the entire reservation has only one full-service grocery store, which is about an hour away by car. Since many residents don't have vehicles, their only option to get food is from convenience stores or gas stations. The lack of access to affordable, fresh foods contributes to high rates of diabetes and obesity in Pine Ridge. Basic services are also far-flung: There is one police and fire station and those are also about an hour away. 
"If a house is on fire it's burnt down by the time firefighters arrive," Dana said. "Things are so spread out and far away from each other. It's difficult to get from point A to point B."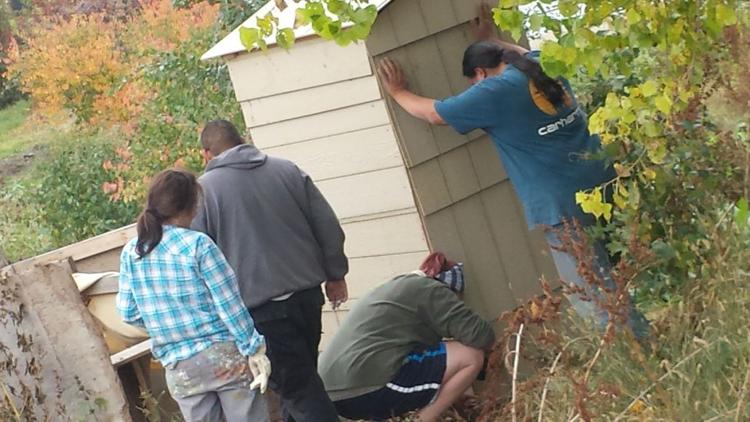 Despite the difficult circumstances for the residents, certain aspects of the Lakota culture and life were refreshing to students. They noticed how much people valued communication and time spent with each other. When the students visited, people living on the reservation were invited to give speeches and cultural performances which some found to be inspiring.
Charlotte said one speaker she found memorable was Carol Iron-Rope Herrera.
Herrera, a respected leader on the reservation, shared how valuable children are to the Lakota tribe and talked about the importance of preserving culture, language and customs. 
Charlotte also observed how adults on the reservation saw children as sacred beings and are viewed as blessings.
"There is such a loving attitude towards kids and they're treated like little baby gods. The people on the reservation have such strong family structure and a great sense of support among each other," Charlotte said.