As Madison temperatures climbed into the 90s earlier this summer, fourth grade teacher Stephanie Biese Patton and her summer school colleagues at Frank Allis Elementary received special instructions from building principal Sarah Cutler.
"TO DO: 1. Close shades. 2. Use fans to move cool air. 3. Keep the lights off," read a July newsletter excerpt that Biese Patton shared with the Cap Times.
Those steps do keep classrooms cooler, Biese Patton said, but "it's not a learning environment." She took a photo of what her classroom looked like when she followed the procedure. Beside the whiteboard, a computer screen glowed in the darkened room.
"When they're working with computers, they can see in the dark," Biese Patton said, "but you wouldn't be able to run a math class or a reading class essentially in the dark, and that's what they were telling us ... to do."
The steps exemplify what several in the district call a "creative" approach to beating the heat.
"Our district's summer school department gives principals excellent guidance on how to keep our buildings safe and cool," Cutler said in an email. "This past summer was one of the most successful sessions I have served."
In most of Madison's public schools, classrooms are not air-conditioned, according to data provided by the district, and teachers report classroom temperatures in the 80s and 90s on hot days. The issue is not unique to Madison: Schools across the country battle the heat and will face further challenges as global temperatures rise.
Summer school students —  disproportionately students of color, English language learners and students with special developmental or educational needs — feel the heat the most, but teachers and parents say their concern isn't limited to the summer session. As heat drives students to distraction during September and May, teachers struggle to hold their attention and keep the peace in the classroom, and advocates say students whose medical conditions or medications make them particularly sensitive to the heat could be at risk.
Relief could be on the horizon for the district's high schools. A facilities referendum proposed for November 2020 could, among a slate of other changes, bring air-conditioning to all classrooms and offices at the four comprehensive high schools. Residents will have the opportunity to give feedback on the proposal in the coming weeks. Meanwhile, the district is looking toward 2024 and 2028 for additional referenda to upgrade elementary and middle schools.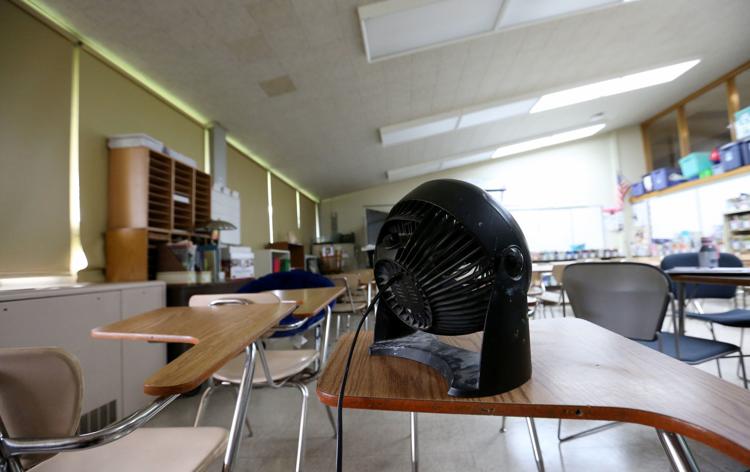 Air-conditioning not the norm in Madison schools
Only the district's two newest school buildings — Chavez Elementary and Olson Elementary — are fully air-conditioned, while three other schools — Jefferson Middle, Memorial High and Wright Middle — have air-conditioning in more than half of their floor areas, according to data provided by MMSD. Eighty percent of school buildings owned by MMSD have air-conditioning in less than 25% of their area, with 61% having air-conditioning in 10% or less of their space.
At many schools, the only air-conditioned spaces are the front office, nurse's office and sometimes a library or multipurpose room.
The five MMSD schools whose spaces are not owned by the district — Badger Rock Middle, Capital High, Innovative & Alternative High, Nuestro Mundo and Metro High — were not included in the data and are not included in the analysis by the Cap Times.
Combining these numbers with 2018-2019 school demographic data from the Wisconsin Department of Education, the Cap Times found that 68.7% of these students learn in buildings that are less than 25% air-conditioned.
The numbers are starker for the district's youngest students: 89.2% of MMSD elementary students learn in schools that are less than 25% air-conditioned.
The district's high schools are old, with East nearing 100 and West nearing 90, but updates in the 1970s provided air-conditioning to some high school spaces. More than half (60%) of Memorial's space is cooled, while LaFollette remains only 16% cooled. The cooling infrastructure installed in those years is at or near its "life expectancy," according to reports by architects hired by the district. At West, meanwhile, all classrooms are air-conditioned thanks to a 2013 geothermal heating and cooling system, said Chad Wiese, executive director of building and administrative services for the district.
Beginning in early September, the district will seek community feedback on facilities master plans that include proposals to fully air-condition East, Memorial and La Follette and some remaining spaces at West. The estimated price tag for the HVAC work is more than $26 million.
"We believe the most pressing, the most promising, the most possible sites to take on would be our high schools," Wiese said of the decision to upgrade high school facilities first. "We can get to a third of our student body… and every attendance area is touched by these improvements."
Residents will have a chance to weigh in on the plans through MMSD-organized community meetings and online forms. Based on this feedback, the school board will write the referendum question, which will appear on November 2020 ballots.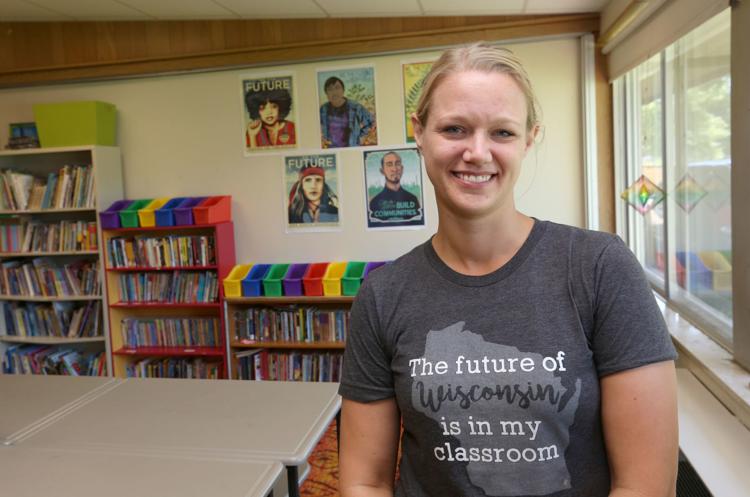 Students sweating in classrooms around the country
The average age of an MMSD-owned school building is 64 and only three of the district's schools were built since 1970. The other 38 buildings were built before anyone in Wisconsin would have constructed a school with air-conditioning, Wiese said.
"We know we're not alone on this issue," said Wiese, noting that most large, older school districts face this challenge.
In 2017, education news outlet The 74 sent public information queries to the country's 50 largest districts, asking about the extent of their schools' air-conditioning. Of the 45 school districts that responded, 34 indicated that most or all of their classrooms were air-conditioned. Many of those schools were in the South. In other regions, air-conditioned schools just aren't the norm, The 74 reported.
Milwaukee Public Schools responded to the 2017 inquiry indicating that 17% of its schools were fully air-conditioned — more than three times as many as in Madison, which was not included in the study.
There's no simple fix, Wiese said. The district instructs teachers not to use window units because they are inefficient and can't be centrally controlled like heat or central air, Wiese said, and a large number of such units could knock out power to a whole building.
"It isn't a whole lot different than if you plug a toaster, a hair dryer and a microwave into the same circuit in your house," Wiese said. "You're gonna overload your breaker and you're not gonna be able to power all of those appliances at the same time."
A small number of teachers with medical issues exacerbated by heat or humidity, such as severe asthma, have successfully lobbied the district for window units.
Installing energy-efficient air-conditioning would require "a major mechanical retrofit," Wiese said, with most buildings needing new HVAC systems.
Madison's neighboring school districts, meanwhile, have fewer — and largely newer — school buildings. Middleton-Cross Plains Area School District reported having air-conditioning in all classrooms except a few shop classes at Middleton High School. The Verona Area School District reported that all of its classrooms will be air-conditioned by the end of summer 2020 thanks to a 2017 referendum.
Madison children have likely been sweating in their seats for generations, but climate change, expected to hit the Midwest particularly hard, will only exacerbate the issue. A July report from the Union of Concerned Scientists projects that by 2050, Wisconsin will see an average of 38 days each year when the "feels like" temperature exceeds 90 degrees, as compared to the current average of nine.

The heat wave that passed through the Midwest in mid-July revealed that Madison school buildings are no match for the region's hottest days. As July 19 forecasts called for "feels like" temperatures around 100, the district announced that summer school sites would close for the day "to ensure the safety of students and staff."
According to MMSD policy, schools will close on any day for which the National Weather Service issues an Excessive Heat Warning. The district also encourages parents to decide for themselves when to keep their children home. "We encourage and strongly support you in making the decision that is best for your child(ren). You are always the best judge of their health and safety," the policy states.
The fact that the district now has a heat policy is a step in the right direction, said former Madison School Board member Anna Moffit, who helped write it during her 2015-2018 term. Moffit's son, Felix, who has autism and can't communicate with words, gets migraines. When he attended the Extended School Year program in 2018, Moffit worried Felix would get dehydrated and wouldn't be able to communicate how he felt. And she knew that he sometimes gets vocal or grabs at people when he's uncomfortable.
"The behavior that manifests from his discomfort will sometimes be identified as aggressive, and then he'll be restrained," Moffit said, so on some days she would keep him home or pick him up early. "I just felt like, for him, it wasn't safe."
But not every parent has the luxury of keeping their child home, as many can't take time off work or pay for daycare, Moffit said.
Even on days that don't generate Excessive Heat Warnings, the schools could be a risky place, said School Board member Nicki Vander Meulen.
Vander Meulen, who speaks openly about her own autism, knows firsthand that some may be especially vulnerable. One of her medications makes her more heat-sensitive, so she keeps a small battery-powered fan in her purse to hang around her neck, and sometimes has to leave meetings because she gets too hot.
"When you're in a school, you're legally liable… I don't want to create an unsafe situation — and no one does, on this board or in this administration — for our students or our teachers or our staff," she said. "When it gets to 85, 86, 87 degrees in a classroom, I'm sorry. You can't learn."
When Wisconsin schools close due to winter weather — like the five days when Madison schools closed due to January's extreme cold — the district must, in some cases, compensate for lost instructional time by adding minutes to the school day or days to the school year to meet Department of Public Education requirements.
That can extend the school year further into the hottest months, said Emerson Elementary PTO chair Brian Warnecke. "You're gonna have kids' butts in seats," Warnecke said, "but the educational value of those instructional minutes will suffer given the conditions."
MMSD distributes fans across the city, mostly to summer school sites. Teachers whose classrooms don't have fans can make requests to their principals, who can use discretionary funds to purchase them, Wiese said. Some teachers buy fans out of pocket or with their classroom supply budgets.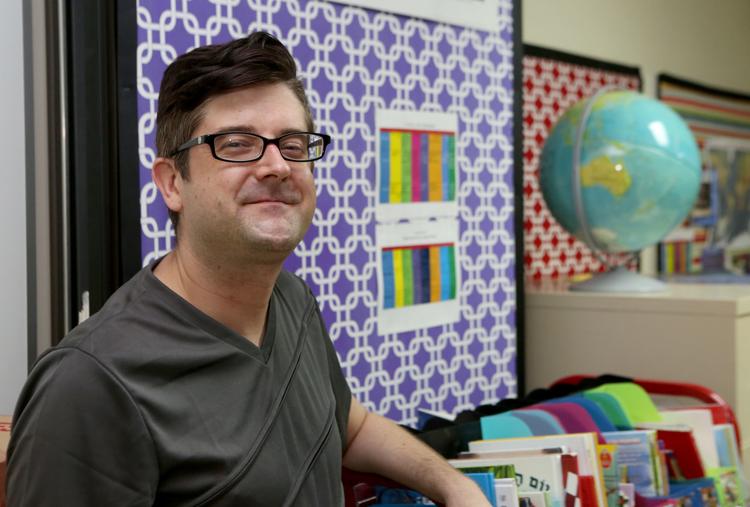 AC 'absolutely paramount' for summer school
Bree MacPhee Lyon, coordinator of MMSD summer school, is already planning for next summer. She said air-conditioning is "absolutely paramount" in selecting summer school sites, but there's not enough space in the completely cooled schools for the program's 6,300 students.
And, if summer school were limited to only the schools with the most air-conditioning, some children would have to leave their neighborhoods to attend. "We don't want families having to put their child on a bus for an hour just to get to a site," MacPhee Lyon said.
Each summer, some schools will be unavailable due to construction projects or deep cleaning, she said,  making it "very much a Tetris game" to balance air-conditioning and access.
Staff try to keep the kids cool by rotating classes into libraries or other air-conditioned spaces — what the district calls "cool zones" — taking frequent water breaks, allowing kids to have water bottles and even giving out popsicles.
Some days they'll move outside, said Kit Swimm, who worked on the Behavior Support Team this summer at Schenk Elementary and Whitehorse Middle. "It was a lot cooler (outside) in the shade than it was in the school."
And then there are the times when summer classes turn into free play, said Jason DuRocher, a bilingual specialist at Thoreau Elementary who worked this summer at Shorewood Elementary.
"For summer school… a lot of days, we're not really teaching them anything," DuRocher said, likening those days to daycare. "It's unfair when you're 6 and you're sweating — I'm not going to push you to do work right now. We're just trying to keep you safe."
Individual schools can raise funds for upgrades and it's happened before. Beginning in 2017, West High School raised $150,000 to install solar panels, and Thoreau's PTO purchased a wall-mounted fan for each classroom. But Wiese said replacing an HVAC system would be prohibitively expensive for a school to do on its own.
At Emerson Elementary, where the HVAC system was replaced in 2018, adding air-conditioning would be less expensive than at other schools but "well outside" a PTO's budget, Wiese said.
Even if it were feasible, it might raise ethical questions, said the school's PTO chair. "Obviously, you have to look at equity," Warnecke said. "You could say, 'Well, this building has better infrastructure so we're gonna throw more infrastructure at it.'"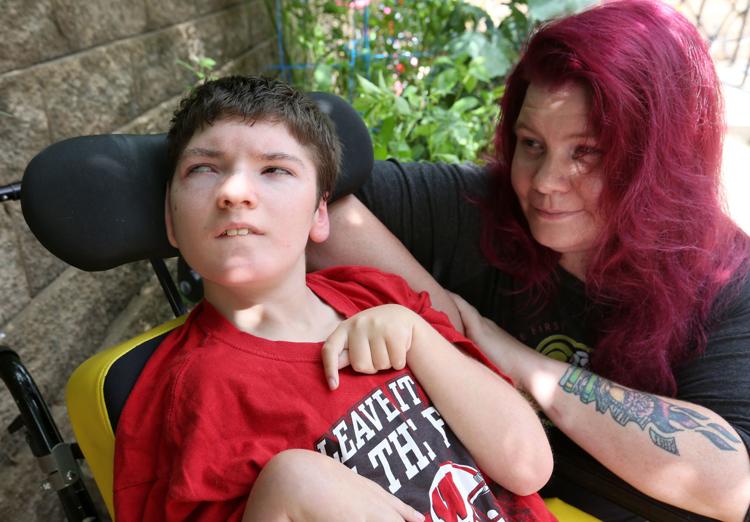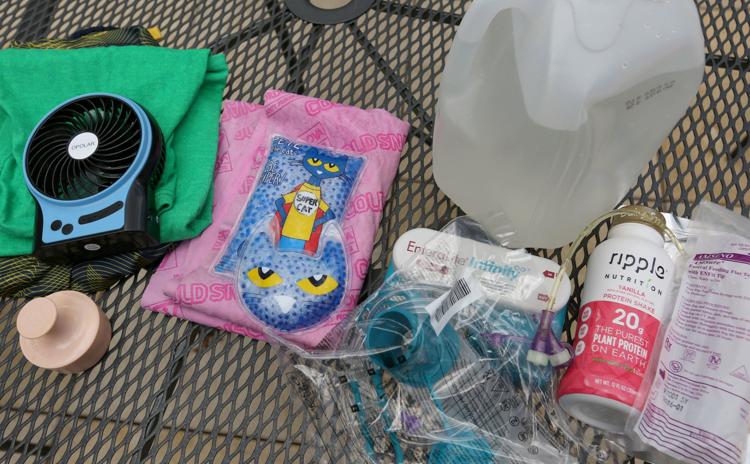 For 14-year-old Zavier Hauser, who is quadrapelegic due to cerebral palsy, planning ahead is critical and falls to his mom, Anna Hauser. On hot days, she packs a tank top in his bag and instructs the school staff to give him an additional 240 milliliters of water through his feeding tube to compensate for water loss. His own portable fan, cooling cloth, frozen sponges and ice packs will be waiting for him at school.
His paralysis makes him unable to regulate his own body temperature, Anna Hauser said, and getting too hot can cause breathing problems, choking or even seizures. But Zavier is nonverbal, so he can't tell anyone if he's too hot.
Zavier's teachers do what they can, Hauser said, but some days she decides to not send him to school because she worries the heat will be too much. But staying home means missing classes, physical therapy and social time.
"He's 14. He loves to be around his peers. He likes being at school," Hauser said. "I'm not nearly as cool as the rowdy kids who are running around."
Franklin Elementary student Jasmine Siravo, 7, has cerebral palsy that can limit her mobility. She uses leg braces that can't be worn directly against her skin, so she wears knee-length tube socks under the braces and shoes that fit over the braces. "She simply also has more clothing on," said Jasmine's mother Martha Siravo, "so she's gonna get warmer due to that."
Jasmine also has epilepsy. One of her epilepsy medications makes her less able to sweat, and getting hot has caused her to have seizures in the past. But in a warm classroom, Jasmine won't necessarily tell anyone she's too hot.
"She's seven years old — she wants to play and keep doing what she's doing without having to go away from it and not be included anymore," Siravo said.
Kathleen Kastner, a developmental pediatrician at UW-Madison's Waisman Center Clinics, said developmental differences can make students experience the heat differently and limit their ability to recognize heat and respond appropriately.
Students who may be at heightened risk include those with asthma, diabetes or heart conditions; those who take certain medications, such as for ADHD; and those with autism, among others.
MMSD Health Services coordinator Sally Zirbel-Donisch, who oversees the district's nurses, said records of nurse visits over the summer do not suggest an increase due to heat.
Regarding students with complex medical conditions, Donisch said nurses create plans with the students' care teams.
Harder to teach and learn
It's not just students with special needs who feel the impact. Teachers say the heat makes it harder for them to teach — and for all children to learn.
A 2018 paper from the National Bureau of Economic Research supports that claim. Examining outcomes of 10 million students who took the PSAT more than once, researchers found that students scored lower following a hotter school year. "Without air conditioning, each 1° F increase in school year temperature reduces the amount learned that year by one percent," the authors wrote, asserting that heat likely reduced the effectiveness of teaching time. The heat effect was particularly pronounced for low-income and minority students. Data suggest that air-conditioning "almost entirely offsets these effects," and the authors estimate that "the benefits of school air conditioning likely outweigh the costs in most of the US, particularly given future predicted climate change."
Keeping kids cool is important for the same reasons that it's important to serve kids breakfast and lunch at school if they need it, said Spring Harbor Middle School special education teacher Heather Calvert. Students' physiological needs must be met before they can learn.
"One of those physiological needs is just being comfortable, and if they're not comfortable, they can't get past it," Calvert said. "They don't have the brains at 11 years old to go, 'OK, I'm really cranky right now because I'm hot.'"
"Everyone gets on each others' nerves when it's hot," Biese Patton said. She regularly plans "team challenges" where students work together to build something, but she said she can't do them on hot days  because students argue so much with each other. "It's just because they're so annoyed by how their body's feeling that it comes out emotionally."
Biese Patton recalled one student who would come in from recess "just steaming mad and steaming hot," so she solved the problem by sending him to literally cool down in the office before returning to class.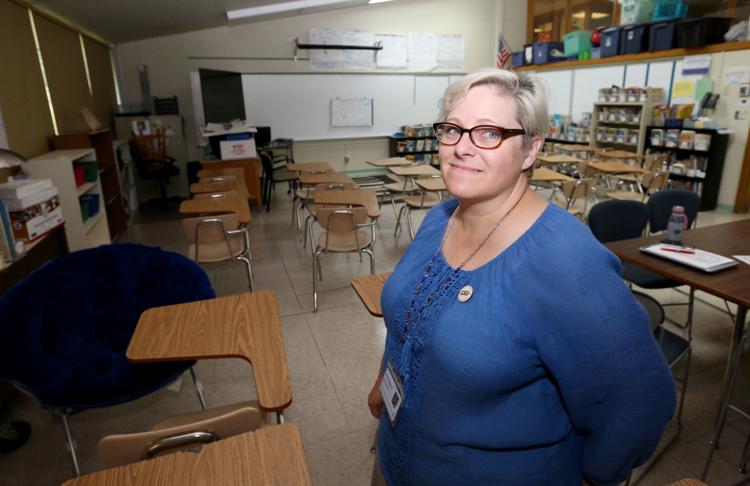 Long wishlists, tough choices
Even the teachers, parents and administrators who agree that building-wide air-conditioning would be ideal are divided on how to prioritize such a costly and long-term project.
For Anna Hauser, building-wide air-conditioning seems like the only way to ensure students like her son are safe and fully-integrated in their schools. She believes everyone will benefit.
"It's a big thing that we can't just keep putting off," Hauser said. She wonders what solutions other old districts have found. "I would imagine that none of the people who have actually found solutions to this have ever regretted it."
For DuRocher, now on his 14th year at Thoreau, other building issues take precedence. The school's library is in an open, lobby-like space. "We'd like walls for the library," DuRocher said, and stronger glass for windows and doors so that they wouldn't break every time a kindergartener kicks a soccer ball.
Air-conditioning would be "awesome," DuRocher said, but "we've been dealing without it forever, and we can continue to function."
But he notes that Thoreau's walls sweat due to heat and humidity, and four classrooms were remediated for mold this summer. "Some of the walls will get wet and drippy," DuRocher said. "There are still water stains in the stairwell."
Calvert would rather use funds for staff than buildings. She'd like for her school to have a full-time nurse, full-time social services staff, a psychologist and more special education assistants.
"Those are like on the top of the list. Air-conditioning is somewhere in the low-mid range," Calvert said. But on a facilities-only wishlist, she said air-conditioning would be near the top.
Special education teacher Kit Swimm, who recalls being fine without air-conditioning as a kid, said the scales might tip if climate change brings hotter weather. Then again, installing and using air-conditioning would use more energy. "I just worry about what our contribution would be then to climate change to have all these resources that would benefit our learners, but at what cost?" Swimm said. "It puts us in a pickle."
In April, following organizing by Madison high schoolers and parents, MMSD committed to get all of its energy from renewable sources by 2040. It's the largest U.S. district to make such a commitment, said 100% Renew Madison organizer Charles Hua. Any energy used to cool buildings would have to come from renewable sources.
Emerson principal Brad Kose said air-conditioning is a top priority for his building, but he's ready to wait. "I think it's an important conversation that the School Board needs to have and the community needs to have," Kose said. "It takes time for people to have dialogue around these kinds of decisions and it isn't as simple as, 'Yeah, we want air-conditioning. Let's put it in.'"
Madison Teachers, Inc. is interested in joining that conversation in search of solutions, said MTI President Andy Waity. "I'm not really familiar with all the options, but I think it'd certainly be something that we'd be more than willing to have a group of folks sit down and look at and start to explore," Waity said.
Be the first to know
Get local news delivered to your inbox!