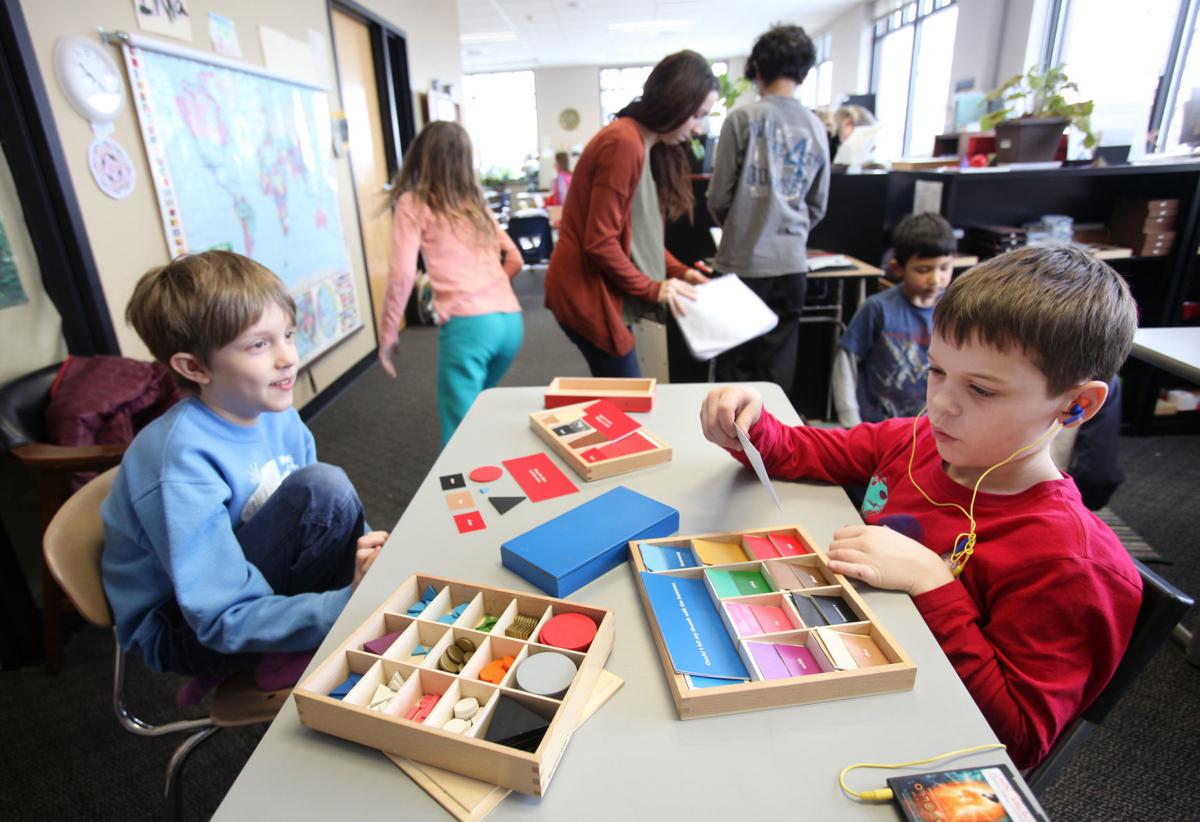 Gov. Tony Evers' biennial budget calls for a cap on the number of taxpayer-funded vouchers available for students to enroll in private schools, and a suspension of creating new independent charter schools until 2023. The proposed changes are aimed at slowing expansions of independent charter schools and private voucher programs passed by Republicans under the previous administration.
What are charter schools?
Charter schools are tuition-free schools open to the public but independently run. The schools have a business-like contract between a governing board for the school and either a school board or another office with the authority to approve charter schools. Nuestro Mundo Community School and Badger Rock Middle School are two examples of traditional charter schools that are approved by the Madison Metropolitan School District.
Some charter schools are called independent or "2x" charter schools, which means they are authorized by an entity other than the school district. Isthmus Montessori Academy and One City Schools are local examples of those.
Minnesota first established laws allowing for the creation of charter schools in 1991. They've since been passed in more than 40 states and the District of Columbia. The idea behind charter schools is to allow for educators to experiment with various school models and innovate beyond what could usually be done under a traditional public school model. At the same time, charter schools are generally exempt from many state laws and regulations that govern traditional public schools.
As of this school year, there are 233 charter schools in Wisconsin, according to the state Department of Public Instruction. About 6 percent of public school students nationwide attend a charter school.
Advocates of school choice tout the innovations charter schools can provide, saying they force competition to attract and retain students, while also meeting needs that aren't met by traditional public schools.
A common argument against charter schools is that they divert resources from school districts and educate fewer students with disabilities.
What are voucher schools?
The term voucher schools refers to the collection of private school choice programs available to Wisconsin residents who meet certain income and residency requirements. The Milwaukee Parental Choice Program, the oldest voucher program in the nation, the Racine Parental Choice Program and the Wisconsin Parental Choice Program are the three voucher programs that currently exist in the state.
Students participating in one of these programs is eligible to apply to attend a private school while the state provides a payment or "voucher" to the school to cover the cost of the education. For the 2019-2020 school year, the state pays $7,954 for each student in grades K-8 and $8,600 for grades 9-12 to cover the cost of tuition. Nearly 38,900 students participate in one of the parental choice programs.
Up until this school year, Lighthouse Christian School in Madison was the only school in Dane County to be in the statewide program, which has been around for six years. Three more schools — Abundant Life Christian School and High Point Christian School, both in Madison, as well as Westside Christian School in Middleton — have signed up to be part of the voucher program this fall.
What are independent, or "2x" charter schools?
Not all charter schools are approved by the school districts in which they are located. Twenty-six schools across the state are independent charter schools, meaning that their contract to operate is with an entity besides the school district. Entities such as the city of Milwaukee, any University of Wisconsin System institution and the UW Office of Educational Opportunity have the ability to approve independent charter schools.
"2x" refers to the chapter in state statute that established the OEO and gives it the authority to authorize charters.
UW's OEO has particularly drawn the ire of the Madison School District. The office was set up in the 2015-2017 budget by Republican legislators as a way for charter schools to have a way of getting authorized outside of MMSD.  Independent charter schools are considered non-instrumentality charters — meaning that the employees and management are employed by the organization that runs the charter instead of being employees of the school district. The charter schools approved by MMSD — Nuestro Mundo Community School and Badger Rock Middle School — are both instrumentality charters, which means the employees there are under the umbrella of the school district.
What has the OEO done so far?
Last school year, Isthmus Montessori Academy and One City Senior Preschool were two Madison schools that received charters from the OEO after they failed to receive one from MMSD. This school year, the office approved an expansion for One City to the elementary grade levels, as well as Milestone Democratic School, which seeks to involve students in the design process of their education.
The office recently rejected an application from Arbor Community School. 
What does this have to do with the Madison School Board race?
While there's likely to be a policy debate at the state level, the Madison School Board race has brought charter schools to the forefront, especially given the stark racial achievement gap in the city's public schools.
Kaleem Caire, a candidate for Seat 3, is the CEO and founder of One City Schools. He's called for innovative approaches to addressing the achievement gap that can be used in traditional public schools. Caire had previously attempted to get the charter school Madison Prep Academy approved by the School Board, which voted it down in 2011.
Caire has said he supports public charter schools, "but only those that have produced higher levels of student outcomes and attainment, or that are designed to meet a particular need that traditional schools either struggle with or do not offer."
He also has said school vouchers are not necessary for students in MMSD.
His opponent for Seat 3, Cris Carusi, has previously called for the end of the UW's OEO, and has also said she would "push back against reforms that encourage privatization."
In the Seat 4 race, candidate David Blaska has said there should be a drive-through window at the Doyle Administration Building to approve more charter schools. His opponent, Ali Muldrow — who was endorsed by the influential Madison Teachers Inc. before the Feb. 19 primary — has two children who attend Isthmus Montessori Academy.
Muldrow has said she does not support school vouchers or any form of privatizing public education, while noting that some public charter schools are helpful such as Nuestro Mundo.
Though unsuccessful in his bid to make it through the Seat 5 primary earlier this month, then-Seat 5 candidate Amos Roe built a campaign almost exclusively on promoting voucher schools and charter schools.