Cold, gray weather did not stop thousands of people from all over Wisconsin from converging on Madison's Capitol Square for March for Our Lives Madison.
The march and rally called for stricter gun laws in the aftermath of the Feb. 14 school shooting at Marjory Stoneman Douglas High School in Parkland, Florida.
Local youth lead the crowd on the mile-walk up State Street from the University of Wisconsin-Madison's Library Mall to the Wisconsin State Capitol. In addition to students, marchers represented a broad cross-section of people, young and old. 
A sea of teachers, parents, grandparents and community members of all ages raised their signs calling for stricter gun laws and an end to campus violence behind the youth as they marched to the top of the Capitol steps. The Madison Police Department estimates 2,500 attendees.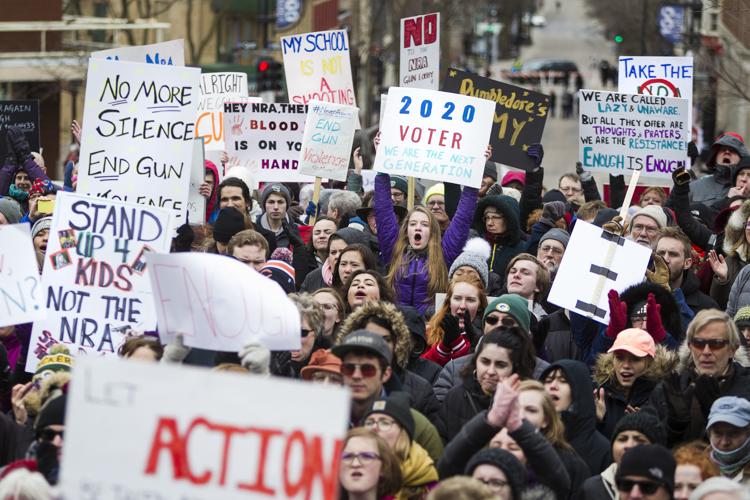 Several speakers participated in the program at the Wisconsin State Capitol, which lasted about 90 minutes. Madison Metropolitan School district teachers, high school students from across Dane County, UW-Madison students, U.S. Sen. Tammy Baldwin and Rep. Mike Pocan addressed the crowd.
Memorial High School sophomore Stephanie Trask opened the rally, sharing how Madison's action was just one of 800 "sibling marches" organized by students from Parkland, Florida, where a school shooting on the campus of Marjory Stoneman Douglas High School claimed the lives of seventeen students and faculty.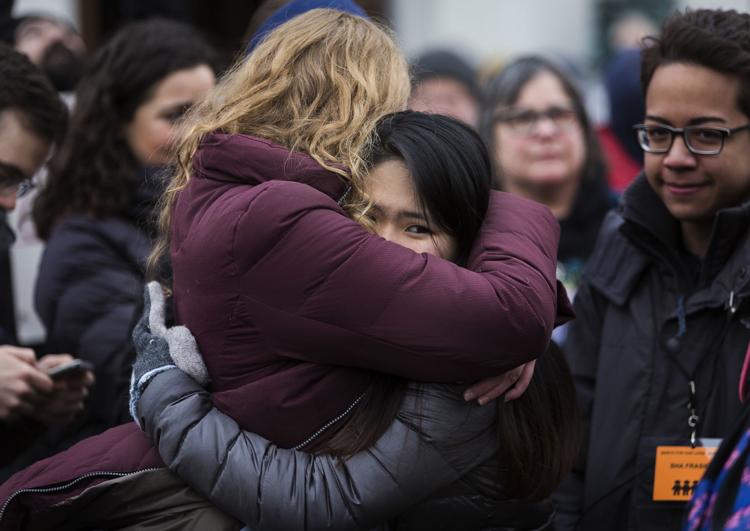 Trask said her and her peers had to endure active shooter drills their entire lives in the aftermath of the Columbine shooting, which happened three years before she was born.
"Since that day (in kindergarten) I was taught how to hide...These are the realities of growing up in a nation that has an epidemic it chooses not to solve," Trask said.
"I have grown up where children are expected to be more mature than adults. I must be prepared for the very real situations that millions of kids across the country are in constant fear of, but millions of adults choose to still ignore us."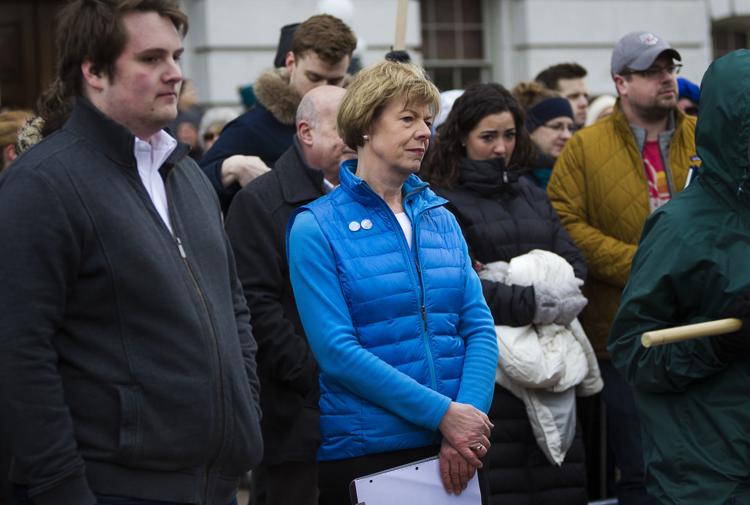 After Sen. Baldwin received an enthusiastic welcome from the crowd, including chants of her name, she encouraged the audience to lift up the student organizers, including Trask and University of Wisconsin-Madison student Jack Larsen.
"Stephanie and Jack," Baldwin said, as the crowd followed suit in the chant, raising their voices to thank them.
Baldwin recalled taking the Senate floor in Washington D.C. in recent months to read the names of victims of mass shootings in Las Vegas and Orlando.
"We must never forget them, but we must honor them with action," Baldwin said. "Today is not just about making your voices heard, it is about demanding action."
Baldwin encouraged students to continue to work for change.
"You may be too young to vote, but you are never too young to make a difference," she said.
Baldwin also addressed special interests groups, like the National Rifle Association, and the role they play in the current debate around firearms.
"I don't work for special interests, I work for Wisconsin," she said to applause.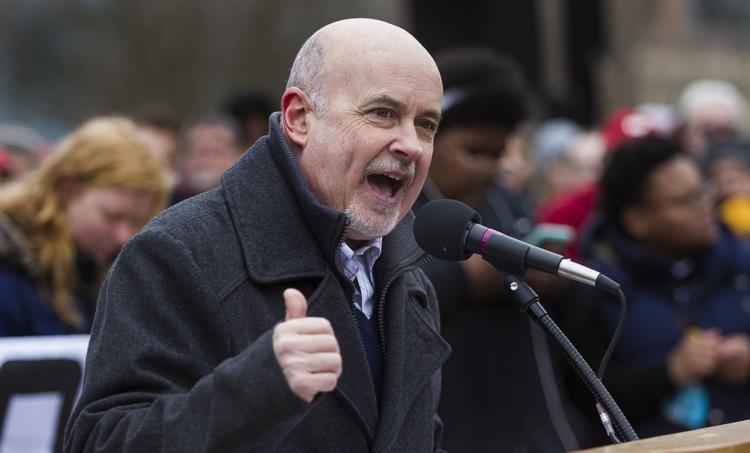 Rep. Pocan also touched on the NRA in his speech, discussing the pride he feels for his "F" rating, which he said stands for "fabulous."
"The NRA's motive is greed, ours is survival," Pocan said.
Some speakers urged the crowd not to ignore how gun violence has altered the lives of children of color across the country for years.
Black Hawk Middle School teacher Michael Jones said three students have lost their fathers to gun violence this school year alone.
"Their lives have been altered forever due to a person's worst impulse, enabled by easy access to weapons," he said.
"This isn't new. Parkland might have given us the visuals, but if you ask any child of color on the north side of Madison or Milwaukee, they can share stories with you. Our Parkland kids might have been jolted into action by the violence, but our most marginalized children were born into it and they've been crying out for years."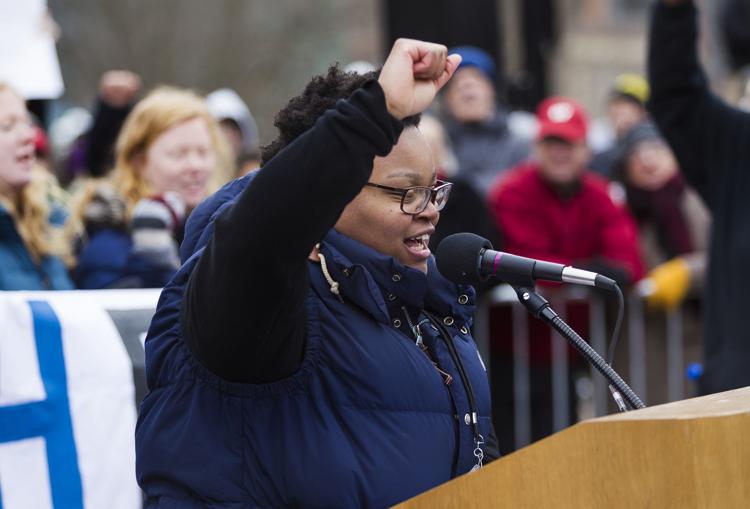 Shyra Hall is a member of Freedom Inc.'s youth squad, a group that calls for the MMSD to remove educational resource officers from the city's high schools. She told the crowd today that students of color often bear the brunt of the consequences after school shootings, even if they are not the ones committing the shooting.
"(Columbine) was used as an excuse to put more police and metal detectors in black schools, which resulted in the school to prison pipeline and more black students in the system," Hall said.
"Many black and brown people fear police in our schools taking our lives. This is why we are demanding no cops in schools."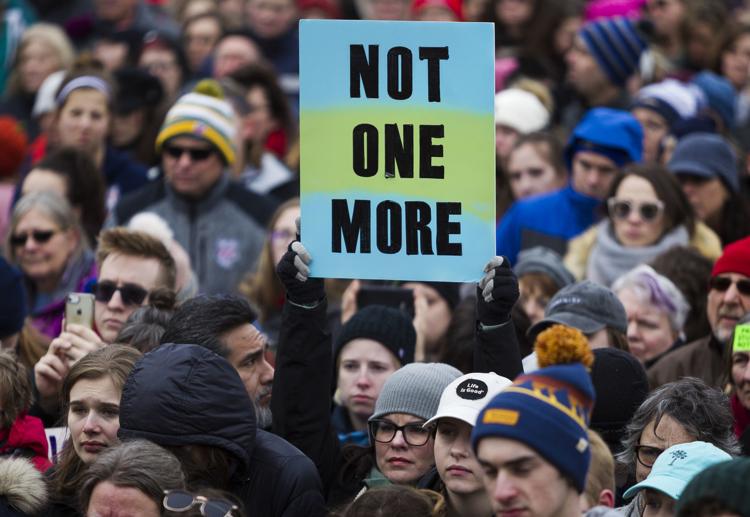 Parkland students have called out elected officials in recent weeks for ignoring how gun violence affects students of color in cities like Chicago and invited students from these communities to organize with them.
Following the march, a group of students from Memorial High School in Eau Claire stood in awe of their peers.
"It was so profound...it really gives me hope for the future and for now." said senior Violet Kilmurray.
"I really feel so grateful to be a part of such a wonderful generation that is taking a stand against this, it's been a problem for so long," said sophomore Nazish Khan.
The Eau Claire students plan to join other young people in the "50 Miles More" march from Madison to Janesville this week. The four day-march starts Sunday at Wright Middle School on Madison's south side, and culminates at Traxler Park in Janesville on Wednesday.