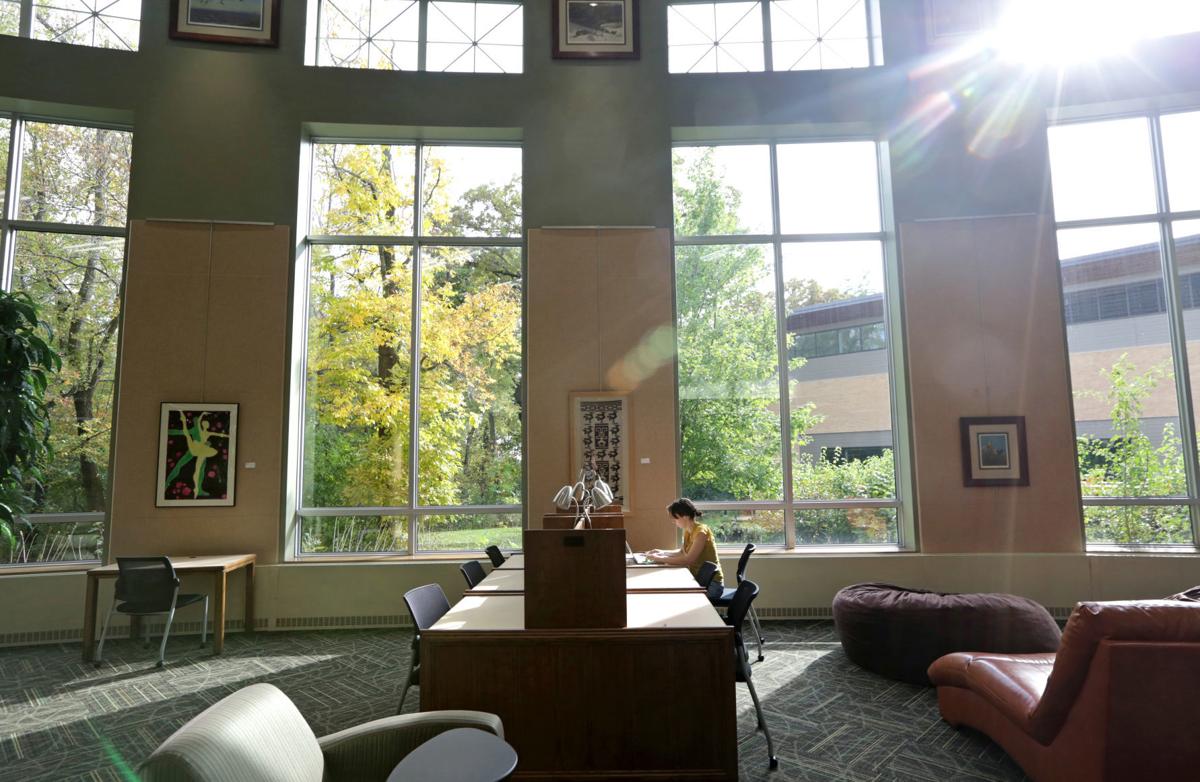 Edgewood College professors whose positions were eliminated in late May are awaiting final board review after appealing their cases, which they say are reflective of larger restructuring concerns.
After three tenured and three tenure-track professors were notified May 27 that their positions would be eliminated as a step to "align faculty and staff positions with changing student needs," two accepted voluntary separation packages. The other four, however, contacted the American Association of University Professors, which sent a letter June 10 to Edgewood President Andrew Manion saying the announcements violate AAUP's regulations and do not prove "adequate cause" for terminating the appointments. 
Nine days later, elected faculty members of the Academic Rank Committee seconded the AAUP's claims. Without "adequate cause," the college can only remove faculty due to financial exigency or discontinuation of an academic program — neither of which the committee said is applicable.
"(We) understand the financial position facing the College, but actions such as these which are contrary to the Faculty Association by-laws open the College community to the potential for damaging and expensive consequences and may adversely impact the College's mission to serve the students," the committee wrote in the letter.
One of the four remaining professors has since retired, leaving three under consideration by the Board of Trustees, which said it would begin meeting this week. Though the board can choose and is not obligated to share its process, chairwoman Lucy Keane said in an email that "we believe that approach would serve no one," according to an email obtained by the Cap Times.
"We will be as transparent and forthcoming as possible in this process while at the same time acknowledging that these are very personal and confidential personnel matters," Keane wrote.
College spokesman Ed Taylor declined to comment on the ongoing grievance process or on faculty's claims that he said were inaccurate, but said the college has been "working on aligning staffing levels with the needs of our students for more than two years."
The committee added that any plans to fill the positions with adjunct faculty violate guidelines that say eliminated positions cannot be replaced for a period of two years, and that the decision creates precedent to devalue the importance of tenure. It also countered claims that some faculty's programs have been underperforming.
Edgewood's program prioritization data, collected as part of its restructuring and cost-cutting efforts, have consistently shown high enrollment and performance in her department, said communications professor Bonnie Sierlecki, one of the three professors appealing the loss of positions.
"I've had no problems with low enrollment. If anything, I've had courses that are over-enrolled," said Sierlecki, who has taught for eight years. "Edgewood College administrators are really making careless decisions that are going to hurt the students and the institution in the long run … They're deliberately ignoring the data."
Sierlecki, who turned down an involuntary separation agreement earlier this school year, said she saw the announcement coming when she received a meeting notice in her email that morning. She said her fellow faculty and department leaders were more surprised and were never consulted about the termination decision.
Over 20 professor and lecturer positions were eliminated in the 2019-20 school year, primarily through voluntary separation agreements, according to sources. Taylor declined to comment on the numbers.
A college-wide restructuring also became effective in July, consolidating five schools into two: one with nursing, business and health sciences and another housing arts and sciences, education and interdisciplinary programs.
Students enrolled in Sierlecki's upcoming courses have been moved into other, already full classes. She added that some of her specialized courses cannot be taught by adjunct or other faculty.
"I can move on, but who's really getting hurt are the students in this fantastic communications program," Sierlecki said. "Everyone's replaceable, but in this case, the faculty handbook literally says that I'm not replaceable. They have to make do with what they have left."
'Very concerned about the program'
English and ethnic studies professor Huining Ouyang also said she was caught off-guard after receiving the notice in May. In her 21 years at Edgewood, she has served as director of the Center for Multicultural Education — which was founded in 2005 and housed the ethnic studies program — and proposed the ethnic studies major, in addition to an existing minor, in 2011.
In May 2017, Ouyang declined to continue in her position after the then-dean of the School of Integrative Studies moved ethnic studies from the Center for Multicultural Education and reassigned her director role to a one-course release compensation. Ouyang said her work environment was "disrespectful and increasingly hostile," and that she was concerned about the potential reduction in resources and visibility for the program.
"I don't think the college gives enough emphasis or priority to these important programs and ethnic studies, especially if the college has been talking about diversity and inclusion," Ouyang said. "I'm very concerned about the program, because what about the minor? What about the students who are still in it who have not graduated?"
Ouyang, who was the only full-time faculty member in the ethnic studies program, said she saw the program languishing due to lack of leadership after she turned down the role. She later re-applied for but was not selected for the position.
The ethnic studies major will be eliminated effective this fall.
"I'm really hoping that they will carefully consider our appeals and … realize that the college has made a mistake," said Ouyang, who cited increased distrust in the administration among faculty. "It is important, though, if the college does reinstate us, that we will be reintegrated into a community that will hopefully begin to heal."
In a letter to the editor, 17 alumni and employees wrote that Ouyang's termination "speaks volumes on the continued marginalization and devaluation of scholars of color at Edgewood College."
Johanna Heineman-Pieper, a former student of Ouyang, told the Cap Times that diminishing interest in programs like ethnic studies requires structural improvement. She took courses at Edgewood between 2015 and 2017 without intentions of receiving a degree but said she was encouraged by advisors to pursue other programs.
"It breaks my heart. I don't have a solution, because it happens at a snail pace," Heineman-Pieper said. "These classes that I took completely changed my life, my perspective on the world … I'm eternally grateful that Edgewood had these classes and these professors, and it would truly be a shame to see them go."
Be the first to know
Get local news delivered to your inbox!