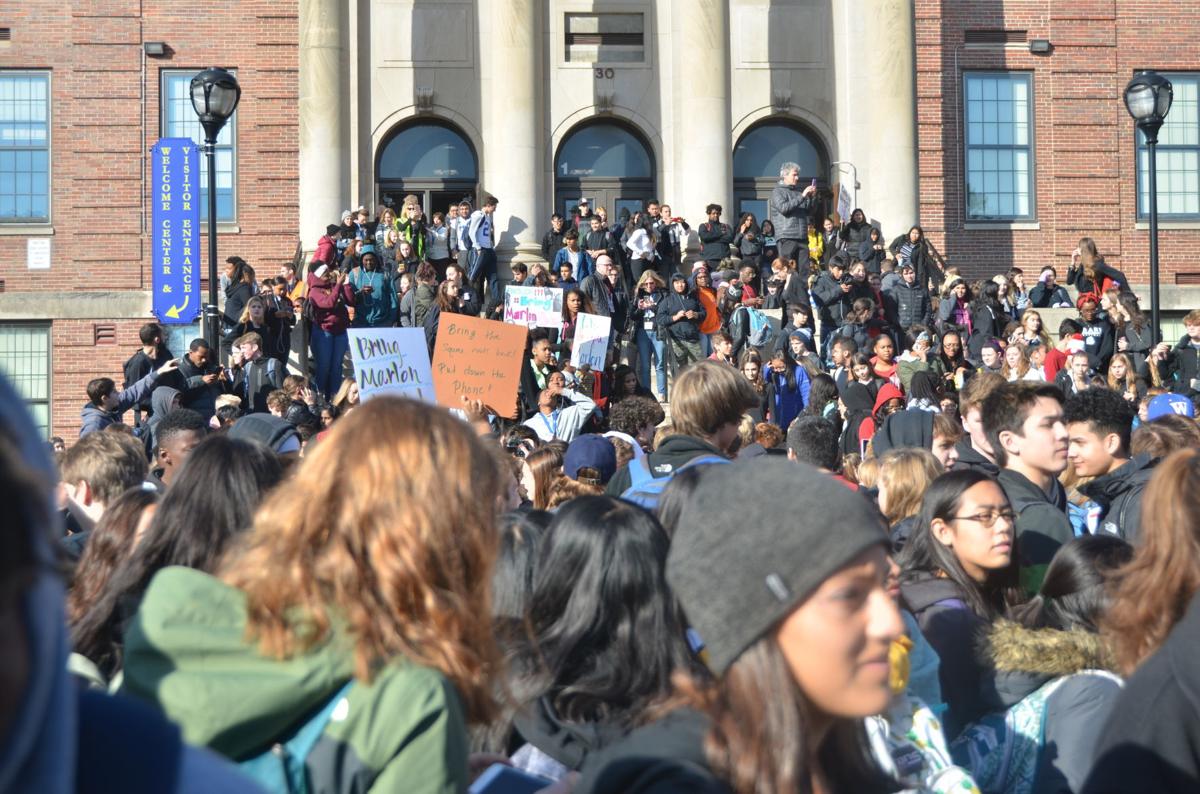 Security guard Marlon Anderson is negotiating a return to the Madison Metropolitan School District after officials rescinded his termination Monday afternoon.
Anderson announced the decision in a Facebook post, followed shortly by an email from Madison Teachers Inc. Anderson will remain on paid leave while a transition plan is finalized to return him to work, according to the email, but is receiving pay and full benefits during that leave.
Anderson thanked supporters in the Facebook post.
"Thank you to the 1,000 plus students for allowing your voices to be heard and to all the people from across the globe for reaching out to my family," he wrote. "Thank you MTI, West BSU, my son, Noah Anderson and my colleagues at West High School for your prayers and support. You are amazing people!"
Anderson, whose termination from Madison West High School was announced last Wednesday, was fired under a "zero tolerance" practice for use of racial slurs instituted last year, when seven teachers were fired or resigned after reportedly using a racial slur in front of students. Anderson has said he used the n-word to tell a student, who called him a "b**** a** n****," not to use the word.
Shortly before that decision was announced, School Board president Gloria Reyes has asked Madison School District interim superintendent Jane Belmore to rescind the controversial firing of Madison West High School security guard Marlon Anderson.
"I have requested that the Superintendent review the current situation regarding the use of racial slurs in school and rescind the termination," Reyes wrote in a statement.
Reyes said in the statement the district took a stand last year that "we would never excuse the deep pain of this hateful, violent language, regardless of intent," but that it needs to be reconsidered.
"In our commitment to tackle anti-racism we have created universal practices using the non-discrimination policy to protect those who are most impacted by racial slurs," Reyes said. "This is an opportunity for the board to review the policies and practices that are currently being used and dive deep into the issues of racism in our schools. It is important that we do not harm those that we are trying to protect."
More than 12,000 people have signed a change.org petition requesting Anderson's reinstatement and celebrities have weighed in following national coverage, including Cher offering to cover any legal expenses.
Madison Teachers Inc. filed a grievance on behalf of Anderson, and Keillor said last week a hearing with an independent hearing officer had been scheduled for Nov. 12. Earlier in the day, MTI had sent a letter to district officials and School Board members requesting Anderson's immediate reinstatement.
Be the first to know
Get local news delivered to your inbox!