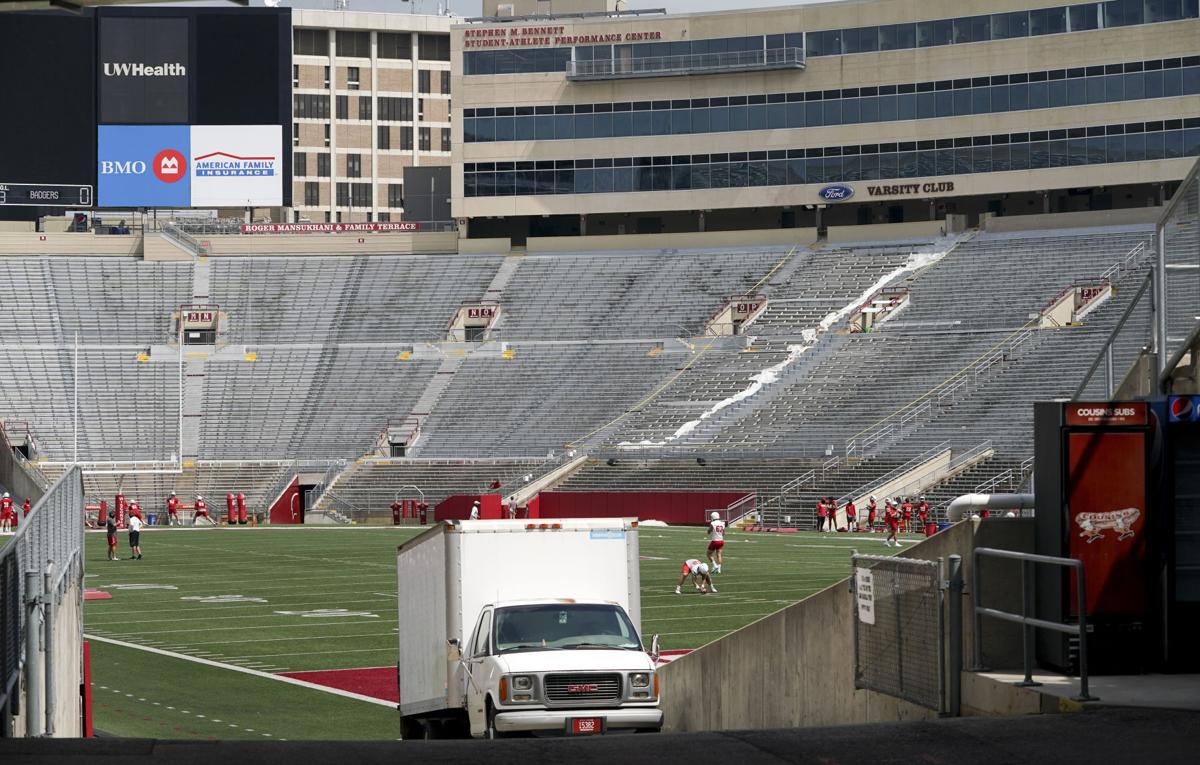 With three weeks until the start of a postponed football season, players at the University of Wisconsin-Madison have begun daily testing for COVID-19, with testing staff arriving as early as 4:45 a.m. to prepare for morning practices.
UW-Madison, along with all Big Ten schools, launched on Wednesday rigorous antigen testing for football players, a surveillance strategy that turns around results in minutes to identify potential COVID-19 cases. Players who test positive are required to self-isolate until receiving the results of a second PCR test. If that's positive, they must continue isolating for 10 days and can return to practice or play after a minimum of 21 days.
On Sept. 16, the Big Ten Council of Presidents and Chancellors voted unanimously to play a postponed football season, which will begin the weekend of Oct. 23. The late start, compared to other major conferences like the ACC and SEC, offered the benefit of learning from other institutions, said deputy UW athletic director Chris McIntosh at an Athletic Board meeting Friday.
McIntosh called daily antigen testing the "linchpin" of the Big Ten's plan, which he said is better than that of any league — from youth to professional — for returning to sports in a non-bubble environment.
"In no way, shape or form is there a belief that testing is a vaccine," McIntosh said. "Testing gives us the ability to practice and to compete in an environment that greatly reduces or eliminates the transmission of the disease, but it does not prevent the disease. For that we need our student athletes, our staff and our coaches to emphasize and make responsible decisions."
Football is the first sport to have announced a concrete fall schedule and implemented daily testing. Although the conference has yet to finalize plans for other sports, Michael Moll, assistant athletic director for sports medicine, said testing plans will likely depend on the level of contact in each sport.
Moll said there have been no documented cases of transmission within a sports practice setting, which he attributes largely to socially distant practice plans during the summer. Basketball players, for instance, are not playing five-on-five, and football players were not practicing with any contact prior to this week.
Now, he said at the meeting Friday, players spend only a few minutes in the testing area each morning before going through practice as usual. Their schedules look a bit different after practice, with physically distant or virtual meetings, but the daily testing regime has allowed for more contact.
The Big Ten is aggregating and sending testing data to all institutions for research purposes. It also started a registry to monitor other relevant health information, such as cardiac imaging data from players who test positive.
"It's our hope at Wisconsin and around the Big Ten that the learnings from this exercise can be applied not just to other sports … but to our communities as it becomes more available," McIntosh said. "There's a research component to this that's taking place beyond our athletic department."
Game attendance will be "very limited" to family members and essential staff, said Katie Smith, associate athletic director for compliance. Anyone traveling must have tested negative that day, and testing protocols throughout trips are still being finalized.
McIntosh emphasized that the "we're all in this together" mindset extends beyond the campus community to football fans, encouraging them to stay home and watch games on television.
"There won't be tailgates taking place around our stadium. There won't be Badgerville. The Union won't look like Union South normally looks," McIntosh said. "We'll come back in the fall of 2021 in a big way and get back to normal, but we all need to participate ... We feel good about our chance to play right now, but there's no guarantee, so we all need to play a role."
Each week, UW-Madison must report to the Big Ten a list of 170 individuals who will be present during or be tested for a particular game. Attendees will be split into two tiers, the tier one group made up of essential daily staff for practices and games and tier two game day personnel, such as officials.
Smith added that meals also look different for athletes this year, with much more of a grab-and-go system than traditional training tables.
The Big Ten's athletic directors are overseeing football, basketball and men's ice hockey, while senior administrators like Smith are planning for non-revenue sports, both within and outside the conference. Championships for volleyball, soccer and cross country have moved to the spring, but practice dates and season schedules remain under discussion.
"Fitting in all of the sports that you normally would have spread out over the course of the year jammed into one semester will be a challenge, but it is a challenge we accept wholeheartedly," Smith said.
Be the first to know
Get local news delivered to your inbox!